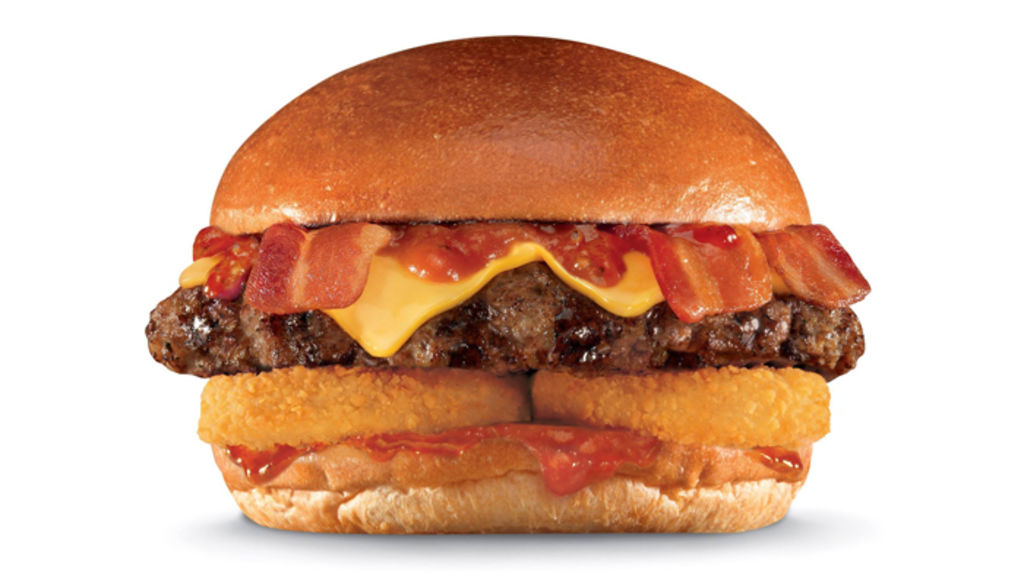 Carl's Jr Australia: The new company taking a bite of the burger market
Australia's burger wars are heating up with the launch of Carl's Jr on the NSW Central Coast.
The American company already operates in 30 countries and is now serving its famous burgers, milkshakes and bottomless soft drinks at Bateau Bay.
So why is everyone flipping over Carl's Jr? Here's what you need to know about the burger giant in five bite-sized pieces.
The Carl's Jr restaurant at Bateau Bay in January, before it opened. Photo: Marco Nero/Carls Jr, Facebook
One down, 299 to go
The Central Coast store is the first of 300 planned to open in Australia over the next three years, according to Carl's Jr president of international Ned Lyerly.
"It's a $16 billion market today and will continue to grow, so I think the market itself is large enough to sustain that sort of operation," Mr Lyerly told Fairfax Media.
"We've done extensive research ourselves. We compete favourably with all [quick service restaurants]… and believe with the right partners, that those numbers are meetable."
McNeighbours
The new Carl's Jr store is right next door to a McDonald's outlet, proving it's not afraid of competition. Carl's Jr even offers a Super Deluxe Platter breakfast in answer to Maccas' morning menu.
Carl's Jr Super Deluxe Platter. Photo: Carl's Jr/Facebook
To borrow the company's own slogan, "it's gunna get messy" among the big burger chains if Carl's Jr reaches its 300-store target in Australia.
This will mean it seizes a big share of the Australian market already occupied by 900 McDonald's and 390 Hungry Jacks restaurants.
Who is Carl's Jr?
The empire was founded by Carl and Margaret Karcher in 1941 when they borrowed $311 against their car to buy a hot dog cart.
Carl's Drive-In Barbeque opened five years later in Anaheim, California. Carl's Jr – named because it was a smaller version of the first store – launched in 1956 with its now trademark star logo and became known for its fast table service.
Karcher died in 2008. The company now has stores in locations including Mexico, Costa Rica, Canada, Singapore, New Zealand, Russia and Malaysia.
Burgers – with bikinis?
Carl Jr's target customers are "young, hungry guys" and its marketing department has for years produced risque ads in keeping with its image.
Carl's Jr advertisements, like this one featuring model Charlotte Mckinney, have been controversial in the US.
A 2005 ad featuring hotel heiress Paris Hilton sparked controversy and "soft porn" accusations.
In 2010, reality TV star Kim Kardashian promised "the best things in life are messy" while promoting salads in another revealing advertisement.
Mr Lyerly said the eyebrow-raising ads were enjoyed by people "of all ages" and Australians could expect to see a similar tack in its promotions here.
Why the Central Coast?
Bateau Bay franchisee BKG Group has acquired sites in West Gosford, Jesmond and Tamworth for the next three of its planned 20 stores.
Carl's Jr outlets are also expected to open over the next year at the Brisbane and Hobart airports.
The BKG Group is a family business that was the first to sell off-licence alcohol in NSW nearly 30 years ago, and owns BYO Cellars bottle shops.
"We were looking for a bit of diversification and couldn't see much value in most types of retail," BKG general manager Lindsay Brennan told Fairfax Media.
"But then we saw that Carl's Jr was looking to move into Australia and so we put in an application."
Mr Lyerly said Carl's Jr chose the Central Coast for its first Australian store because of BKG's strength as a franchisee.
Carl's Jr's parent company, CKE Restaurants Holdings, has 3515 restaurants in 31 countries under the Carl's Jr and Hardee's brands.
With The Sydney Morning Herald