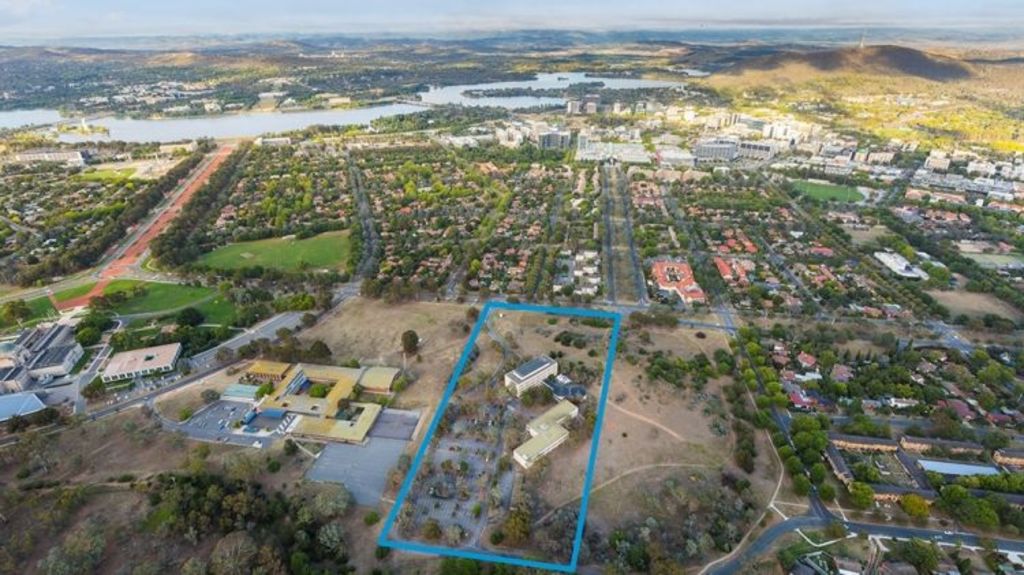 Canberra CSIRO site could sell for $50 million
The CSIRO site in Campbell has been slated for residential development and could sell for $50 million.
Blocks four and five, section 38, Campbell will be sold via expressions of interest through Colliers International and is being offered for sale by vacant possession.
Expansive: The CSIRO headquarters sits on 4.1 hectares of land. Photo: Supplied
The sale follows a 2013 decision to move all Canberra-based CSIRO workers to the organisation's Black Mountain site.
The Campbell site has housed the CSIRO's 6123-square-metre head office for 40 years. It was purchased by Abacus Property Group in 2002.
CSIRO staff will move to their new office over the next few weeks.
The site is 1km from the city centre and contains three interlinked buildings with office, administration and conference facilities.
The National Capital Authority has approved up to 60,000 square metres of ground floor development and the opportunity to introduce dwellings onto the site.
Colliers national director of capital markets Tim Mutton said the site's scale and position made it an attractive opportunity for investors and developers.
"There are very few sites of this scale in the inner suburbs of Canberra that are not being offered for sale by the government," he said.
"The CSIRO site delivers the potential for purchases to add value through refurbishment or repositioning of existing buildings or larger-scale redevelopment."
"This site is well-positioned for purchasers to develop a large-scale, master-planned precinct adjacent to the heart of the CBD with sweeping views to Canberra's CBD and Parliament, and with a range of dwellings and mixed-use purposes allowable on the site."
Land in the inner north has been hotly contested by developers.
Five blocks of land in Campbell totalling 21,473 square metres were sold separately for almost $64 million in 2014.
Local consortium SHL Development purchased all five blocks and the Campbell 5 site is being developed as a mixed-use precinct.
The developer also snapped up a 25,360-square-metre site in Braddon for $47 million in February.
Colliers International Canberra chief executive Paul Powderly said while Campbell 5 was sold as a cleared site with infrastructure in place, the Limestone Avenue asset was a "blank canvas" opportunity for developers.
"The views of the mountains, lake and the city are primed for residential development," Mr Powderly said.
The site is situated at the base of Mount Ainslie next to Campbell High School.
Mr Powderly said he anticipated a price tag of $40 million to $50 million.