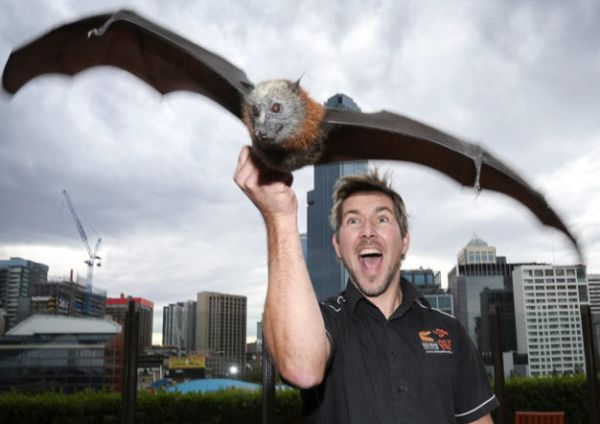 Call of the wild: why animals are being seen more in the office
It was halfway through law firm Lander and Rogers' annual strategy day in a Melbourne skyscraper when a man walked in holding a dingo.
More than 50 of the company's head lawyers were gathered in the boardroom in June this year for the meeting, which usually follows the same agenda.
But this year was a bit different, and pretty soon the boardroom had filled up with a range of native Australian animals, including koalas, flying foxes, snakes and crocodiles.
The man was zoologist Chris Humfrey, the founder of Wild Action, a mobile zoo providing educational programs mainly to schools.
[dm-listing-recommendation experimentname='midcontent-listings' positiononpage='midcontent']
The visit was organised by Lander and Rogers partner John Wells, who had been looking for ways to make the strategy unique and productive.
"The team were incredibly excited, and they still talk about how amazing an experience it was," Wells says.
"Nobody knew it was coming, and all of a sudden the room was full of animals."
Chris Humfrey says animals have a calming effect on people. Photo: Supplied
While mobile petting zoos have traditionally been popular in schools and fetes, there's a growing interest from the corporate sector. Bringing these animals into the office has been found to reduce stress and improve productivity, and the services are also being used as team-building and educational tools for businesses.
Another riding this wave of interest is Jason Peters, who is in the process of establishing a charity – Animals 2U Mobile Farm – which takes animals into offices and uses the proceeds to rescue and care for other animals.
We "enable that kind of therapy to occur in corporate settings," Peters says. "That's something we're working to at the moment, and all the proceeds will go towards helping animals all over Australia."
Another, Noeline Cassettari, the director of mobile zoo Kindifarm, says she's seen significant interest from business customers recently, for everything from the Christmas party to a surprise party for a staff member.
"It's a real break from their typical day and it definitely changes everyone's focus," Cassettari says. "The animals make people smile, they make them feel happy."
Several studies have found an associated reduction in stress and increase in productivity with the presence of animals, usually dogs, in the office. This is something that Peters sees first-hand when he brings his animals to a corporate client.
"It can really benefit the workers immensely," he says. "They might be a little tense but once we bring the animals in they go back to a joyous, childlike state. It makes a big difference to their overall wellbeing."
Humfrey has a wide variety of native animals that he takes to corporate events. Photo: Supplied
Elsewhere, many workplaces now allow, and sometimes even encourage, staff to bring their pets to the office knowing it will foster these benefits.
Humfrey has developed a corporate program around his mobile zoo, focusing not just on alleviating stress and improving morale, but also on professional development and growth.
"In the ever-changing business world, the animals can teach us a lot – they can change and adapt to stress much more readily than we can," he says. "When something happens in our workplace we come tumbling down pretty quickly, we don't adapt very well to change anymore and these animals can teach us a lot.
"It engages a team and helps them to think outside the square. It's a very powerful experience."
He says having an echidna walking on a boardroom table or a laughing kookaburra in the boardroom changes the way people think and approach a professional issue.
"To hear that jungle sound in an office in the middle of the city 40 floors up, it's mind-blowing," Humfrey says. "It softens people and relaxes them, you can instantly see the hard faces of these seasoned professionals soften."
The program offered to the team at Lander and Rogers lawyers has had a lasting impact on them, Wells says.
"Bringing animals into the workplace really excited the imagination of our team and got people connected again," he says. "They were just absolutely blown away – it resonated very strongly with us.
"From a professional perspective it was all about looking at teamwork differently and adapting to what in our space is a rapidly changing environment – you have to adapt and prosper."
He says he would recommend it to businesses looking for a unique approach to team building.
"It's an investment really worth making," Wells says. "It gives a business the opportunity to demonstrate the difference and invest in their teams in a different way. Any business that can get their people to think differently will end up with better outcomes and broader thought processes."
These mobile zoos are gearing up for even more corporate interest next year, and the preparations are underway now to cater for new customers.
"I'm busily breeding penguins to bring into boardrooms" Humfrey says.
[dm-listing-recommendation experimentname='below-content-listings' positiononpage='belowContent']
Keep up with Commercial Real Estate news.
Keep up with Commercial Real Estate news.