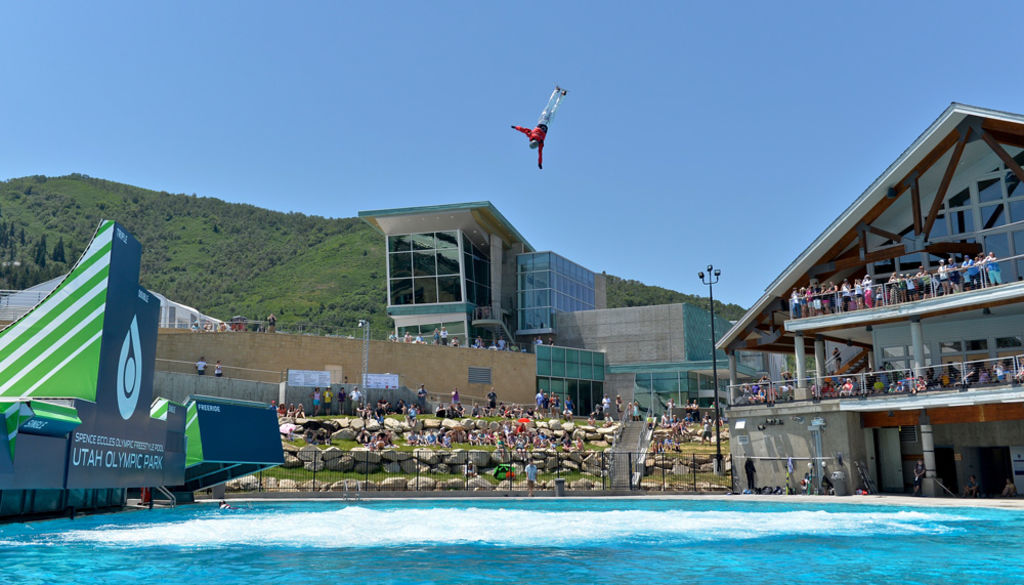 Business and tourism to get boost from new Olympic training venue in NSW
Businesses as well as Australia's aspiring Olympic athletes will get a boost from a world-class winter sports training centre to be built in northern NSW by 2018.
The Lennox Head facility, to be developed with a $5.9 million state budget allocation, will include a water jump ramp over an Olympic-sized swimming pool. It will be an accredited Olympic training venue.
The Lennox Head complex will be similar to the Spence Eccles Olympic Freestyle Pool at the Utah Olympic Park, which opened in June 2015.
The Utah Olympic Park facility in the US which opened last year. Photo: Matt Hage and Utah Olympic Park
The project would be a game-changer for Australian athletes as well as bringing benefits for the local community, Sport Minister Stuart Ayres said today.
"This project will provide new jobs during construction plus retail, accommodation and tourism benefits for the Lennox Head and Ballina communities," Mr Ayres said.
"It will also attract many international visitors and be the first of its kind in the southern hemisphere."
A lift allowing athletes to perform a greater number of practice jumps in a session will be installed at the venue, at the Lake Ainsworth Sport and Recreation Centre, and is expected to give athletes a significant competitive advantage.
"Our athletes currently have to train at an antiquated facility in Victoria or travel overseas for the vast majority of their training programs," Mr Ayres said.
"It will be best suited to our aerial skiers, snowboarders and mogul skiers."
The announcement is the culmination of a campaign by athletes including freestyle skier and Olympic gold medallist Lydia Lassila, who called for a training facility at Lennox Head after winning bronze at the Sochi Games in 2014.
"It's something we damn well should have if we want to continue winning medals in this sport," Lassila told reporters at the time.
The project is jointly funded by the NSW Government, Australian Sports Commission and Australian Olympic Committee through the Olympic Winter Institute of Australia.
The seaside town of Lennox Head is a popular holiday destination about 180 kilometres south of Brisbane between Byron Bay and Ballina.