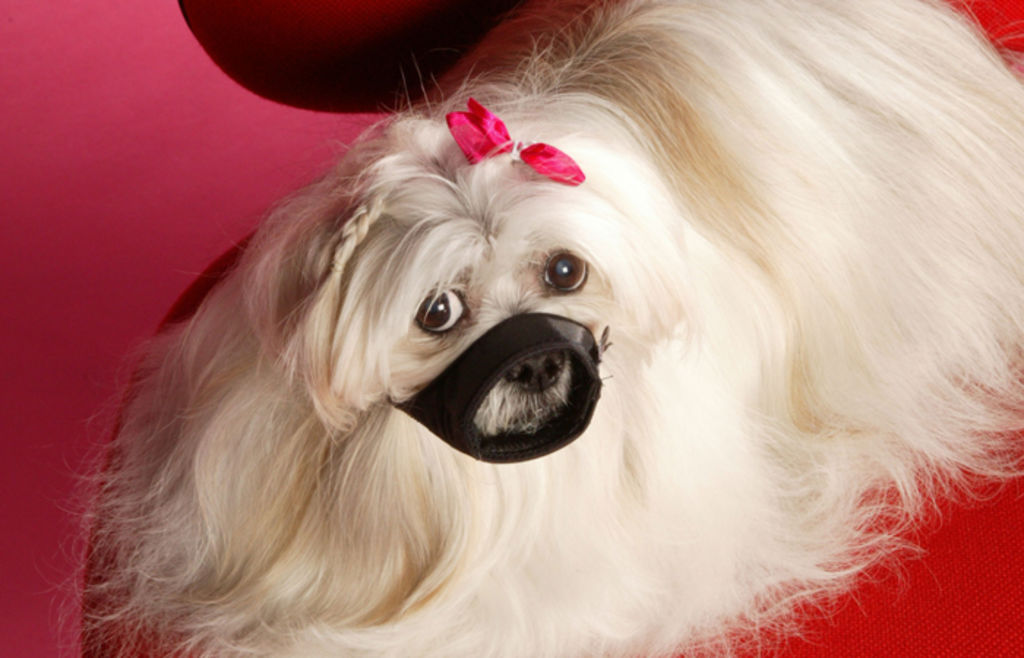 Bunnings under fire over pet-friendly policy change and muzzle rule
Pet experts have criticised hardware giant Bunnings Warehouse for abandoning its dog-friendly policy within days of its introduction.
With dogs now only allowed into the stores around the country in muzzles and on leashes, or carried in their owners' arms, after a child was reportedly nipped by a Jack Russell terrier, the company's protocol has been branded a knee-jerk reaction to an isolated incident.
However, Bunnings says its policy review has taken into account feedback from customers and staff.
Photo: Patrick Scala
"It's unfortunate, but no reason at all to change the regulations around dogs allowed into Bunnings," says Clinton Cole, the principal of Sydney designer company CplusC Architectural Workshop, which has always allowed dogs into its workplace.
"Why would you make sweeping changes to your policy based on one incident that's occurred? I've made a huge fuss when I go to Bunnings as my border collie Kayla comes with me everywhere but she has to sit at the door of Bunnings because of their policy.
"In the years of allowing dogs into our offices, we've never had a single incident and I wonder why everyone doesn't allow them, as it makes a workplace so much more relaxing and pleasant."
Border collie Kayla goes everywhere with owner Clinton Cole but now has to sit at the door at Bunnings. Photo: Clinton Cole / Twitter
It's a similar story for a sole trader in the same industry as Bunnings.
Peter Carroll, the owner of Darlinghurst's Carroll's Hardware which has permitted dogs in the store since its inception in 1923, has never had a problem either.
"They're always welcome in our store as long as they don't bite or do their business in the shop," he says. "Neither has ever happened, as far as I'm aware."
And animal behaviourist Dr Kersti Seksel, of the Sydney Animal Behaviour Service, believes any problems usually stem from human behaviour rather than from that of any animal.
"With well-behaved, socialised dogs in public, there won't be any issues," she says.
"But it's about adults teaching children to ask dog-owners' permission before trying to pat them to make sure they don't mind it. You wouldn't like strangers coming up to you and patting you on the head – and sometimes some dogs don't either."
Pet owners welcomed Bunnings' new policy to allow well-behaved dogs into stores. Photo: Michelle Wagsoutwest / Twitter  
Bunnings formalised a new policy at the beginning of November to allow dogs into their stores.
However a dog reportedly nipped a young girl on the leg at a store in Melton, north of Melbourne.
Her mother said she had tried to pat the dog. Her skin was broken just below her knee which caused bruises and swelling.
As a result, Bunnings agreed to pay all medical costs and then introduced a new policy on dogs.
Michael Schneider, Bunnings' director of operations, said this week the company had received a lot of feedback from customers and team members about the policy change to allow pet dogs in Bunnings stores.
"While many of our customers and team welcomed the news, some have voiced concerns and it's important that we take these views on board," Mr Schneider said.
"As a result, we have decided to revise the policy so that pet dogs are only permitted if they are secured safely in a vehicle [in the tradies' section of a store], on a lead and wearing a muzzle, or carried.
"A commonsense approach is what people have asked for and we hope our revisions hit the spot."
Trolleys for dogs of all sizes at Bunnings. Photo: James Ward /Twitter 
Assistance animals, of course, are still permitted in Bunnings without conditions.
But many outsiders have criticised the store for its move, particularly at a time when, in many places in Europe and the US, pets are allowed pretty much anywhere – in shops, bars, cafes, even on planes.
Pet industry consultant Susie Willis says Bunnings is behind the times.
"Who's going to put a muzzle on a dog to go to Bunnings?" she asks. "A well-socialised, well-trained dog on a lead should be able to accompany its owner just about anywhere.
"Sure, it's busy in Bunnings, but it's busy on any main street where pet owners walk their dogs.
"Any problems are much more likely to be about inadequate adult supervision of children. We're teaching children that they should ask a pet-owner before they approach the pet.
"Of course, I feel sorry for the girl in question, but I think the problem had been avoidable. It's all about people using their common sense."
Photo: Mariah Reed / Twitter 
In other premises where dogs are allowed, there have similarly been few – if any – problems. At the Norfolk Hotel in Surry Hills, there's been a pet-friendly policy in place in the beer garden ever since it opened five years ago, with no incidents reported.
"So many people have pets in Surry Hills and their dogs are well-behaved, so why not let them in?" said spokeswoman Bridget Sullivan.
"We've never had any problems. People often even phone up to make a booking for the beer garden for themselves and their pet.
"If people have an unfriendly dog, then they wouldn't bring them here."
A sausage proves tempting for this canine visitor to Bunnings. Photo: Sophie Caruana / Twitter 
It's the same story at Sydney's leading pet-friendly hotel The Langham, on Kent Street in the Rocks.
Pets are allowed to stay in rooms or suites as long as they're under 20kg. Pets cannot be left alone at any time and must also be on a lead in public areas.
The hotel has a water bowl out the front for guests' pets and for those passing by, and offers additional pet services including walking and pet-sitting.
Pets are welcome at The Langham. Photo: The Langham, London / Twitter
Each pet receives a Langham-branded pet bed, welcome pet kit and water bowl to use during their stay, as well as a dedicated pet menu for both cats and dogs, similar to room service.
"We are thrilled to be running Sydney's only luxury hotel pet program, which is more akin to cities such as New York and Paris, where pets are warmly welcomed into hotels as valued family members," said general manager Sonia Lefevre.
"Our staff and guests love the unique touch-point that Sydneysiders can bring pets into the hotel and often refer to the program as very international, which suits a cosmopolitan city such as Sydney."