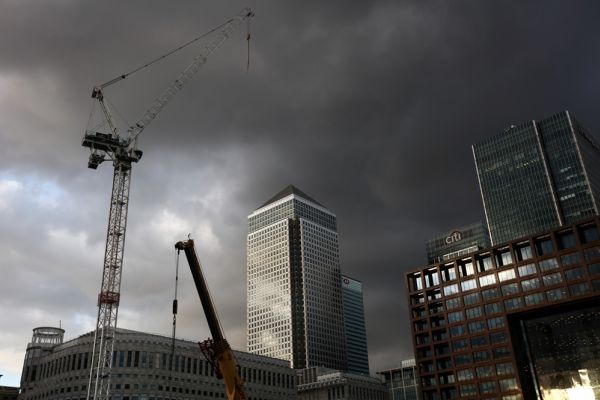 Brexit-bashed banks cannot escape from London's Canary Wharf
Jack Sidders
Way up in One Canada Square, in the Canary Wharf financial district, a map of post-Brexit London is flashing.
The electronic model on the 30th floor traces the route of a new rail line that George Iacobescu, captain of Canary Wharf Group, hopes will prevent an exodus of bankers from his vast development east of the City of London.
Few places in greater London encapsulate the challenges posed by Britain's vote to exit the European Union quite like Canary Wharf, home to JPMorgan Chase, Citigroup and HSBC Holdings.
[dm-listing-recommendation experimentname='midcontent-listings' positiononpage='midcontent']
Iacobescu has spent the past 30 years transforming the development into a modern rival to the medieval Square Mile, about four kilometres west.
Only now, the future of the City – and of Canary Wharf, its smaller brother – has been thrown into doubt. Already, commercial property prices are falling across London, as banks, corporations and ordinary people try to assess the business and economic fallout. For many, Canary Wharf has become the ultimate Brexit bellwether. Their landlord, however, is undaunted.
The opening of Crossrail, which will slash commuter times by connecting the district to London's main transport nodes, is due in 2018, about when the terms of the divorce from Brussels should become clearer.
Iacobescu says these links and the 14 years his leases have left to run on average are why he's unfazed by warnings that tens of thousands of financial-services jobs could be lost, threatening his main source of revenue – renting office space to banks.
"Bringing the line here is the most important achievement in the company's history," Iacobescu, 70, said in an interview. "We are close to 100 per cent leased, so I wouldn't worry" about Brexit.
For many, Canary Wharf has become the ultimate Brexit bellwether. Photo: Simon Dawson, Bloomberg
The engineer, who grew up behind the Iron Curtain in communist dictator Nicolae Ceausescu's Romania, has seen six prime ministers come and go since the 1980s, when Margaret Thatcher phoned the Canadian developer he was working for at the time to implore the company to oversee the development of a modern alternative to the centuries-old City of London.
The task defeated the district's original developer Olympia & York and a refinancing was required in the aftermath of the global credit crunch to stave off a potential default.
Now with 36 buildings, about half of which Canary Wharf Group still owns, the 40.5-hectare estate is once again bracing for upheaval. The UK commercial property market fell into recession in July following the Brexit vote, according to MSCI Inc., with the value of central London offices falling 3.6 per cent.
Canary Wharf is pivoting toward residential and retail construction and pushing to lure tech startups, a plan that has continued since Qatar Investment Authority and Brookfield Property Partners LP acquired the firm and took it private last year. That was in part because of the company's pipeline of development projects, according to Brookfield Property Chairman Ric Clark, who sits on Canary Wharf's board. The new owners agreed to pay 2.6 billion pounds, a 34 per cent premium to the share price before the bid.
"The next phase of Canary Wharf couldn't be more exciting," Clark said. "We will be very appealing to the millennials that are driving most local economies."
Three blocks southeast of One Canada Square, where four cranes surround a 50-foot hole dug below the waterline, the concrete core of the area's next skyscraper is just emerging. But this one, along with most of the other two dozen buildings that will make up the new neighborhood, will be residential.
The future includes slender luxury apartment towers ensconced among low-rise office buildings designed to lure tech companies. Stores and cafes will line the streets, a change from the shopping malls built beneath the towers to reduce the threat of terrorist attacks by Irish republicans in the 1990s.
'The next phase of Canary Wharf couldn't be more exciting. We will be very appealing to the millennials that are driving most local economies.'
When Iacobescu was named CEO in 1997, banks accounted for about 80 per cent of the group's rental income. Today, the percentage is less than 60 and falling, so the longer-term threat from Brexit is overblown, he said. Still, lenders remain Canary Wharf's largest source of income, so a lot will hinge on the fate of EU passporting rights, which allow lenders to sell to customers inside the bloc from bases in Britain.
Banks are also shrinking. Citigroup and Credit Suisse have already sublet space to other companies in the district and Barclays is in talks to do so. Morgan Stanley won't renew the lease on half of one of its buildings when it expires next year and Bank of America Merrill Lynch is due to leave Canary Wharf altogether by the end of 2017. HSBC plans to move 1,000 workers to Birmingham, Britain's second-biggest city, to cut costs and separate its UK operations.
The need to diversify Canary Wharf Group away from banking, already clear for several years, is becoming increasingly urgent, according to Ronald Dickerman, founder of Madison International Realty. His company bought a 2.5 per cent stake in Canary Wharf Group in 2012 and subsequently sold the shares to QIA and Brookfield.
Prime Minister Theresa May is not expected to trigger the clause in the EU charter that will start the two-year deadline to fix the terms of departure until 2017.
All eyes will be on Canary Wharf during that process, according to Tony Travers, a professor at the London School of Economics. With more than 100,000 workers, many of them foreigners, in industries ranging from banking and technology to media, the district is a "bellwether" for the post-Brexit economy, he said.
"A big question facing Canary Wharf is exactly what the immigration rules are going to be," Travers said. "It is very important to the continued success of Canary Wharf that there is relatively free movement of labor."
Whatever happens, May's new government needs Iacobescu and his team at Canary Wharf to continue to be upbeat about the economy, which will "flat-line" without optimism, according to Travers.
For Iacobescu, a naturalised citizen who was knighted in 2012, there's an irony to this. As a vocal opponent of Brexit, he lashed out at the Leave campaign's "plain lies" about some of the EU's problems. When former London Mayor Boris Johnson, the leading Brexiteer, trumpeted Canary Wharf as an example of how the UK could thrive outside the EU, Iacobescu shot back that the district's success was due in part to its membership in the bloc, not in spite of it.
Back on the 30th floor of One Canada Square, Iacobescu's irritation with Johnson still smoulders. In an otherwise jovial tour of photographs of the officials who've aided Canary Wharf over the years, Johnson's portrait elicits a cooler response.
"Our new foreign secretary," he says, nodding to a portrait of Johnson, his smile fading.
And in that role, Johnson will help negotiate the terms of Brexit with Brussels, tying the Eton and Oxford graduate's political future to the business fortunes of an immigrant from eastern Europe.
Bloomberg
[dm-listing-recommendation experimentname='below-content-listings' positiononpage='belowContent']
Keep up with Commercial Real Estate news.
Keep up with Commercial Real Estate news.