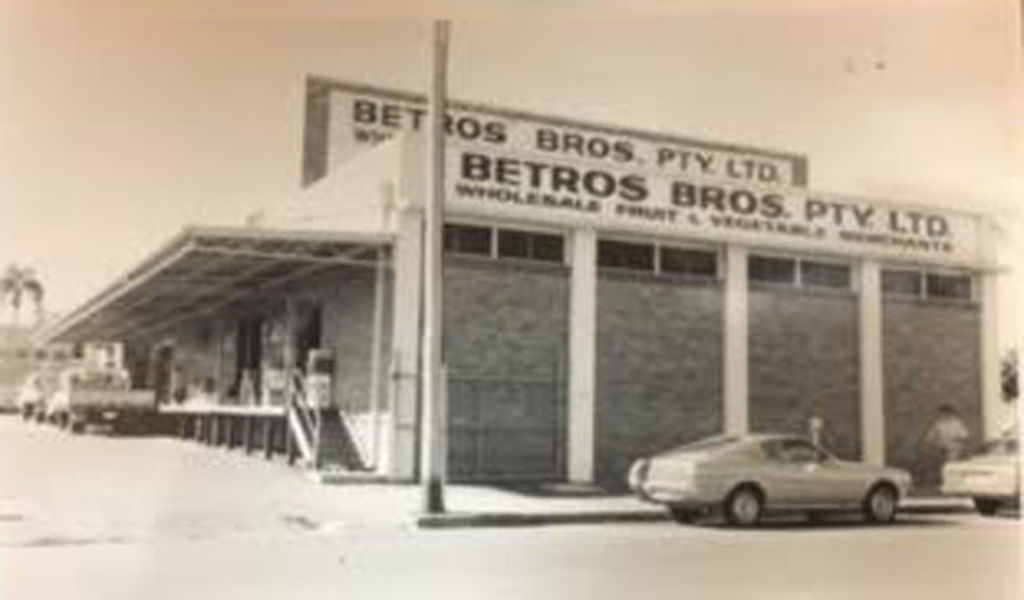 Betros family to bid farewell to historical Toowoomba supermarket business
The family behind one of Queensland's best-known independent supermarkets is saying goodbye to the business after 78 years.
When brothers Peter and George Betros started a small grocery store with the help of their parents in June 1938, little did they know Betros Bros would become an icon of the Toowoomba area – and a family empire.
Early days at Betros Bros' original store in Ruthven Street. Photo: Supplied
George moved away early in the piece but Peter stayed on, opening stores in several locations and eventually passing the business on to his sons.
The Betros family have all played a role in running the business over the decades but the next generation does not want to take over.
"It's heavy hearts for all of us to have to give it away," says Bevan Betros, one of Peter's sons.
"But it came to the point where the three of us sons, our next generation didn't want to come to the store."
Outside the Russell Street Betros Bros store. Photo: Ray White Commercial
Bevan Betros is well known as the face of Betros Bros and appears in regular television advertisements. He remembers a time when working at the supermarket meant having Saturdays and Sundays off.
"There was always work at the place after school and on weekends and it was always there to go into, but we weren't forced into it," he says.
"We went to uni and did all our courses, but I thought it was the thing to do at the time."
The family hope a new family can take on the business, which now comprises three properties.
Over the years they've seen businesses come and go, with the Betros family consolidating stores and moving from their original location in Ruthven Street when road development dramatically reduced traffic through the area.
There's now a central wholesale warehouse on Annand Street and a much bigger retail outlet in Russell Street, both in the Toowoomba CBD, and a combined retail-wholesale store in nearby Dalby.
But – perhaps remarkably in the current world of the supermarket duopoly – Betros Brothers continues to thrive.
"It ain't getting any easier, but we've had a really loyal following over 70 or so years," Mr Betros says.
The site has potential for redevelopment, with the centrally located wholesale warehouse the perfect spot for a multi-level car park or similar, but that's not what Bevan wants.
Outside the Annand Street wholesale warehouse. Photo: Supplied
The store currently employs circa 140 staff, and the family is keen to see them all retained under any new owner.
"It would really be great seeing a dedicated family to come into it and we're more than happy to help them set up," he says.
"We'd like to sell it all to the one buyer. It would be great to get a family to come up here and take it over and take it to the next level."
It's a tough gig. Depending on how hands-on the new owner wanted to be they could find themselves at the Brisbane markets each morning at 3am – just like Peter Betros did for many years.
But the potential for return on investment is there.
"You could renovate, you could redo the store, you could add a deli, you could put a butcher in the store," Bevan Betros says.
And the recently built Brisbane West Wellcamp Airport, 16 kilometres from the Toowoomba CBD, means the wholesale warehouse could easily be used as an export base for locally grown produce from the Darling Downs and Lockyer Valley food bowl. 
"It's a magical spot to continue to buy as a wholesale depot," Mr Betros says.
The Betros Bros properties are being offered for sale through Ray White Commercial and Ray White Commercial Toowoomba.