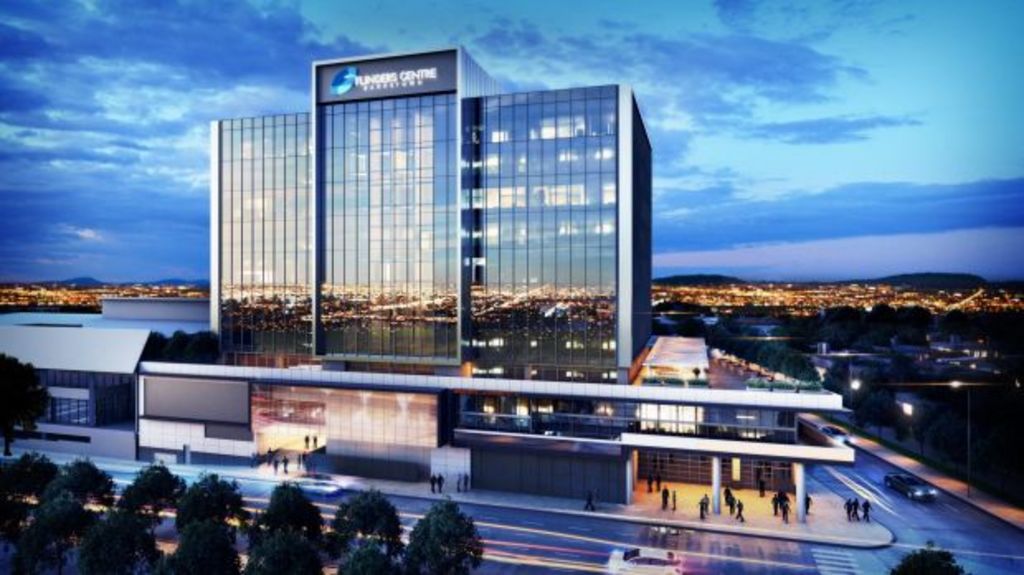 Bankstown's $55 million Flinders Centre upgrade takes shape
Bankstown Sports Club, in conjunction with the project's managing contractor, Paynter Dixon, has completed the structural phase of the new Flinders Centre Bankstown, with the $55 million project on schedule for a mid-2018 grand opening.
It comes as the western Sydney district is going through a resurgence of new construction and development.
The roof of the nine-storey commercial tower was poured in November, marking the end of eight months of intense building works.
Work will now begin on the internal fit-out of the ground floor lobby and retail areas, levels 1 and 2 which have already been leased and subject to Council approval, the open-air rooftop restaurant and bar.
"It's been incredible to watch the project take shape," said Bankstown Sports Club chief executive Mark Condi.
Paynter Dixon chief executive Steve Alley acknowledged the accomplishment of the project team and the hundreds of skilled workers who have been involved in the construction phase.
"We have awarded over 50 subcontracting packages, contributing significantly to the current construction boom in western Sydney," Mr Alley said.
CBRE has already signed leases for UFC Gym and Flinders Centre Early Learning Centre.
At Penrith, the privately owned Sandran Property Group has launched a $75 million commercial building, 50 Belmore Street, which it believes will "change the face of western Sydney".
Sandran managing director William Phillips said 50 Belmore responds to the growing demand from government and the private sector for new, contemporary and architecturally designed work space in western Sydney.
The building is designed by award-winning architects Bates Smart and will comprise over 10,000 square metres of prime office space, with large efficient floor plates of over 1,500 sq m.
The building also features a large atrium, a rooftop terrace which will capture views towards the Blue Mountains and is designed to achieve five-star NABERS and Green Star ratings.
Bates Smart Director Guy Lake said the design responds to the broader plan to revitalise the Penrith CBD.
"Campus style floor plates maximise connectivity, encouraging communication and collaboration. The facades have a simple, elegant quality that is both robust and responsive the environmental conditions. At the ground plane, laneways are activated by food and beverage tenancies, creating vibrant urban spaces," Mr Lake said.
CBRE's Stephen Panagiotopoulos has been appointed to lease the office accommodation on behalf Sandran Property Group.
Mr Panagiotopoulos said with the amount of residential growth in the area and the Penrith council's goal of creating 10,000 new jobs in the region, this project will deliver much-needed supply of suitable A-grade office accommodation for this market.
"The development is located in a prime position directly opposite the $50 million upgraded Penrith bus and rail interchange, and will benefit from being within a short walk to an abundance amenities, including Westfield, fitness facilities and childcare centres," Mr Panagiotopoulos said.