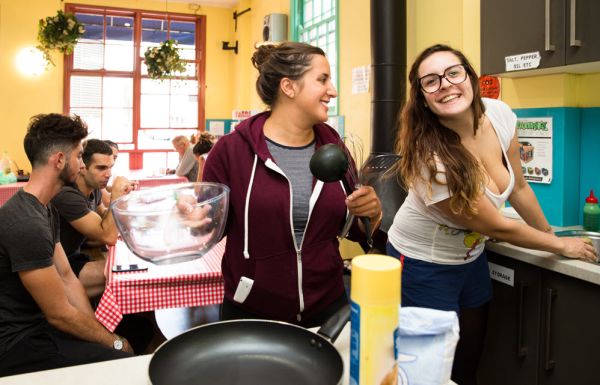 Backpackers the latest to feel the heat of Sydney's hot housing market
Sydney has been a second home to foreign backpackers since the onset of the jet age, but rising real estate values, new technology and the strength of the Australian dollar could mean those days are numbered.
Robert Henke, of the NSW Backpacker Operators Association, said the unstoppable rise of Sydney's real estate values, particularly in beachside suburbs, meant it no longer made financial sense for investors to retain these hostels for their original purpose.
"Backpackers are not necessarily seen as the best use of space," Mr Henke said.
[dm-listing-recommendation experimentname='midcontent-listings' positiononpage='midcontent']
"In places like Sydney and Melbourne you're not seeing much new stock coming on. Because of the market some stock has disappeared in traditional backpacker havens like Kings Cross.
"It's getting increasingly difficult to make the numbers stack up for new developments, which is a concern for us."
The auction of the Bondi Backpackers this month will provide an insight into the state of the industry. Photo: Supplied
The impending sale of one of the city's most well known hostels, the Bondi Backpackers, on November 17 is set to test this sentiment with some in the industry expecting that it could fetch about $20 million.
In 2015 the Westend backpackers in Sydney's CBD – then a 359 bed backpackers – was purchased for $19 million by a Melbourne group with plans to eventually refurbish the building as a hotel.
An operator of a backpackers near to the Bondi Backpackers, who wished to remain anonymous, said that the rising cost of living in Australia was having a detrimental impact on the low budget market – traditionally an integral part of the NSW tourism economy.
"There's not as many tourists as previous years. It's expensive to get here, expensive to be here," he said.
"People are staying for shorter times. Sydney is on the circuit for internationals, but I can see a day when people just skip Australia and go straight to New Zealand."
The Bondi site has prime views of Australia's most iconic beach. Photo: Supplied
That's backed up by the latest Tourism Research Australia survey, released in August, which showed a 7 per cent decline in the amount of time backpackers spent in the country.
There's also been a consistent drop in the number of working-holiday visas being issued in the past two years.
According to figures from the Department of Immigration and Border Protection, the number of workers coming to Australia under the working-holiday 417 visa has dropped in the past two years, with more than 9000 fewer first-time visas being granted in 2014-15 than in 2012-13.
There was a 5.4 per cent reduction in working-holiday visas granted for the first time, to 173,491, and a 10 per cent reduction in these visas granted for a second time, to 41,339.
The kitchen in the Bondi Backpackers.  Photo: Supplied
Along with the cost of living, the looming threat of a so-called 'backpacker tax' – where backpackers' earnings in Australia would be taxed a portion of their annual earnings – was cited as a reason for the downturn.  
Another was the rise of accommodation sites such as Airbnb – although putting a dollar figure on how much these platforms took away from traditional backpackers was not easy, Mr Henke said.
"It's having an impact on the hospitality industry in general. It is hard to quantify because there are so many macroeconomic factors happening at one time – airline capacity, the backpacker tax, the strong Australian Dollar," he said.
But the manager of Eva's Backpackers in Sydney's Potts Point, Liz McFadden, said that travellers were still seeking out the communal aspect of backpacking that Airbnb failed to provide, with the sharing platform only having an "initial impact" on operations. 
Ms McFadden said that well-run, independent backpackers were doing as well as they ever had, with Eva's planning extensive upgrades in 2017.
"Bigger hostels might be having issues (but) we're slammed at the moment, we're absolutely full for the next week. But we're one of the better places. If you have a good product, people will come…people still want the communal aspect of a backpackers," she said.
Chelsea, a backpacker from Delaware in the US, said the quality of the hostel greatly affected the experience of being a backpacker.
"The one I'm staying at now is really nice, Eva's Backpackers," she said. "But also I've been in some bad ones and there's a lot of downsides to that." 
Opinions on the cost of being a backpacker differ too. Alex and Paul, both from Britain said that prices in Sydney were less than they had expected.
"I've actually found it cheaper than living in London. I thought Sydney would be more expensive, and the public transport is cheaper (than expected)," Alex said. 
"I think for what you get, and what's here, it's good."
The Bondi Backpackers will go up for auction on Thursday through Ray White Double Bay, about a month after the former Bates Milk Bar site, a few doors away on Campbell Parade, sold for $19.12 million.
Agent Craig Pontey said there was plenty of potential to improve upon the $1,364,989 a year being generated by the backpacker business, and the Bavarian Bier cafe and Backpacker World Travel leases downstairs.
He said backpacker operators were among those to show interest. But in a suburb where the median house price sits at $2,605,000 and the median unit price at $1,061,667, according to Domain Group data, those operators will be competing with many others. 
Mr Pontey also has had inquires from hoteliers and developers – with only a lack of parking putting a dampener on the plans of some to develop apartments.
He predicts the auction will produce a sale price in the realm of the Bates Milk Bar, with many of the underbidders at that auction, which included developer Theo Onisforou, expected to be in attendance.
"It's been like the charge of the Light Brigade. Hotel operators, developers, pub operators, backpacker operators – I've had them all down there. It's the best spot on Campbell Parade," Mr Pontey said.
The Bondi Backpackers is up for auction on November 17 at 6:30pm at the Ray White Double Bay office
[dm-listing-recommendation experimentname='below-content-listings' positiononpage='belowContent']
Keep up with Commercial Real Estate news.
Keep up with Commercial Real Estate news.