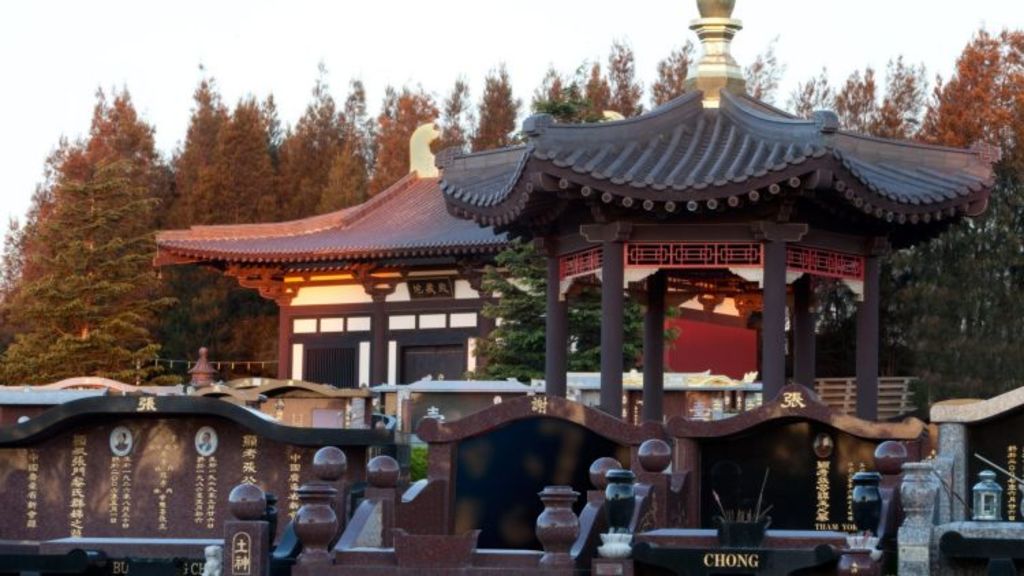 Australia's only feng shui cemetery at Springvale offers a plot with a view
As in life, position, position and position can be an all important consideration in death.
This is particularly the case at Australia's only feng shui cemetery in Springvale where the most auspicious sites for family-sized plots, which can accommodate between six and 12 internments and can cost near $300,000, are sited at the top of the hill.
"Another premium area", explains Will Babington, consumer insights manager with the Song He Yuan Buddhist cemetery, "is near the water, which is believed to bring prosperity".
The temples and graves make harmonious compositions at Song He Yuan. Photo: Robert Hamer
At the beautifully-landscaped and meticulously maintained specialist section within the 184-hectare Springvale Botanical Cemetery, the feng shui cemetery which opened in 2005, has some 600 graves descending the gentle west-facing slope that leads down to the propitious water feature.
Facing west, Babington explains, relates to the idea of prosperity for future generations.
Constructed in red, grey and black granites ("which will last forever"), and which are used in various combinations and sometimes feature carvings so finely etched they are commissioned from master craftsmen in China, the cemetery has a wonderful visual harmony.
Most of the graves are presently concentrated in one wing. An adjoining slope that opened last year is only spasmodically subscribed by new graves. But it is there to cater for the demand for such a specific Buddhist mortuary precinct that exists in a multicultural society.
Buddhist monks and nuns conduct important ceremonies in the cemetery. Photo: Robert Hamer
Developed in the south-eastern suburbs – one of the epicentres of Melbourne's Asian communities – and designed by feng shui master James Zheng, Song He Yuan gives Indo-Chinese, Cambodian and Chinese Buddhists the same right to a correct ritual place to, as Babington says, "honour and celebrate the life of every person regardless of their religious or cultural profile."
The very wealthy can chose the most auspicious sitings and purchase internment rights to family sites which may at present only have a single internment but that have already been furnished in polished granite with stone-lidded places where other family will reside in future.
Babington says while there is one impressive house-like family mausoleum (on the hill crest), that early building will remain a singular rarity.
He says that most families spend around $35,000 for internment rights in "side-by-side deluxe graves for husbands and wives". At the bottom end of this style of cemetery real estate, $9000 will purchase "a lawn grave in the lower corner".
The beautiful and auspicious water feature at Song He Yuan. Photo: Robert Hamer
Unlike Melbourne's traditional cemeteries, which become raffish and weedy when the living forget where their dead ancestors are buried, Song He Yuan holds an annual festival day which can see 400-500 people coming to make offerings and pay respects to their ancestors.
Ching Ming, or "grave sweeping day", which is attended by Buddhist monks and nuns, sees living relatives burning incense and paper money and making food offerings as a way of transferring merit to their predecessors. It is the major annual gathering. But Babington says there are activities in the cemetery on many other days.
The very evocative temple building that dominates the peak of the hill and lends the essential balance to the whole cemetery site, replicates one of the oldest timber temples in China and houses a large gilded statue of Di Zhang Wang Buddha, who looks after the beings in hell. It is redolent with incense and its altar is covered in fresh fruit and other offerings.
Every month, the Buddhist Council of Victoria organises chanting sessions for the deceased. "And the chanting is not just ornamental," says Babington, who adds that other Chinese groups regularly practise tai chi around the gardens.
The son of one particular deceased person comes daily to perform Chi Gong before the grave and his filial dedications have worn a distinct patch into the place on the path where he practises. "He comes every single day", Babington marvels.
Apart from the favourable sites, one of the other principles guiding where prospective buyers purchase internment sites is "that from a Feng Shui perspective they are choosing also for their children who will come and honour them at the graves".
Buddhist Council of Victoria president Gerald Lim says: "It is something quite amazing to have a venue like this in Victoria. It is something you would usually only expect to see in Asia."