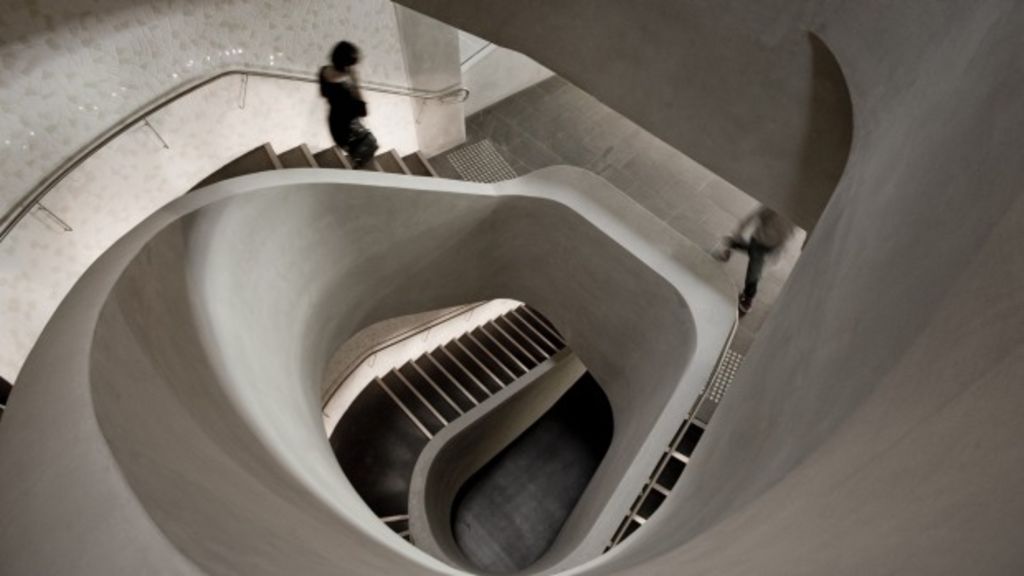 Australian Institute of Architects' awards dominated by places of learning
With 'wow' infrastructure increasingly used to reinvent campuses across the country (think Frank Gehry and UTS), inspiring places of learning emerged last night as the year's top winners at the Australian Institute of Architects' National Architecture Awards in Brisbane.
Eleven of 46 awards and commendations presented went to educational buildings from Perth to Sydney – ranging from the smallest childcare centres encouraging creative learning, to large public libraries re-imagined as contemporary hubs for community activity, to world leading tertiary education facilities.
In line with the recent strength of Australian educational projects, jury chair David Karotkin said a separate educational architecture category had been introduced for the first time in the awards' 54-year history.
The inaugural top prize was presented to the University of Melbourne's School of Design by John Wardle Architects & NADAAA in collaboration, described by the jury as 'a building which explains its operation through architecture. It reveals layers of construction as tools to teach'.
In Sydney, a sinuous building designed as a grove of trees and which finally completes UTS' Alumni Green – providing a real heart to the formerly soulless campus for the first time – UTS' Science Faculty Building 7 by Durbach Block Jaggers Architects & BVN, also received a national award.
Others included the Bankstown Library and Knowledge Centre by Francis Jones Morehen Thorp in western Sydney, winner of this year's top interior architecture award, and the University of Queensland's Global Change Institute in Brisbane by HASSELL, a national award recipient in the same category, and also winner of this year's top sustainable architecture award.
Taking Australia's educational architecture expertise to the world, the Pico Branch Library in the United States by Australian-born, now Californian-based architects Koning Eizenberg Architecture was awarded the Jorn Utzon Award for International Architecture.
In a fitting coincidence, as the nation continues to commemorate the Anzac Centenary, this year's top Sir Zelman Cowan Award for Public Architecture (the profession's most prized honour) was presented to ARM Architecture's Shrine of Remembrance – Galleries of Remembrance. The jury said this long-term project marks "the culmination of a masterplan for the Melbourne monument that was established 15 years ago".
"This outstanding final stage reinstates the symmetry of the four quadrants of the Shrine's original 1927 layout. What is remarkable about these latest additions is that they enhance the appreciation of the existing monument while confidently creating a new and intriguing visitor experience," Karotkin said.
The former national headquarters for the Commonwealth Bank and now reinvented global headquarters for Macquarie Bank, 50 Martin Place, received the nation's top commercial architecture award for a sensitive renovation by Johnson Pilton Walker.
From the outset, the jury said, this project reinstated a respectful and productive life back into the original 1928 Beaux-Arts revivalist building, a landmark in Sydney's CBD. Setting new benchmarks for sustainable design, it is the largest heritage-listed commercial building in Australia to receive a 6-star Green Star rating.
Equally impressive were Australia's best "private" projects. A daring, brave house nestled in the treetops in far-north Queensland – the Planchonella House, designed by young architect Jesse Bennett to offer a low-tech, joyous refuge for his family from today's complex world – was the recipient of the nation's most coveted housing award, the Robin Boyd Award for Residential Architecture.
In total, 11 inventive homes from Cairns to Melbourne were honoured in three residential architecture awards categories – new houses, alterations and additions, and multiple housing.
A home redesigned on a suburban Melbourne block as a series of villages, the Tower House by architect Andrew Maynard, received the top award for alterations and additions. In a big week for Maynard, the home is also in the running for a World Architecture Festival residential award, announced in Singapore today. The top multiple housing award went to Melbourne's Upper House by Jackson Clements Burrows Architects.
The top heritage award was presented to Sydney's Irving Street Brewery by Tzannes Associates, the small project award to #thebarnTAS by workbylizandalex, urban design to Canberra's NewActon Precinct by Fender Katsalidis Architects, and the steel architecture award to the Adelaide Oval Redevelopment by Cox Architecture, Walter Brooke and Hames Sharley.
National Architecture Awards Irving Street Brewery by Tzannes Associates. Photo: John Gollings
Winner of the major heritage award, this wonderfully futurist, sculptural project overlooking Broadway must cause as much head-scratching as its close neighbour, the One Central Park heliostat. Everyone knows they're there, but few know why or what they are. On top of the historic brick brewery at the heart of the old Carlton United Brewery site, this is part of a forward-thinking tri-generation plant for the entire surrounding development, imaginatively integrated and masterfully combining new technology, sustainability, urban design and heritage.
Bankstown Library and Knowledge Centre
Bankstown Library and Knowledge Centre by Francis Jones Morehen Thorp. Photo: Christian Mushenko
Designed by Francis Jones Morehen Thorp (fjmt), the creation of this inspiring building involved the adaptive reuse, salvage, recycling and renovation of the old Bankstown Town Hall. By salvaging high quality materials (such as timber, precast concrete, aluminum and stainless steel), fjmt were able to set new benchmarks for applying recycled materials to future building projects. The result is a delightful building successfully combining a vibrant community meeting place, a cafe, IT labs and a 300-seat theatre with an excellent library service.
50 Martin Place by Johnson Pilton Walker (JPW)
50 Martin Place by Johnson Pilton Walker. Photo: Brett Boardman Photography.
Winner of the major commercial architecture award and special in multiple ways. One of Sydney's finest, most opulent buildings from the 1920s, this former Commonwealth Bank headquarters has been sensitively yet inventively reimagined to house Macquarie Bank's global headquarters. JPW removed an unsympathetic 1980s refurbishment, stripped the interior back to original proportions, opened up the atrium and inserted the world's first glass cylindrical lifts, before cloaking new upper floors in an extraordinary glass-shingled dome.
The Planchonella House by Jesse Bennett Architect Builder
Planchonella House by Jesse Bennett Architect Builder. Photo: Sean Fennessy
This year's Robin Boyd Award for Residential Architecture is a brave, daring house built to be consumed and given back to the rainforest it rests against. Inventive, playful and open to its 'jungle' surroundings in a way rarely seen. Designed by a young architect and interior designer partner for their family, it aims to provide an uncomplicated retreat from a very complex world. What a joy.
UTS Science Faculty Building 7 by Durbach Block Jaggers Architects & BVN
UTS Science Faculty Building 7, by Durbach Block Jaggers Architects & BVN. Photo: Supplied
The most beautiful thing about this sinuous, joyous building is that it not only meets its brief (providing leading science and health facilities, an edge to the new Alumni Green, and more) but that it also offers students something delightfully unexpected: a first-hand education in the value of great design, of the value of spaces and places designed to encourage creativity and innovation. A rare bonus.