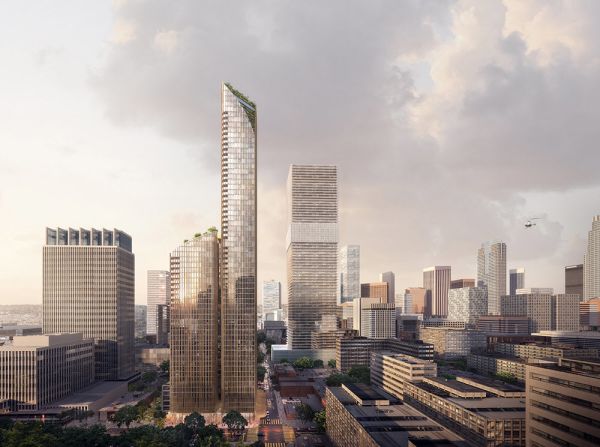 Australian-based architect Koichi Takada designs LA tower inspired by Californian Redwoods
It was the unexpectedly dehumanising experience of living in dense neighbourhoods in what he'd so wanted to be an immersive and exciting New York that has led an Australian-based architect to designing a lofty residential high rise that he claims "will be the healthiest place you can live in downtown LA".
Sky Trees, the fourth major project that the precociously original Koichi Takada has designed for the Crown Group, but his first US building, is to be 70 storeys high.
Having multiple "trunks – like tall trees growing", it is inspired by "the amazing and massive" living giants, the California Redwoods "that are the oldest living trees in the world".
Currently in planning amendment stage with the City of Los Angeles, the skinny "super high rise" that is due to launch on the residential market in the middle of the year, will have living trees, albeit on a smaller scale than Redwoods, along with "the amenity of openness" on its dramatically sloped roof levels to encourage social cross-pollination amongst occupants.
[dm-listing-recommendation experimentname='midcontent-listings' positiononpage='midcontent']
The Sky Trees project in LA, by Koichi Takada Architects, will rise 70 storeys. Image: Doug and Wolf
On the ground level, as a different but equally distinct local symbol, this time alluding to Hollywood, an undulating pavement canopy "is a reference to the (blowing) skirt of Marilyn Monroe".
Takada wants the skirt canopy "to challenge LA to become a more walkable city" and "to become an Instagram moment".
Set in the old warehouse district, the new building that the architect says "will not be the tallest building in LA", will, however, bring some familiar Australian architectural features to the city, such as cross ventilation, access to daylight, natural materiality and much timber – "inside and out, and sustainable performance glass, especially on the west-facing facades.
"We're making it of very warm, not industrial materials, and we want to make it feel like you're living in a resort. It'll be holiday style living because in resorts, you don't worry so much about time."
Californian Redwood trees were the inspiration for Takada's LA project. Photo: Supplied
Taking nature as his primary muse, "because nature involves all the senses", the 46-year-old who founded Koichi Takada Architecture only 10 years ago has had a phenomenal run of hits in many architectural genres, including two exceptional waterfront houses for model Jennifer Hawkins, on Sydney's northern beaches.
The 250-apartment building Arc, also by the Crown Group and located in the Sydney CBD around Clarence and Kent streets, offers a bricky and multiple-arched podium to the pavements. But above, a canopy of white, curved "fins" make the structure distinct and quite lovely on the skyline. Last year it won several awards.
His East Village Marketplace that created another arched story, this time as a sensational overspreading of suggested tree branches above a Zetland food court, in Sydney's inner south, similarly blitzed award listings.
The rooftop pool area of the Arc building in Sydney. Photo: Tom Ferguson
Infinity, in nearby Green Square, another KTA-Crown Group collaboration that is sculpted into smooth peaks and valleys to admit sunlight into the hundreds of units, hotel rooms and retail areas, is due to be finished in 2019.
There are more on the drawing boards. But as a commonality in a diverse portfolio, it is the different buildings in the highly developed city precincts that so manifestly acknowledge nature as the master of design. "Even Gaudi said 'a tree is the teacher' ", said Takada.
And always, "we are trying to humanise the buildings. I am always questioning how to make buildings for more human experiences? How to make them more than just a box ?"
The Infinity building in Sydney's Green Square is nearing completion. Photo: Martin Siegner
This is where New York comes in, because his time of living in the city is what galvanised a philosophy to do more or less the opposite to unrelenting, hard-faced, high-rise agglomerations.
"I had been dreaming of living in New York", Takada tells. "But when I got there, it was just too much. I needed to look for something else that would let me breathe".
His answers are now writ large in built form and embody his main thesis that, while "nature and the built environment might seem to be the opposite, they can co-exist.
"We can incorporate nature. We can connect with nature".
[dm-listing-recommendation experimentname='below-content-listings' positiononpage='belowContent']
Keep up with Commercial Real Estate news.
Keep up with Commercial Real Estate news.