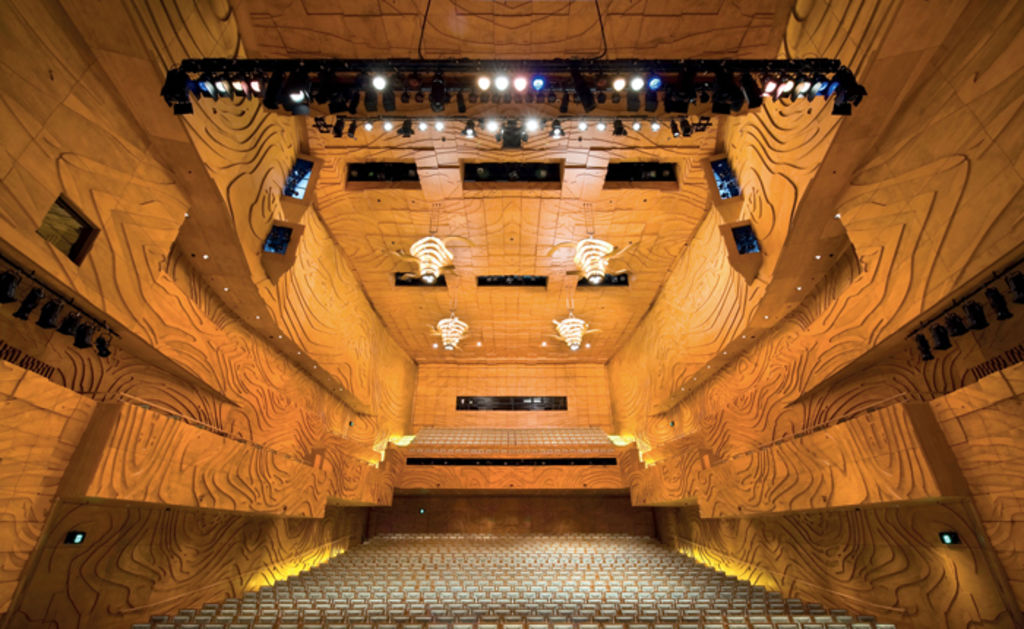 Architects' audacity a shot in the ARM for Australian culture
The work of Australian architects ARM may be fascinating, amusing or sometimes bewildering but it's always surprising, writes Naomi Stead.
Melbourne architects Stephen Ashton, Howard Raggatt and Ian McDougall, of the eponymous practice ARM, have been awarded the Gold Medal – the Australian Institute of Architects' highest honour.
It's a richly deserved win of course, even though their work is often described as contentious or provocative or colourful. In fact, it is usually all three.
The buildings are literally colourful (which is much more unusual, and itself controversial, than you might expect in architecture) and provocative in the sense of asking for, even demanding a response from the beholder.
The contentiousness usually has to do with the practice's refusal to pursue architectural good taste as an end in itself.  Likewise, its refusal to fetishise craftedness, or beauty, indeed its cheerful embrace of ugliness and unconventional building form.
The forms are often wildly inventive. The Marion Cultural Centre in Adelaide is shaped from the letters of the word "Marion". The Melbourne Recital Centre is derived from polystyrene packaging. The National Museum of Australia is formed from the loops and knots of a giant, imagined, five-sided string.
National Museum of Australia. Photo: John Gollings
None of these appropriations and form-making games are common in architecture, in Australia or anywhere in the world. In fact it's a source of everlasting wonder that it was in Melbourne, and in the work of ARM in particular, that international postmodernism reached its most radical and madcap apotheosis.
Over the years I have looked at ARM's buildings with a giddy mixture of fascination, admiration, amusement, and sometimes bewilderment. Without fail, they are always surprising. They have humour, melancholy and an affection for "small-c" Australian culture and the teeming everyday life of the city.
I have long been in awe of the architects' audacity: over the years the commissions have become more and more important, closer and closer to the centres of institutional power.
But the nerve has never wavered – they're still lobbing intellectual and aesthetic grenades. So ARM have long been important architects, but it's ultimately a bit of a surprise that they have been so successful.
The volume of buildings, the significance of the commissions, the slew of awards – all of this must have seemed improbable back when they were fiery young renegades. By any measure, they're now one of the most flourishing practices in the country, having never stopped designing highly polemical and sometimes frankly difficult buildings.
Swanston Square features the face of indigenous leader William Barak. Photo: Peter Bennetts
They have pursued their own, very particular (and rather peculiar) intellectual agenda, with total commitment and single-mindedness, over almost three decades. Critical acclaim and large scale commercial success very rarely go together in architecture, and yet here we are: the Gold Medal.
The renegades have been admitted to the establishment. ARM are intimately associated with Melbourne architectural culture, and many of their most significant buildings are there: the redevelopment of Hamer Hall, the additions to the Shrine of Remembrance, the much-discussed Swanston Square with its giant face of William Barak.
They have completed important projects in Canberra (the National Museum of Australia) and Perth (Perth Arena), and are presently at work on the Adelaide Festival Plaza redevelopment. Nevertheless, they have long been outsiders in the states to their North.
Elisabeth Murdoch Hall. Photo: John Gollings
One waits with bated breath: just what will they do with the interior of the Opera House Concert Hall, their first ever Sydney commission?
There's no need to fret, dear reader. Their interiors are actually very beautiful indeed. Their early and canonical Storey Hall in Melbourne is usually celebrated for its facade, but for me it's the interior – a breathtaking baroque feast of geometrical ornament – that's the real highlight.
Likewise the Elisabeth Murdoch Hall within the Melbourne Recital Centre is one of the most stunning rooms in the country. The list could go on.
Few practices in the country could claim such a commitment to ideas in architecture – to speculation and proposition, to criticism and argument, to a swarming multitude of concepts in every design.
ARM's buildings are as complex, meaningful, flawed, trivial, profound, poignant, and hopeful as the city and its life itself.
The practice and its three founding principals have been immeasurably important provocateurs, combatants and jesters, in a national conversation about what architecture might mean within our culture.
Dr Naomi Stead is Associate Professor in the School of Architecture at the University of Queensland, and Deputy Director of the research centre ATCH (Architecture | Theory | Criticism | History)