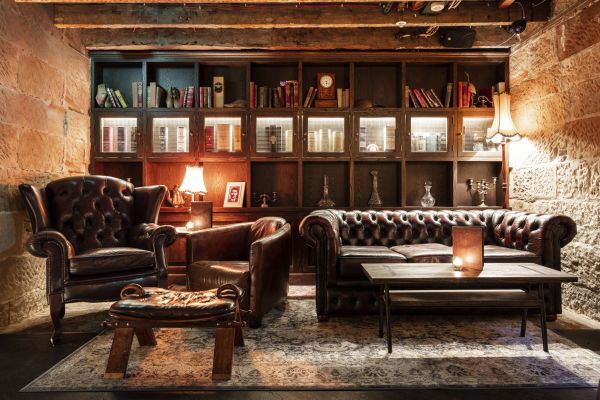 A former opium and gambling den's transformation into a Sydney whiskey bar
"Atmosphere" says Eoin Daniels, "is something you can't design". The co-proprietor of a recently opened basement whiskey bar on Australia's oldest commercial street, and whose accent is as Irish as his name suggests, adds "that's the big success of the place. People really like the atmosphere. We got that right".
The six-room basement space is under one of the five Georgian-colonial shop/dwellings that make up Unwin's Stores on George Street in The Rocks. It was fabricated in the mid 1840s from thick and heavily hand-tooled sandstone blocks. Coupled with the low door thresholds and ceilings, the heritage-significant venue has as much inherent character as it is possible to lease in Australia.
Last year when Mr Daniels and his Irish business partner Colm O'Neill went looking for a potential location for a bar, they stepped down to a basement that "oozed character" and had been historically used as a boarding house, opium den, gambling den, bootmaker and most latterly a retail storeroom.
"The writing was on the wall," he says.
[dm-listing-recommendation experimentname='midcontent-listings' positiononpage='midcontent']
The whiskey venue has made use of the basement of Unwin's Stores in Sydney's The Rocks. Photo: Tom Ferguson
"We felt that either a whiskey or gin bar would be appropriate. For the last five to seven years the whiskey and gin bar culture has been getting huge."
The pair settled on whiskey and earlier this year opened The Doss House after a break-neck fit-out by Mr Daniels' own building company.
It serves 150 different whiskies including Mr Daniels' favourite, the Very Rare Midleton, that he reckons "is the smoothest cask whiskey I've ever tasted". It's Irish, naturally, and in some venues can cost up to $450 a glass. Some of the world's top whiskies can retail in liquor stores for $5000 a bottle.
Mr Daniel's observation of the rising popularity of spirits checks out with Australian Bureau of Statistics data that says beer, cider and spirit consumption is on the up while wine drinking is marginally diminishing.
The basement has had various occupants, which is reflected in the space's theme. Photo: Tom Ferguson
Niche or "craft" beverages at are also enjoying a boom in Australia. From a start in the 1990s, the Tasmanian whiskey-making industry is becoming world renowned despite its small scale.
Peter Ahern, co-founder of Buck and Simple, the architects who helped the proprietors with the detailed design of their bar, agrees that "whiskey is a particular part of a changing (entertainment) culture".
"As the party groups are getting into their later 30s and 40s, they're looking for something different and somewhere different to go," he adds.
Zero wall contact
The space has been used as boarding house, opium den and gambling den. Photo: Tom Ferguson
The Doss House is indeed different, known for its light-subdued, below-stairs, Steampunk-style decor.
The highly detailed oak joinery – that was largely contrived offsite in a factory belonging to Mr Daniels' company, Top Knot – was brought in pieces through the narrow basement entry during a two-week, "chaotic" fit-out in March.
"We were really under the pump," Mr Ahern says.
The carefully curated vintage furniture and artefacts that are themed to tell the history of the basement's various occupants, was the easy part of what Mr Ahern says was a seriously challenging architectural design and building job.
Being so culturally and historically important, as well as perhaps sitting atop artefacts pertaining to the very first weeks of the 1788 Sydney Cove convict settlement, building owners Property NSW and heritage authorities were insistent that whatever was emplaced in the basement was not allowed to touch the walls.
"We also had to maintain air gaps between the fittings and the building", says Mr Ahern, "so moisture couldn't build up. No fixtures were allowed to touch the (original) walls, floors or ceilings."
The bar features sandstone all around. Photo: Tom Ferguson
Cabinetry and banquettes were built as what Mr Ahern terms "a secondary carcass" that sits free of walls. The floor tilings and parquetry were laid over ply, which sits atop a concrete slab laid over a sand bend that protects potential convict-era remnants.
On top of this exacting condition was a cleanliness compliance required of a food venue. And while the cabinetry and seating needed to be "robust because a commercial space takes a beating", the pressed metal ceilings above the bar that prevent dust fall, needed to look of a period but be extremely lightweight so as not to weigh on the precious cellar fabric.
While using those tool-etched walls as textural highlights by subtly lighting them, the fit-out had to be done "without any of the elements looking kitch", says the architect.
Though only accessible down a covered alley in the back of the Unwin's Stores and then down a steep sandstone stair; and having been just open since March, this specialist venue is, says Mr Daniels, "going surprisingly well".
"We started out as a secret hidden bar. But now, as an old-style whiskey bar with a splash of class, we're seeing a 5-10 per cent (patronage) increase every week."
[dm-listing-recommendation experimentname='below-content-listings' positiononpage='belowContent']
Keep up with Commercial Real Estate news.
Keep up with Commercial Real Estate news.