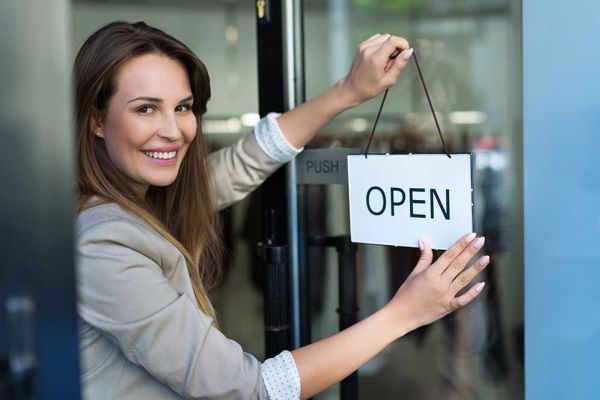 7 businesses you didn't know you could afford
Sick and tired of the mundane, everyday office job, but afraid that owning your own business needs a Bill Gates-sized wad of cash to get off the ground?
Turns it can be relatively inexpensive to get started in a pre-existing business – often where all the legwork, organising permits, establishing a client base has been done for you. But be prepared, you might be your own boss, but you'll still need to work hard if you want end up like the Microsoft founder.
Here's seven businesses we've rounded up, all priced under $100,000, from Commercial Real Estate's extensive business listings.
1. Coffee shops, cafes and takeways
Buying a cafe or restaurant could be your ticket to being your own boss. Photo: Thinkstock
[dm-listing-recommendation experimentname='midcontent-listings' positiononpage='midcontent']
Sure, you might need to brush up on your barista skills and get ready for the early mornings if you plan on taking a hands-on approach to business, but buying a cafe, such as this $65,000 espresso bar in Sydney, which comes with high foot traffic and rent concessions,  is one of the cheapest ways to become your own boss.
Or, if you're willing to let your hair get a little greasy, you could do what Pauline Hanson did and run the local chippy. This one in Diamond Creek is available for a steal at $90,000.
2. Food trucks
Food trucks don't just sell dagwood dogs these days. Photo: Thinkstock
Similar in bent to a cafe, a food truck gives another layer of flexibility, allowing you to change your surroundings every now and again. It could be that you follow the show circuit, sporting events, music festivals, or just set up in the local park every Tuesday.
With fewer overheads, and the possibility of raking it in during big events, food trucks sound like a pretty appealing business. But income tends to fluctuate, especially if you only do the big events, and be aware that many councils require you to apply for a permit to park and operate your food truck in their jurisdiction.
Food trucks are no longer the preserve of dagwood dogs – this (rather small) one serves crepes, and for the traditionalists there are a number of pie vans. 
3. Vending machines
Could you be the new owner of the office vending machine? Photo: Thinkstock
Ever wondered who owns that vending machine in the corner of your office, or the hotel lobby? Well, it could be you. Seriously, this must be the easiest business to run, and with minimal overheads. The catch? You might need a few of them if you want to replace your annual income, and you will need to conduct maintenance on the machine, make sure it is constantly restocked, and have the ability to move your machine to new locations.
Vending machines aren't just for soft drinks and lollies either. This one is for recharging smart phones, and this one has bags of ice – perfect for summer!
4. Dog washes
A love of pooches is a must if you want to run a mobile dog wash. Photo: Thinkstock
Surely you've seen these trundling around the streets of suburbia – mobile dog washes like this one seem to have boomed in the past decade. They're a flexible business with few overheads. Sure, you need to have some clipping skills, a car with some towing capacity, and, of course, a love for pooches. Cons: Can get cold in winter!
5. Bars and pubs
Dreamt of running a pub or bar? Turns out you can for under $100,000. Photo: Thinkstock
A bar for under $100,000? Surely not! Well, this bar business in Melbourne's CBD is on the market for $70,000 and includes a 3am trading licence and capacity for 120 people. The venue comes with a commercial kitchen, courtyard and two bars. If you can attract all those Melbourne hipsters, you've got it made.
6. Grocers and corner shops
Grocers and corner shops are all about exposure. Photo: Thinkstock
The big supermarkets might be getting all the headlines, but owning a corner store or green grocer could be your ticket to escaping the rat race. Make sure you target one with high exposure and foot traffic, such as this Asian grocers in Melbourne's Glen Waverley. You'll need to work hard keeping up stock levels and there will be weekend work and some early mornings or late nights but, if you choose your location wisely and maintain a good reputation, income could be solid and sustainable.
7. Newsagents
Newsagents aren't just about selling newspapers. Photo: Thinkstock
Print isn't dead. Sure, it's changed substantially from the days when owning a newsagency could see you being the richest shop owner in town, but so has the price of buying one. Take this licensed post office and newsagency in Wagga Wagga, which doesn't just sell newspapers but also lottery tickets, magazines and stationery. Located in a busy shopping centre with high foot traffic, it's yours for $95,000.
[dm-listing-recommendation experimentname='below-content-listings' positiononpage='belowContent']
Keep up with Commercial Real Estate news.
Keep up with Commercial Real Estate news.