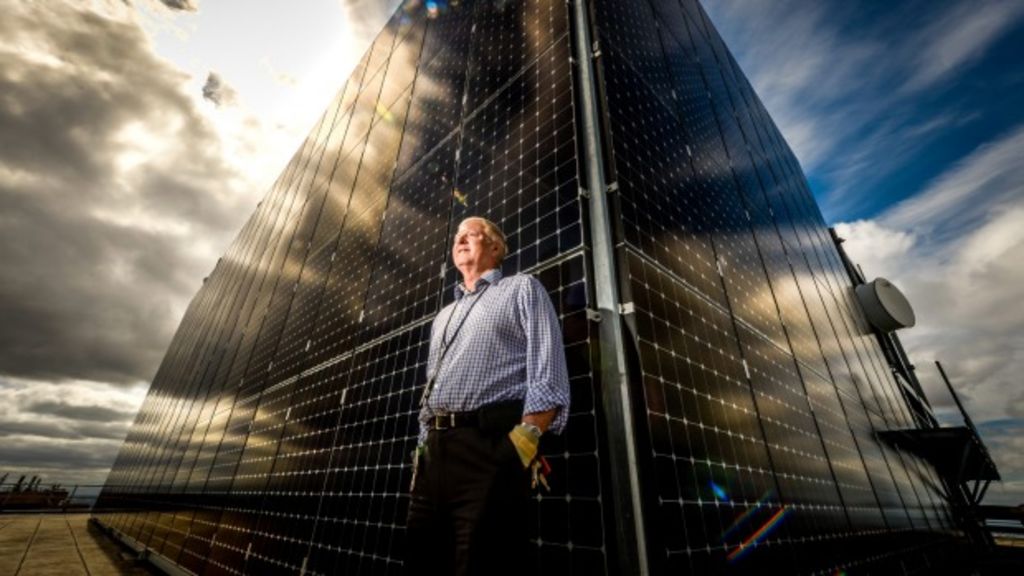 101 Collins skyscraper's solar system is the height of energy efficiency
The 101 Collins Street skyscraper has been a familiar presence in Melbourne's skyline for a quarter of a century. But those with a sharp eye may have noticed a recent renovation.
The prestigious Melbourne office building is now home to the highest commercial solar panel system in Australia, with 180 panels fixed to the base of its mast.
It took seven months to design and install the panels, which are 191 metres above street level, with the strong winds that buffet the top of the tower posing a major engineering challenge.
The general manager of 101 Collins, Peter Calwell, said a 7.75-metre steel structure had to be constructed to hold the panels in place.
"We didn't want them floating down Collins Street," Mr Calwell said.
"There's not a lot of obstacles between the prevailing wind and the top of the building, which is great from the point of view of the panels because it means nothing is going to block the sunlight."
Engineering services manager Bill Burgess said the highest recorded wind speed was 121km/h.
It is not the first time the roof of 101 Collins has been put to a practical use. The mast of the 56-level building hosts a number of telecommunication facilities, including for emergency services, while Channel Seven has a camera perched on the south side for a bird's-eye view of the Australian Open.
The $230,000 solar installation will produce about 47,000 kilowatt hours of energy each year, equal to the annual energy use of about 12 homes.
Melbourne lord mayor Robert Doyle said it was a very "strong statement" that the owners of 101 Collins had decided to invest in solar.
High-profile tenants of the building include Macquarie Bank, Goldman Sachs and J.P. Morgan.
"They know a good investment when they see one," Cr Doyle said.
There are about 855 residential and commercial solar energy systems installed in the municipality of Melbourne.
The owners of the historic Hero Apartments building on Russell Street recently voted to install a $104,000 solar system, the largest ever retrofitted to an apartment block. The owners received more than $67,000 in rebates for their system through government and council government schemes.
While it remains a challenge to get agreement from multiple owners of large apartment buildings to invest in solar systems, Clean Energy Council policy manager Darren Gladman said it was becoming easier.
He said new legislation introduced by the Victorian government meant solar companies could now install and maintain a solar power system at a rental household at no charge to the landlord. He said the price of solar energy was lower than ever.
"The electricity for a solar system is cheaper than it will be out of the socket," Mr Gladman said.