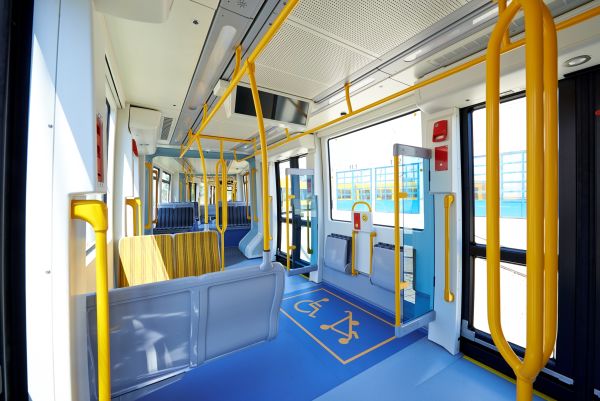 Why public transport has such brightly-coloured seats
"By the time you leave the house in the morning, you've engaged with 20 different textiles without even thinking about it". So says Claire Beale, program manager at Melbourne RMIT's Bachelor of Textile Design.
If you're the consumer who paid for these sheets, towels, carpets and clothes, their texture, colouration and patternations probably reflect your preferences. So far, so good.
Now, if you are a daily commuter who uses public transport, the fabrics and finishes you then begin to interact with, and will possibly do so twice daily during all your working weeks, have been selected by someone else and for lots of reasons not to do with taste alone.
The interior of a Gold Coast tram. Photo: G:link
[dm-listing-recommendation experimentname='midcontent-listings' positiononpage='midcontent']
Do you ever think about them? The neon trippy patterns strobing across the Royal blue background on the seats of Melbourne's Metro Trains that 415,000 daily passengers fight to sit on, for example? Or the seats on the newest Sydney Trains rolling stock that has also gone for the rich blue background?
How about the mustard or blue and apparently deck-chair-style awning stripes on the seats of the Gold Coast's new light rail network, G:link, which commenced in 2014 and that already carries 21,000 daily passengers?
G:link's chief executive Phil Mumford says "the materials and finishes of internal and external surfaces feature yellow and blues reflecting the coastal hues of the ocean and beaches of the Gold Coast". Unique to the Goldie's 14 Bombardier trams and a cool local distinction are the inbuilt surfboard racks.
A recent BBC report posed the question of the aesthetic values embodied in public transport in an article headed: "Why is train seat fabric so ugly?"
Seats on a London Underground Tube Train. Photo: Supplied
Although the seats of London's newest underground carriages are (no surprise) rich blue mainly, but with some in hounds-tooth, some with coloured circles and some with coloured squares, and by comparison to Australia rather sober, the answer was mean spirited in the extreme.
The writer generalised, calling public transport fabric "a multi-hued abomination… that rarely leaves a positive impression". His actual agenda might have been better revealed by a sub-textural comment "that it is possibly crawling with pathogens".
Given the daily bums-on-seats measure that microbial overlay is obviously an inconvenient truth. But with an expert eye cast to consider Melbourne's train seat fabrics and the punishment they endure over a life-cycle that a spokesman for the Victorian Department of Economic Development, Jobs, Transport and Resources said ranged between 12 and 17 years between refits, RMIT's Claire Beale thinks they're not that bad on the whole.
"The blue is institutional – like a hospital. It's not offensive, the patterns are generally overlapping motifs such as squares, squiggles and diamonds, and it can all come in different colour options."
Designing for the general public, she says, "is not an art-based practise. It is one of the biggest design challenges of all because you are designing for a budget, for a very broad demographic and for a whole range of restrictions…the fibre and the pile and the weave for starters".
Melbourne's Metro spokesman outlined the extent to which the fabrics were required to perform, including for "fire (fire retardant, low smoke, low toxicity and low heat-release materials); graffiti resistance; improved seat cushion comfort and the ability to be easily and effectively cleaned".
To be more specific, the requirement to cope with all that stray chewing gum, spilled soft drink, vomit, and sticky, smeary fingers.
"Functionally", said Phil Mumford, "the materials and finishes maximise durability, maintainability, and resistance to accidental damage and anti-social behaviour".
So if we are doing OK with these fabrics, could we, or should we, do better? Claire Beale thinks so.
Being so publicly interactive, design in this space "can be really exciting and is an opportunity to present things that are really important about our identity and the location. What are the messages we want to send?
"Let's relate it to who we are: That we are friendly, welcoming, open cities… that we have great (transport) networks that are easy to get around, and that we value design from the get-go.
"The Scandinavians do pretty amazing things (in the public space)", she says, "because they design with the attitude that good design is not just for the elite. Good design is for everyone."
[dm-listing-recommendation experimentname='below-content-listings' positiononpage='belowContent']
Keep up with Commercial Real Estate news.
Keep up with Commercial Real Estate news.