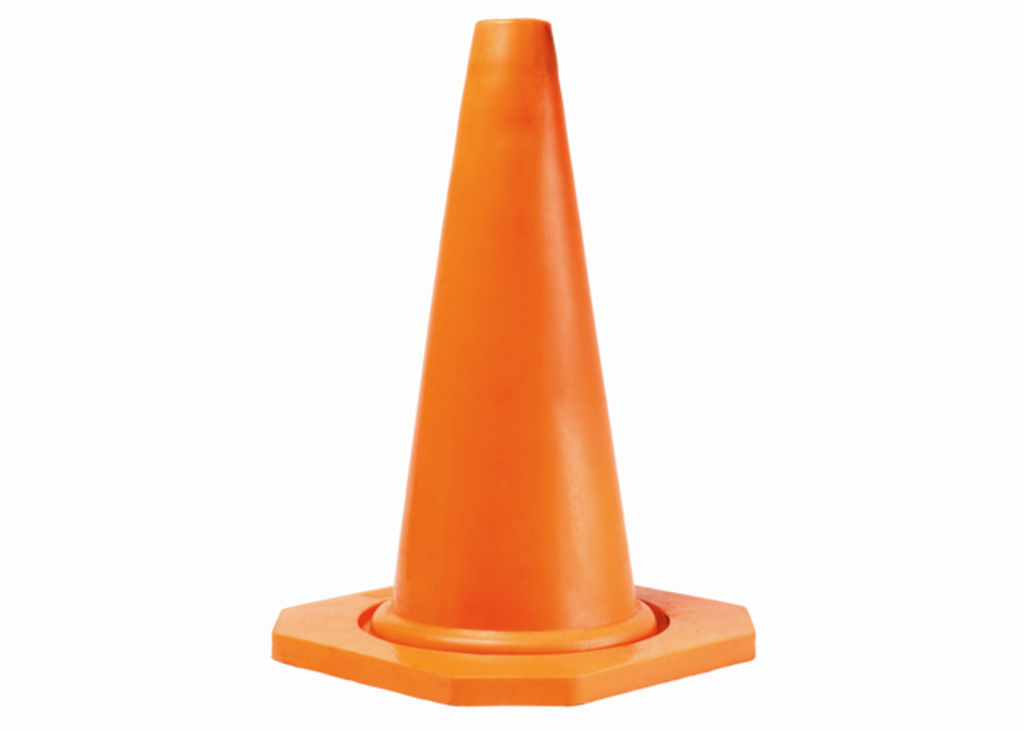 Why does Aldi sell such weird stuff?
Have you ever gone out for milk and bread and come home with a traffic cone instead?
If the answer is yes, then you're probably a university student. Or you shop at Aldi.
The German supermarket juggernaut has taken a sizeable chunk of Australian shoppers' baskets with its cut-price private label products since opening its first store here in 2001.
Peter and Mary Ford inspect witches hats at Aldi. Photo: Simon Schluter
But what has often drawn first-time shoppers are Aldi's eclectic "special buys" – limited-edition products released twice a week, and which have resulted in customers queuing outside stores and sometimes asking: "why on earth would you sell that in a supermarket?"
Take this week's broad offering: fitted sheets, floor cushions, metal bed frames, lawn mowers, an eight-camera home security system and, yes, bright orange traffic cones.
Other recent oddities include a marine safety kits, $500 3D printers and trumpets, while stores descended into madness last year when Aldi released a range of girls clothing designed by fashion icon Collette Dinnigan.
Mothers queued outside Aldi stores on to get their hands on Collette Dinnigan's clothing range for girls. Photo: Rohan Thomson
"It becomes a social talking point and it's one of the most effective below-the-line advertisements the group could do," said retail analyst Brian Walker, from the Retail Doctor Group.
"It's been incredibly successful for them."
Mr Walker said the seemingly random products had the effect of unleashing "viral" promotion for the supermarket, as people shared opinions and bragged about who snagged the most unique or unusual Aldi buy.
He said "special buys" also introduced novelty and surprise into the supermarket environment, helping to break the tedium of grocery shopping.
"They've really picked up on some strong elements in the consumer psyche, and one is to challenge the boundaries of what we expect supermarkets to be and do."
In Aldi's DNA
Retail and marketing expert Kevin Moore, from Crossmark Asia Pacific, said the random product range was no gimmick, and was in fact part of Aldi's DNA dating back to West Germany in the 1940s and 1950s.
With a population left impoverished in the wake of World War II, Aldi's founders Karl and Theo Albrecht tried to keep food prices as low as possible and also cheaply offloaded excess household goods in their small chain of grocery stores.
"They bought up random things and they put them into their stores and realised over time that people were not just visiting their stores for their staples, but because they didn't want to miss out on a bargain," Mr Moore said.
That pulling power continued to this day.
Aldi has captured a 11.8 per cent share of the Australian market, according to Roy Morgan Research. Photo: Bloomberg
"It has created the single most powerful reason for their shoppers to come back into their stores, more than the cheap prices," Mr Moore said.
Mr Walker said Aldi would make money from special buys, but the free marketing would be just as valuable as the cash flow.
Look random, 'carefully chosen'
Aldi would not reveal much about where "special buys" came from, but a spokeswoman said most were the result of the supermarket consulting with suppliers, while at other times suppliers brought "new ideas and opportunities to the table."
"Some of our suppliers are niche boutique manufacturers, while others have much larger operations and produce some of Australia's leading household brands," she said.
"Each of Aldi's special buys is carefully chosen by one of our expert buyers and assessed.
"Only once it meets our high standard for quality, are they signed off and scheduled into the special buys calendar."
The retail chain made its name with cheap groceries, but you can also buy a lawn mower at Aldi. Photo: Justin McManus
Aldi said some special buys go from conception to store shelves in "a few months" while others take as long as a year.
Mr Walker suspected some "special buys" were products that someone, somewhere in the world needed to get rid of.
"They've got specialist buyers and they'll go to auctions houses, clearance houses, they'll see end-of-season sales, liquidation sales – they'll have feeder buyers through all sorts of markets," he said.
Mr Moore said Aldi trialled certain seasonal products, like its popular ski gear range, with a small run before doubling or triple the size of its range year-on-year until it dominated that seasonal shopping event.
'A very, very clever model'
Mr Moore said Aldi used suppliers and manufacturers around the world, but it came with one condition: that the suppliers handled any returns.
"Which is a very, very clever model," he said.
An Aldi spokeswoman said refunds or replacements on special buys were available at Aldi stores for the first 60 days, and after that customers needed to contact the product supplier for "after sales support".
For Aldi, those suppliers are spread far and wide.
Some homewares, hardware, entertainment and tech products come from Winplus, a "product development company" based in Melbourne which supplied Aldi with this month's 3D printers.
Other products trace back to the Hong Kong arm of Wachsmuth & Krogmann, a German company that also supplies Aldi in the United States and Europe.
After colonising Australia's eastern seaboard with 350 stores, Aldi is moving west. It opened its first four stores in Adelaide last month and has plans for up to 50 in South Australia and Western Australia.
Unsurprisingly, it reported that two of the strongest selling products in the new Adelaide stores were "special buys": the Cocoon 3D Printer and a Bauhn 21.5 inch television with a built-in DVD player.
Aldi has captured 11.8 per cent of the Australian supermarket market, according to Roy Morgan Research.