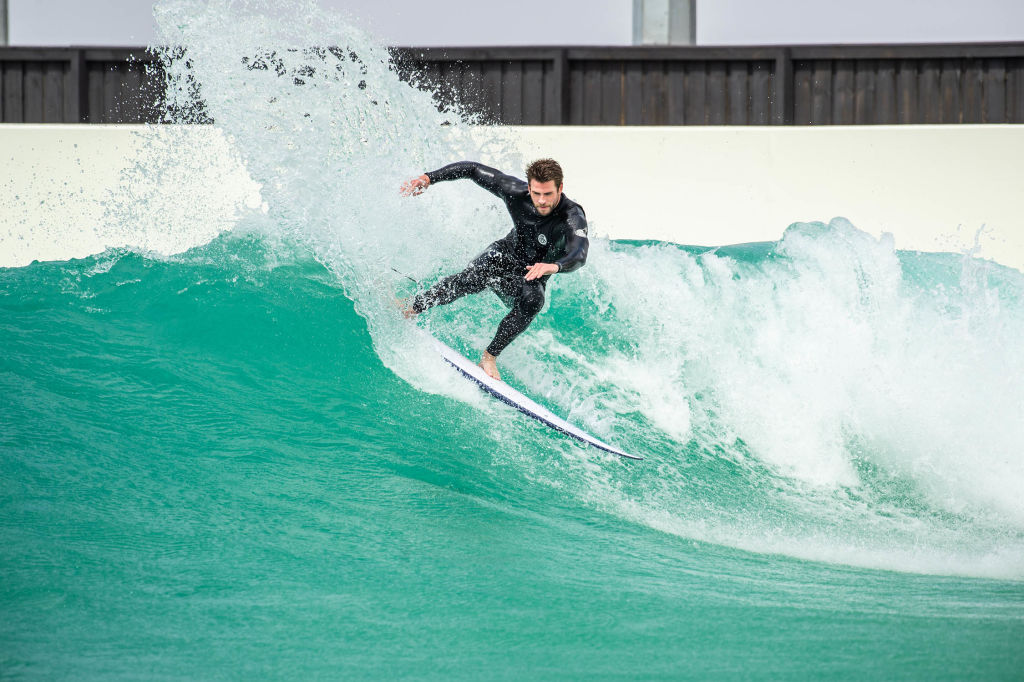 Western Sydney is set to get its own artificial surf lagoon
Where are the best surfing spots in Australia? Bondi would have to be up there, alongside Noosa, Bells Beach in Torquay and Cow Bombie on the south-west coast of Western Australia.
But for the future … how about the newcomer Western Sydney?
Western Sydney? Yes, the landlocked west is now making a break for the big time, with the start of construction of an artificial surfing lagoon, following the success of a similar venture in Melbourne late in 2019.
"It's the kind of project that appeals to everyone, from professional surfers to people who've never surfed before," said Damon Tudor, the chief executive of URBNSURF. "With our experience of our surfing lagoon in Melbourne, we've discovered that families love it, schoolkids, regular surfers, beginners … everyone.
"It's an environment that's a lot more user-friendly for people than the ocean. It's a controlled, welcoming environment with lifeguards and lots of activities, and you can catch a two-metre wave, which can be quite hard to surf, or a much smaller one. There's something for everyone."
The $50 million development on 3.6 hectares at Sydney Olympic Park is using state-of-the-art technology to generate a wave every eight seconds and is set to open early in 2023. With COVID-19 delaying work on the site, at the moment, it's just a big hole, filled with dirty brown water from the rain.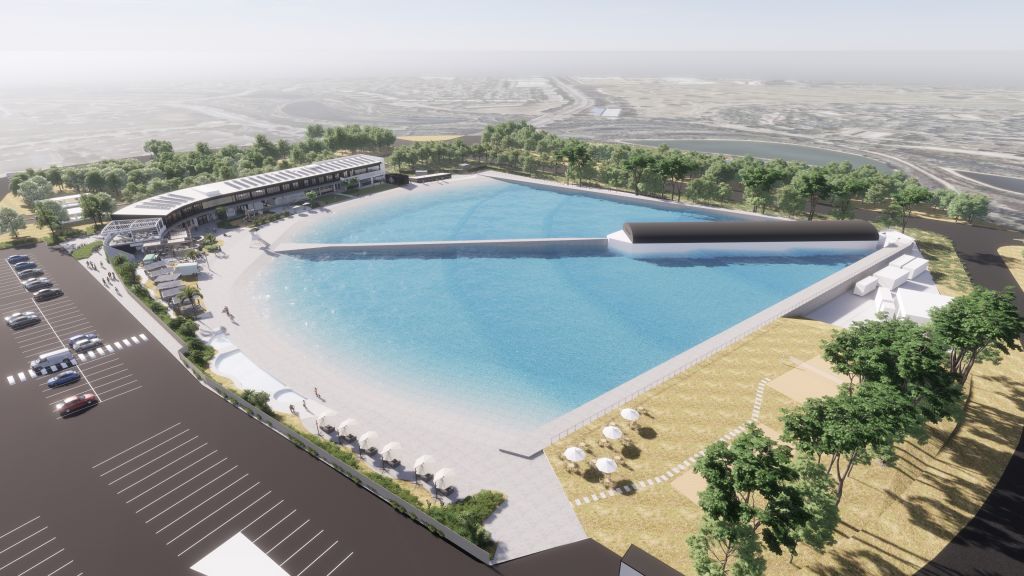 But considering the challenges the company faced with their first lagoon, a $43 million two-hectare stretch of water on 5.4 hectares of land close to the airport in Tullamarine, hit by a series of lengthy pandemic lockdowns, they're hoping the Sydney waters will be much less choppy.
Mr Tudor, a keen surfer himself, sees the artificial surf lagoons as a wonderful way to break down the barriers to surfing for many people. Rather than have them travel out to the ocean, he's bringing the ocean to them, but in a much more measured way. The Sydney centre is also planned to be a training centre for many skilled surfers, and will host surf competitions.
"In Melbourne, we have a whole lot of Torquay regulars and have members' nights and competitions and some of the quality of surfing we've seen there has been unbelievable," he said. "I grew up on the ocean but with the lagoons, you don't have to worry about the swells or rips, and everyone can get a wave and feel that sensation of surfing.
"With so many waves an hour, it's a really efficient workout and a great way to learn skills. What you can achieve in three hours in the pool is equivalent to three months in the ocean."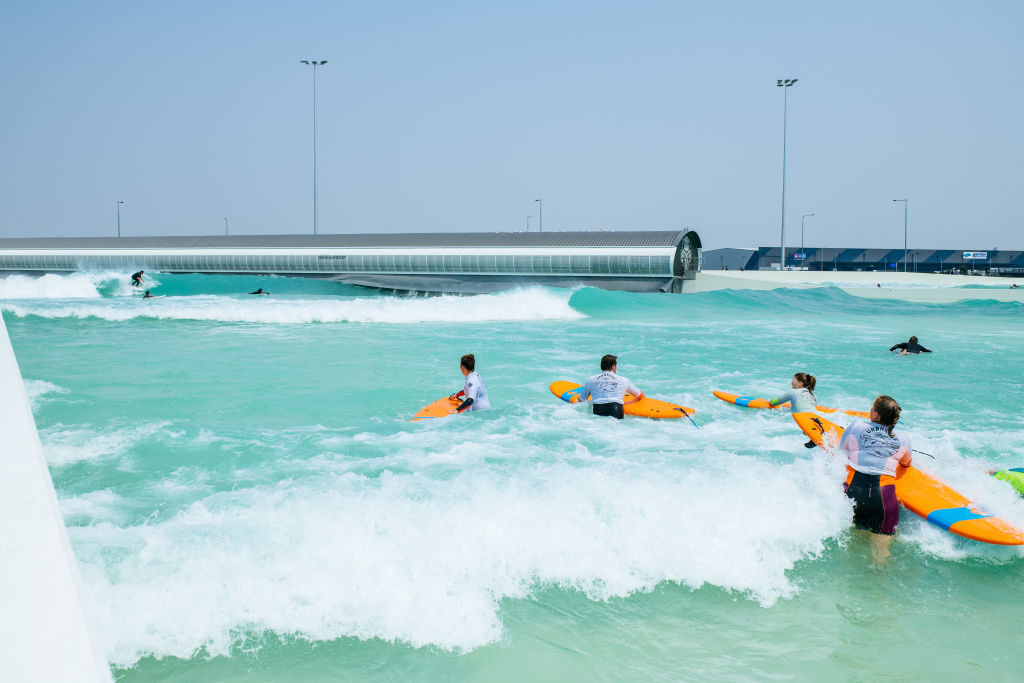 An enterprise of this size and potential has been welcomed by many in western Sydney, too. David Borger, executive director of Business Western Sydney and the former minister for Western Sydney in the NSW Labour government, sees it as a landmark arrival.
"It will be a game-changer for the west," he said. "One of the things we learnt during the lockdown is that Sydney is a very unequal city and while we don't have beaches here, this will mean we can surf, and we'll no longer have to schlep down to Cronulla.
"I think it will also help to establish Sydney Olympic Park as a true lifestyle precinct, where you come for concerts and sports games, but you also stay to discover the wonderful parklands and amenities, and do other things like skateboard and, in the future, surf."
At the Sydney Olympic Park Business Association, chief executive Allison Taylor is also thrilled to add different kind of commercial real estate to the mix, especially with a sport that featured in the Tokyo Olympic Games, providing the perfect alignment to the Sydney Games of 2000.
"The business association welcomes it with open arms," said Ms Taylor who's not a surfer herself, but is keen to give it a go in the lagoon. "We think it'll be a great attraction, especially with transport links with the WestConnex and the future Metro West and Parramatta light rail.
"It's a great opportunity for everyone in Sydney to catch a wave. It's a long way to go to the ocean for those in western Sydney and for those who are unfamiliar with the ocean, they can view it with some trepidation. But this will be a very safe choice."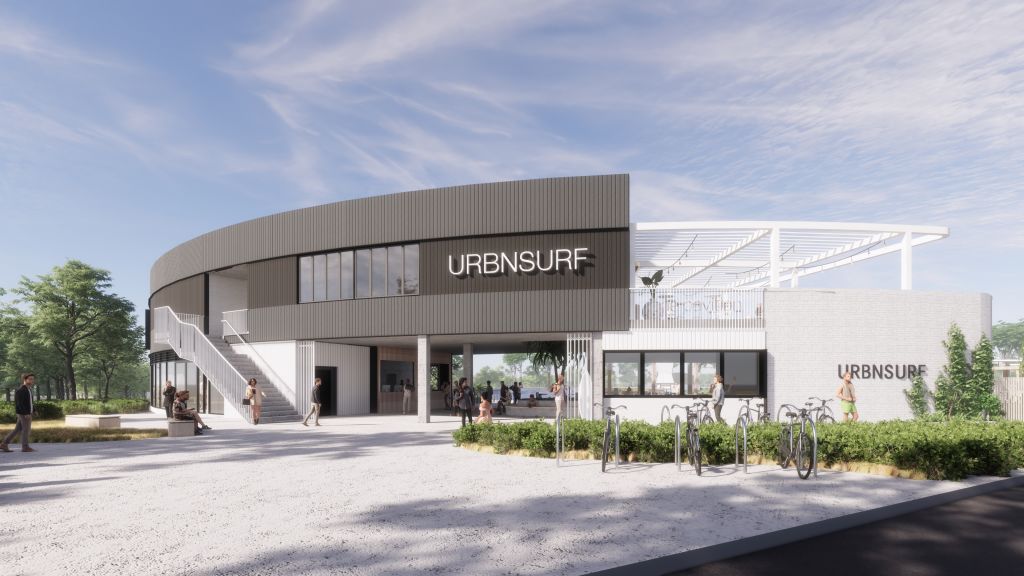 URBNSURF also has plans to roll out parks in Brisbane and Perth, and have already received inquiries from overseas to partner in similar projects there. There are parks overseas, often using different technology, like The Wave in Bristol in the UK, and another in South Korea.
"Our strength is that we've demonstrated a commercial model that can work," said Mr Tudor, who came to the company from Dubai, where he was employed by a US brewery business.
"The surf park technology is amazing but you also have to be able to attract the number of visitors to make it work. We've had a challenging time in Melbourne, when we started running 11 weeks before lockdown, but it's going very well there, and we believe it will be successful in Sydney too."