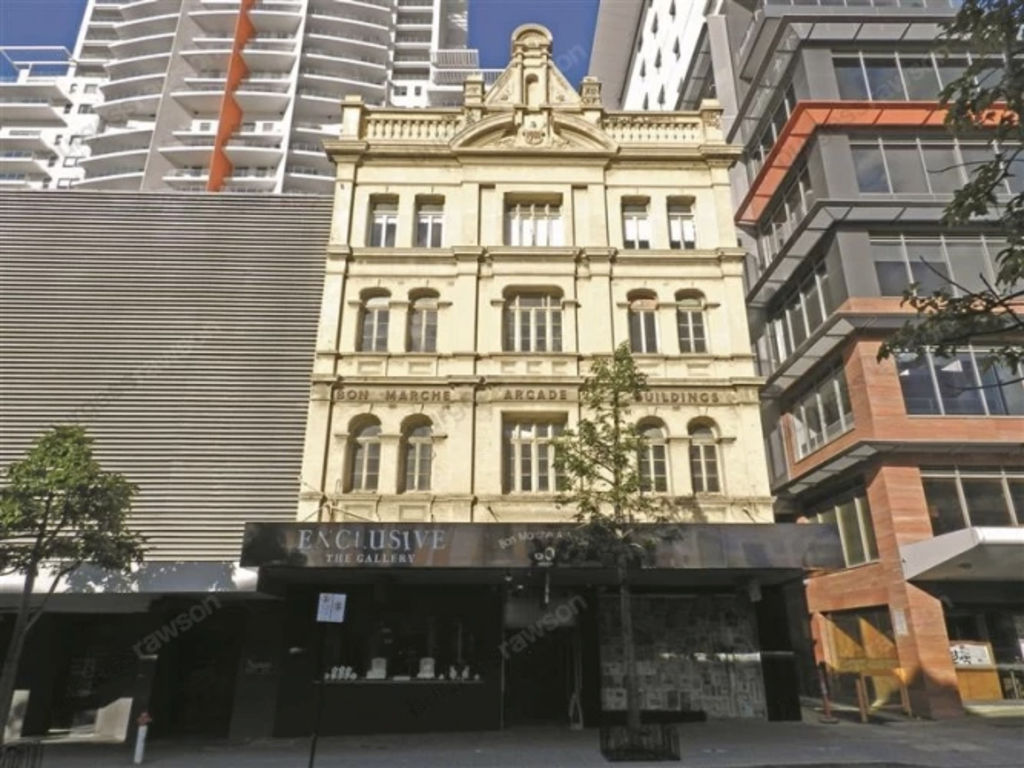 WA history for sale: Prized old buildings in Perth and Fremantle on the market
Some of Perth and Fremantle's most historic buildings are for sale, catching the eye of potential buyers who value heritage significance and the challenge of preserving character.
The Bon Marche Arcade and Carnegie's in Perth and the former police station and courthouse precinct in Fremantle are all on the market, each an example of an older structure meeting 21st-century business needs while retaining its heritage significance.
But while an historical building can be an appealing proposition because of its distinctive architectural design and the fact that its construction has stood the test of time, it can also come with restrictions about its future development.
Bon Marche Arcade, Perth
Bon Marche Arcade was built in 1901. Photo: Supplied
The four-level heritage-listed Bon Marche Arcade building is on the market in the CBD, seeking offers above $3.5 million.
According to Shane Isaacs of Burgess Rawson, it is an opportunity to acquire an iconic building and refurbish it to its former glory.
"The building is rare as an early Perth arcade that survived in a form close to that originally intended," he said. "The unique Federation features have wide appeal to a range of potential buyers.
"Heritage buildings require a specific type of buyer, one who appreciates the history and detail of the building and can refurbish the building to its former glory."
Situated on Barrack Street between the Murray Street and Hay Street malls, the freehold building offers ground-floor retail spaces and offices above, with about 1047 square metres of floor space overall.
"The building has a range of potential uses and possibilities, including the refurbishment of the ground-floor retail spaces and office accommodation to bring the building back to its former glory," Mr Isaacs said.
"The building requires a general refurbishment and upgrade of services. The building appears structurally sound and would also benefit a reconfiguration of the office and retail space to maximise the potential rental return of the building."
Constructed in 1901 in the Federation Free Classical style for W.G. Brookman, who made his fortune during the gold rush, it was taken over by drapery business Bon Marche around 1920. A variety of trades and businesses have operated from the landmark premises over the years, including fruiterers, jewellers, accountants and brickmakers.
Currently the building is about 70 per cent leased.
Old courthouse and police station, Fremantle
The oldest of the buildings in the Henderson Street complex was built in 1897. Photo: Supplied
The 7011-square-metre landholding on Henderson Street has been identified by the City of Fremantle's 2029 plan as a strategic development site, located between Kings Square and Fremantle Oval.
Priced at just under $6 million, it is comprised of seven buildings of various vintage from 1897 to 1978, including the courthouse, police barracks, and the police station which was operational until 2013.
Buildings have been classified by the National Trust as an outstanding architectural example of the convict period.
According to Savills, the high ceilings and sturdy walls with limestone facades and timber accents create the perfect shell to allow various potential uses, including residential, office, accommodation or hospitality.
Savills WA metropolitan and regional sales manager Barney Dear said there had been strong interest from local, national and overseas buyers.
"Due to heritage significance, development options are fairly limited – five of the seven buildings on site have heritage significance," he said.
A Conservation Management Strategy is in place to guide a future owner on conservation, maintenance and development matters.
Carnegie's, Perth
The building that now houses Carnegie's was used by the War Service Homes Commission in the 1920s. Photo: Supplied
Another vintage CBD property on the market is a four-level building, used by the War Service Homes Commission in the early 1920s. Near the corner of Murray and King streets, it now houses Carnegie's pub and includes three bars and two function rooms, as well as The Conservatory rooftop bar.
Colliers International is calling for expressions of interest for the property being sold with a 15-year lease and 15-year option over Carnegie's.
"This site is at a pivotal point on the expanding north-south axis for Perth CBD and right next to the luxury shopping strip of King Street," Colliers International director investment services Nicholas Agapitos said.
"It's in the centre of the city, close to office and residential areas, and next to the world's elite brands including Gucci, Louis Vuitton and Prada.
"With the development of Northbridge and Perth City Link, you are going to have 16,500 people living and working within a stone's throw of this property. Add to that a secure, long-term lease with a popular and established operator, and you have an attractive investment for someone looking to the future."
Over the years, the premises have been used by companies involved in importing and exporting, and the cigarette and textile industries.
"Heritage-listed buildings can be a challenge for buyers but older buildings in Perth were built solidly with a character you just don't see in those turned out in the 1970s and 80s," Mr Agapitos said.
"You know with historical buildings that you are buying an asset in increasingly short supply with character that can't be easily replaced."
Former Woolworths building, Fremantle
The 1908 building in Fremantle which once housed Woolworths retains its decorative facade. Photo: Supplied
Elsewhere in the port city, Raine & Horne Commercial says buyers have a prime opportunity to secure a ground-level spot within a prominent heritage building in a tightly held precinct.
The 315-square-metre ground-floor strata lot on Adelaide Street – for sale for $2.35 million – is leased to surf chain Rip Curl until mid-2018. Opposite Fremantle Town Hall, it is heritage listed as part of the former Woolworths building built in 1908, with the decorative facade still in place.
Matthew Edwards, of Raine & Horne Commercial, said in his experience buyers didn't tend to be put off by heritage.
"Buying in Fremantle, people expect to have heritage and this is a well-kept building," he said. "Often heritage has been a positive and there are council grants and heritage officers' advice that can be used for any developing of sites with heritage listings."
Mr Edwards said it was a great property and location, well placed to take advantage of increased foot traffic if nearby developments such as the Kings Square project went ahead.