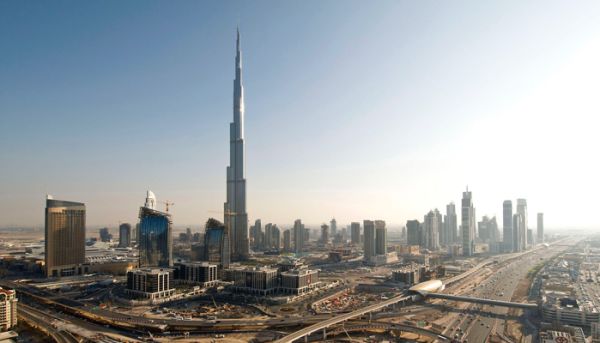 Big 'trophy' buildings are creating homogenous skylines, Professor Davide Ponzini says
An Italian professor and a keen-eyed photographer have sounded a warning on how big "branded" buildings by "name architects" are beginning to homogenise the look of cities across the globe, from Melbourne and Sydney, to Hong Kong, Dubai, Shanghai and Doha.
Davide Ponzini, professor of Urban Planning at the Milan Polytechnic, has been working with photographer Michele Nastasi for the past 10 years creating and updating a handsome visual argument for this theory in a book entitiled "Starchitecture".
As Nastasi said in a keynote address at the main forum of the World Architecture Festival in Berlin, the "spectacularization" of big-city skylines and the unfortunate way that massive iconic buildings can impact on the urban amenity at ground level "can have extreme consequences".
Taking Dubai as "an extreme example" because it has the tallest tower – specifically the Burj Khalifa – combined with the tallest water fountains in the world to create Instagram-able images that tourists flock to record, overlooks the reality that the people who live and work in the city are very badly catered for.
[dm-listing-recommendation experimentname='midcontent-listings' positiononpage='midcontent']
The skyline in Singapore is "a stage set", says photographer Michele Nastasi. Photo: Louie Douvis
"From afar", he says, "Dubai's environment is very poorly designed and the people that actually consume (reside) in the city are excluded from the (tourist-oriented) consumption circle".
Hong Kong's skyline is a nightly laser and soundscape. "Similar is Singapore where the skyline is a stage set".
Ditto many economically successful first-world cities where Nastasi says there has been an obsession with creating "iconic or trophy buildings with funky shapes".
(Think London's Gherkin, 30 St Mary Axe, and the so-called "Walkie Talkie" and "Cheese Grater" buildings?) And then think that in Dubai "clusters of these business buildings of different shapes" have congealed as a downtown area.
The result of this, as Professor Ponzini sees it, "is skylines that are beginning to look very much like each other". He adds "that the built landscape is now considered to be more important than the consumers (inhabitants)."
Contemporary architects are asked to facilitate this globally-spreading trend where trophy buildings are being replicated in different capitals because it is economically "more efficient not to have to start from scratch".
Barcelona, for instance, has a Gherkin-like building and so does Doha.
New York's skyline influenced many architects and planners, Nastasi says. Photo: iStock
The two concluded their speech with a plea to the audience of global architects to show more concern about "building environments for real people. It's very important".
Influenced by the look of Manhattan in the 20th century, Michele Nastasi said, "skylines became obsessions. But cities are more than images".
And, says Ponzini, in the final analysis, "brand architecture projects cannot revive cities on their own. Cities cannot live out of (constructed) clichéd environments".
The best cities, he believes, "have more history and context and nuance than that". The best cities do not forget the human scale and that public open space is more than just "waste product" left over from big commercial infrastructure projects as it has become in Doha.
Rather intriguingly this theme, of making contemporary architecture much more relatable and relevant to human beings, was repeated so often by so many of the different architects at the global gathering of the academy that it became the implied narrative of the festival. And maybe not before time?
[dm-listing-recommendation experimentname='below-content-listings' positiononpage='belowContent']
Keep up with Commercial Real Estate news.
Keep up with Commercial Real Estate news.