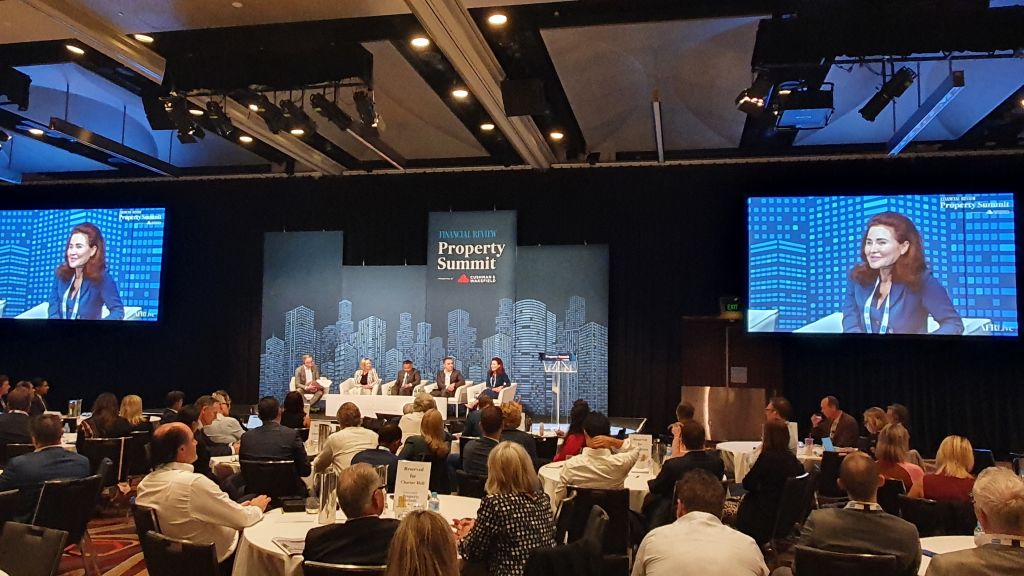 Top 10 takeaways from the 2021 AFR Property Summit
In a year plagued by the uncertainties of the global pandemic, the Australian Financial Review gathered together the very best and brightest minds in commercial real estate in Australia to plot the way forward.  
Their analyses of the present and predictions for the future were always enlightening and often surprising. Here are the top 10 takeaways from the annual AFR Property Summit.
1. Overall, things are looking good
We've had record stimulus around the world of US$20 trillion, household savings have never been as healthy, there's huge pent-up institutional capital in the wings, strong balance sheets, record low interest rates and investment volumes across the Asia Pacific which are likely to equal 2019's record. "That adds up to a very strong future for commercial real estate," said  Cushman & Wakefield's Asia Pacific CEO Matthew Bouw.
2. Get ready to live with volatility
The arrival of Omicron variant took everyone by surprise, just as Australia was beginning to open up. But we have to be ready for future twists and turns in the pandemic and business disruptions. "It was inevitable," said Sophie Fallman, Managing Partner – Real Estate, Brookfield. "It demonstrates how we have to live with COVID and we're in the best position to deal with this, with a highly-vaccinated population and starting to reopen. We have to accept some volatility as it comes."
3. Priorities are changing
Environmental, social, and governance (ESG) criteria, the set of standards for a company's operations that socially conscious investors use to screen investments, is becoming more and more important. "The big shift around the world is ESG, and that's the hottest topic," said Lendlease's global CEO Tony Lombardo, on his return from a world tour. "Investors want to make sure they are investing in the right projects."
4. Retail is bouncing back strongly
Both retailers and customers are rushing back to shopping centres. In NSW regional retailers are proving slightly more popular than those in city centres and are now pretty close to 2019 trading levels, but Victoria has rebounded even more strongly. "We've been surprised by how strongly it's come back," said CEO Scentre Group Peter Allen. "People want to come to us and they want to socialise and come together and COVID has accentuated how important that is."
 5. Demand for office space is coming back
Companies have often been surprised by their growth during the pandemic, and the prospects of growth afterwards. "Business has been in a holding pattern for two years and people are now feeling confident and they're looking at hiring, retaining and expanding," said Simon Fenn, Managing Director, CRE AUNZ, Cushman & Wakefield. "We're also now dealing with a lot of companies we never really knew about before …like food delivery Menulog and TikTok."
6. Hybrid working is here to stay
People will continue to work from home, but will be wooed back to the office for large parts of the week by their companies investing in the right office assets. "They need to lift them to a certain standard with all the bells and whistles and amenities and ESG," said Carmel Hourigan, office CEO, Charter Hall. "Then we're seeing people using home as an overflow." 
7. Australia's house price growth is among the highest in the world
With year-on-year price growth at nearly 26 per cent, we're very close to the top of the international league table, says Lisa Claes, CEO, CoreLogic. "We are part of a particularly raging global party in the western nations. We've all had extraordinary price growth … [compared to] 22 per cent in New Zealand, 18 per cent in the US, 12 per cent in the UK, 11 per cent in Canada and seven per cent in the EU."
8. The build to rent sector is taking off
Housing affordability is a critical problem for many people, and the growth of the build to rent housing sector offers one solution. For in a nation where it takes the average person nine to 10 years on a median income to save enough for the deposit on an average house, renting can be either a way to save, or a complete lifestyle choice. "Everyone deserves a secure home," said Susan Lloyd-Hurwitz, CEO & Managing Director, Mirvac. "Build to rent is a part of the whole housing typology and it gives tenants the chance to stay in their home for as long as they want with good amenities, the ability to keep pets and paint walls, and use the deposit money to invest for the future."
9. A higher rate of immigration is vital
The high level of demand from housing is coming from past levels of population growth, but the halt on immigration is causing problems. "We need immigration more than ever before," managing director of Meriton Group Harry Triguboff told the room . "That's what we really need. We are living longer and have a lot of old people who can't work and we need people with skills."
10. Alternative investments can promise great returns but haven't yet hit the big time
They call them 'beds, sheds, meds and bytes' but people can still be a bit hesitant in investing large sums in alternatives because of the perceived risks and, sometimes, the smaller firms involved. "We will be investing in alternatives, but how do you do it at scale, whether data centres or healthcare?" asked Bevan Towning, AustralianSuper's head of property. "There are very few opportunities to invest in scale. Those changes are coming, but it's a matter of how you adapt to that change."