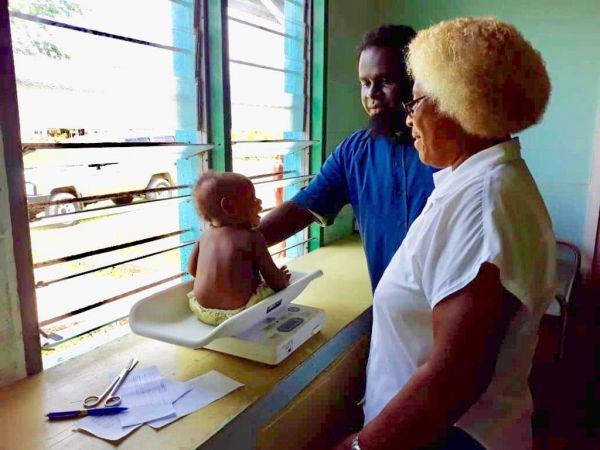 This is what happens to medical equipment when a hospital closes
Whenever a hospital closes, local communities usually voice outrage and developers start mulling over the options for the site.
But for the volunteers with one enterprising charity, it's all systems go as they immediately race in to claim any unwanted equipment and medical supplies.
For, while the axing of old hospitals may be bad news for some, there is a silver lining for struggling hospitals overseas – often in the developing world – that have few supplies and little equipment.
"We're regularly approached by hospitals overseas – usually through a charity acting as an intermediary – explaining their circumstances and their wish-list for medical equipment and supplies," said Laura Taitz, co-founder and director of Australian charity Medearth.
[dm-listing-recommendation experimentname='midcontent-listings' positiononpage='midcontent']
A container is loaded with medical equipment in Australia bound for an overseas hospital. Photo: Medearth
"So then when we have hospitals closing down and no long needing a lot of items, or where they're upgrading to the latest equipment or may simply have a surplus of supplies of something, we'll match those with the wish-lists and ship out those pieces to hospitals that have a real need for them."
When Sydney's Manly Hospital closed last year, for instance, with services transferred to the new $600 million Northern Beaches Hospital, the site was earmarked for a conversion into Australia's first hospice for young people.
At the same time, Medearth went in and took out 14 truckloads of equipment, beds, furniture and supplies and shipped containers full of the precious cargo to struggling hospitals in the Solomon Islands and Sri Lanka.
That gift straight away helped save the hand of one 16-year-old boy living in the poverty-stricken Western Province of the Solomons. He'd cut the main tendon to his thumb while helping in the family business of harvesting coconuts for sale, but a visiting Perth surgeon was able to operate, using the donated equipment and supplies, and returned full function to his hand.
A boy in the Solomon Islands is operated on with Australian hospital equipment that restored the use of his hand. Photo: Medearth
Hospitals are today some of the most keenly-watched and intensely sought-after swathes of real estate which, when they close, are regularly converted into residential complexes, office spaces, community hubs and education centres.
Cushman & Wakefield commercial real estate national director of research Tony Crabb said that public hospital sites were the equivalent, in both sheer size and value, of big regional shopping centres.
"They're allowed to operate for 24 hours a day, seven days a week, and they're surrounded by ancillary services, like catering, laundry, cleaning, staffing and short-term accommodation," he said.
"Private hospitals tend to be boutique versions of the public hospitals and also tend to be in good locations with a lot of parking. Converting them to offices can be the next best use or demolishing them to turn them into whatever the local council allows.
"But the equipment they leave behind is usually very expensive, highly specialised and very valuable, so for third-world hospitals it's like winning the lottery. It's a fantastic scheme, and good luck to them!"
Hospital equipment shipped by Medearth is unloaded in the African nation of Burundi. Photo: Medearth
Over the past eight years, there has been a large number of Australian hospitals closing down, often to be replaced by new, bigger buildings.
In NSW, the new Northern Beaches Hospital will replace Manly and some of the functions of the Mona Vale Hospital, which will have a shifted focus to rehabilitation. Byron Bay Hospital and Mullumbimby hospitals have also closed, to be replaced by Byron Central Hospital.
In Victoria, the Geelong Private Hospital and Cotham Private Hospital in Kew have recently been closed by operator Healthscope. Cotham was bought soon after for $15 million by the Hamton Property Group.
In Queensland, the Gold Coast Hospital closed in September 2013, and the Mater Children's Hospital and Royal Children's Hospital subsequently closed. In South Australia, the former Royal Adelaide Hospital was replaced by its namesake in late 2017.
The reasons for the closures were numerous and varied. Dr Adrian Webster, head of the hospitals and expenditure group at the Australian Institute of Health and Welfare, said: "Changes in the number of hospitals over time can reflect the opening of new hospitals, the closure of hospitals, the reclassification of hospitals as non-hospital facilities (or vice-versa) and the amalgamation of existing hospitals."
Queen Elizabeth Hospital in Blantyre Malawi earmarked for a shipment of Australian hospital beds and equipment. Photo: Medearth
At the Grattan Institute, Health Program director Stephen Duckett said the anger about closures was often about longer travel times for patients, particularly in country areas. "And privatisation can be an issue," he said. "In the case of the Northern Beaches Hospital, we saw the contract very poorly written so there were a large number of problems."
But it's not all bad news, according to the Consumers Health Forum of Australia. "The closure of local hospitals can be upsetting given they are so much a fundamental part of health service delivery to people in city and country," said chief executive Leanne Wells.
"But it is also time for politicians to be rethinking their views on hospitals and to ask what we want the future of healthcare to look like. So much of popular attention and public money concerning health is devoted to hospitals when we should be giving more thought to the ways we can reduce our dependence on hospitals."
But with 701 public hospitals in Australia, with 61,000 beds, and 630 private hospitals with 33,100 beds, the only certainty in the future is that there will continue to be closures and new openings.
The Cotham Private Hospital in Kew, in Melbourne, was sold recently. Photo: Supplied
For Laura Taitz, who started Medearth five and a half years ago along the lines of a similar charity in the US, that could mean helping repurpose even more disused and unwanted medical equipment and supplies in countries with much poorer health systems.
So far, more than 1000 cubic metres of usable items have been diverted from landfill from more than 25 hospitals and healthcare facilities in NSW, Victoria and Western Australia, and 65 tonnes worth more than $2 million have been sent to 14 hospitals in nine countries, including the Solomons, PNG, Fiji, Malawi and Burundi.
"These gifts have impacted tens of thousands of lives," said Ms Taitz, whose supporters have also participated in four-day, 100-kilometre runs for the past three years to raise funds for the organisation.
"One of the hospitals we've been helping in Malawi had 20,000 patients and only 1000 beds, with very limited medical supplies, blankets and staff, and we're currently fulfilling wish lists for a hospital in Kenya which serves poor local communities, and one in East Timor which services a population for 24,000 people but has no running water, no antibacterial soap and no functioning autoclave. It's wonderful to see what a difference we can make."
[dm-listing-recommendation experimentname='below-content-listings' positiononpage='belowContent']
Keep up with Commercial Real Estate news.
Keep up with Commercial Real Estate news.