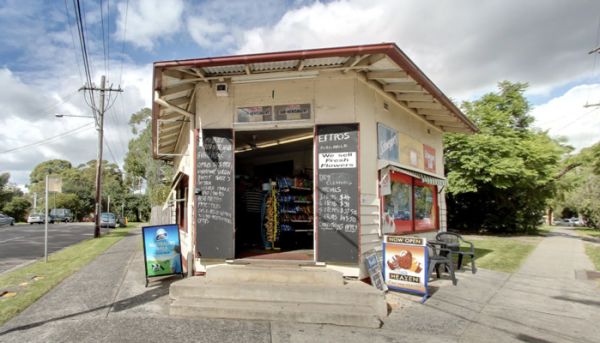 The Australian places and spaces that help make music famous
Australia's spectacular natural scenery has always attracted film-makers to record its bright-blue skies, white sandy beaches, ancient rocky gorges and red desert earth.
Its distinct urban landscape has not been forgotten either, featuring in a number of music videos from Australian rock classics to international pop hits.
Watching these clips is like peeking into a time capsule – you get an insight into how much Australia's streetscape has changed and developed over the years.
Here we take a trip down memory lane to see how everyday places have appeared as the backdrop to some unforgettable music videos.
Eagle Rock – Daddy Cool (1971)

Source: Youtube
[dm-listing-recommendation experimentname='midcontent-listings' positiononpage='midcontent']
The video for this classic Australian anthem opens with singer Ross Wilson walking into a milk bar with a jukebox, believed to have been the Dolphin Cafe on Clarendon Street, South Melbourne.
At the end of the video, the band is seen "steppin' out" from Aussie Burgers opposite Luna Park in St Kilda to jump into a FJ Holden. There is now a McDonald's in the vicinity.

Source: Youtube
Together with live concert clips and footage of wedge-tailed eagles at Melbourne Zoo, the video shot on 16mm black-and-white film by Melbourne film-maker Chris Lofven cost about $300 to make.
In the days when music videos were rare, Eagle Rock became the biggest selling Australian single of 1971.
A Long Way to the Top – AC/DC (1975)
A few years later, on February 23, 1976, the powerhouse rockers – including Bon Scott out front with bagpipes – made their way along Melbourne's Swanston Street on the back of a flatbed truck, accompanied by members of a pipe band.
AC/DC films the music video for A Long Way To The Top in Melbourne's Swanston Street in 1976.
According to Paul Drane, who directed the clip for TV show Countdown, the footage was shot during two trips down the street, after council approval.
The video offers a perspective into what the city centre looked like in the mid-70s, with green and yellow trams passing them by. In 2004, a nearby laneway was renamed ACDC Lane as a tribute.
ACDC Lane, Melbourne. Photo: Chris Brown
What About Me – Moving Pictures (1982)
Asquith Corner Store, the northern Sydney shop from songwriter Garry Frost's schoolboy days that inspired the lyrics of this chart-topping single, was demolished in 2012, making way for residential and retail development.
The Asquith shop that inspired the Moving Pictures song before it was demolished in 2012. Photo: Google
However, the actual store where we view singer Alex Smith in the video was reportedly located in Coburg, Victoria. There is indeed a sign for a Savings Bank of Victoria on the shop wall in the opening sequence.
Two decades later, 2003 Australian Idol runner-up Shannon Noll recorded a cover version, with his video showcasing his rural NSW hometown of Condobolin.
Let's Dance – David Bowie (1983)
The outback pub put on the map by David Bowie was back in the news recently after the death of the English music legend. The Carinda Hotel in northern NSW – which has retained those yellow wall tiles – has been a drawcard for fans ever since the video to Let's Dance was filmed there around the time of the singer's 1983 Serious Moonlight tour.
The locals were more than happy to play extras, with an open bar provided.

Source: Youtube
The video, intended to illustrate the plight of indigenous Australians, starred two students from Sydney's Aboriginal and Torres Strait Islander Dance Company.
It included scenes of Terry Roberts pulling machinery along a busy Sydney road, while Joelene King used a scrubbing brush to clean a Broadway intersection.
Roberts and King also walked through The Strand arcade, in Sydney's CBD.
Joelene King and David Bowie during the filming of Let's Dance in Sydney's Broadway in April 1983. Photo: Supplied
I Should Be So Lucky – Kylie Minogue (1987)
In this alternate version to the music video shot in a TV studio for the Stock, Aitken and Waterman ditty, the pint-sized pop princess with the supersized hoop earrings is driven around the streets of Sydney in a BMW convertible.
The video, filmed to appeal to the British market, opens with vision of Sydney Tower (previously known as the Centrepoint Tower), passes many glass towers of the CBD and travels across the Sydney Harbour Bridge.
With seatbelt laws in force since 1971, it seems that perhaps Ms Minogue was lucky not to have been pulled over by the police.

Source: Youtube
M.O.R – Blur (1997)
Although not one of their better-known tracks, this video by Britpop band Blur is one of its most expensive, according to Wikipedia.
Filmed in Sydney, it involves stuntmen in balaclavas masquerading as band members on the run from police.
Luna Park at Milsons Point features in the opening sequences. It also includes appearances by actor Noah Taylor as a truck passenger, as well as scenes abseiling off the bridge and waterskiing on Hawkesbury River.
A Luna Park screen shot from the music video M.O.R. by Blur.
Let's Get Ridiculous – Redfoo (2013)
While working as a judge on The X-Factor, Redfoo filmed this video in the Sydney beachside suburb of Manly.
The LMFAO singer is seen getting deported from the country for "crimes against conformity" before he parachutes out of the plane and lands in Manly's pedestrian mall, the Corso.
He is chased past the Ivanhoe Hotel, dances in front of the Magic Millions Bar at the Hotel Steyne and hides out in the window of the Surfection surf shop.

Source: Youtube
In a media interview at the time, Redfoo thanked Manly Council for rushing through his filming application so he could film there.
A Sky Full Of Stars – Coldplay (2014)
A couple of years ago, Coldplay tweeted that they were looking for 250 extras to join them for the filming of their video for this track off the Ghost Stories album.
The next morning, a throng of fans descended on the Courthouse Hotel in the Sydney suburb of Newtown.
The video opens with a shot of a National Australia Bank branch, before the consciously uncoupled Chris Martin appears, dressed as a one-man band.
He wanders past a number of retail outlets on King Street, before stopping in front of the heritage-listed Martin Luther King "I have a dream" mural where he is joined by his bandmates.
One-man band Chris Martin films the Coldplay clip on King Street, Newtown in June 2014. Photo: James Brickwood
And more …
There are many more videos that highlight urban landmarks around the country. In 1984, Hoodoo Gurus sang about My Girl from the now long-gone Central Markets Hotel in Darling Harbour while greyhounds raced around the Wentworth Park track in Glebe.
A number of industrial settings featured in Midnight Oil videos, including WA's goldrush town of Kalgoorlie for Blue Sky Mine; the Woolloomooloo Mural Project under a railway bridge for Power and the Passion; and the Vales Point Power Station in NSW for US Forces.

Midnight Oil's US Forces at Vales Point Power Station. Source: Youtube
In 1999, Alex Lloyd hung out in a Newtown laundromat – still in operation today – for his Lucky Star video, while part of Bachelor Girl's Lucky Me was filmed inside the Glen Waverley Shopping Centre in Victoria.
Silverchair frontman Daniel Johns crooned about Straight Lines at the Olympic Park railway station back in 2006.
Screen shot from the Alex Lloyd video for Lucky Star, filmed at a Newtown laundromat. Photo: Youtube
[dm-listing-recommendation experimentname='below-content-listings' positiononpage='belowContent']
Keep up with Commercial Real Estate news.
Keep up with Commercial Real Estate news.