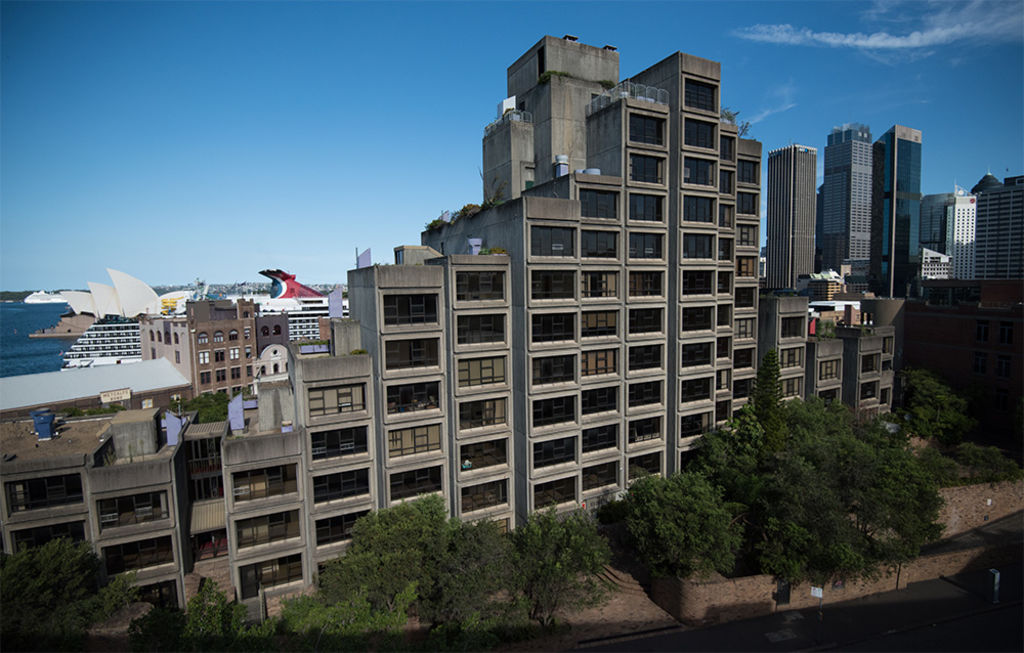 Sydney's Sirius building 'sore thumb' to be sold after state rejects heritage listing
Demolition looms for Sydney's controversial Sirius building at The Rocks, which will be sold to developers for an expected $100 million-plus after the NSW government decided it would not be added to the state's heritage list.
An announcement today by Minister for Finance, Services and Property Dominic Perrottet that the NSW government would divest the "sore thumb" site to fund more than 300 social housing dwellings has disappointed longtime campaigners for the Sirius building's preservation.
However, Mr Perrottet said it was not fair for the government to sit on such valuable assets when better use could be made of them to create new housing. Heritage listing would reduce the Sirius' sale value, meaning fewer houses would be funded.
"Frankly, the Sirius building is not at all in harmony with the harbour and heritage that surrounds it," he said.
"Our city deserves better, and we now have a chance to deliver a building that genuinely complements our dazzling harbour, rather than sticking out like a sore thumb."
The decision is the culmination of a long debate over the future of the 36-50 Cumberland Street building, which rises above the approach to the Sydney Harbour Bridge. Its brutalist, stacked-cube appearance is both loved and loathed by the community.
Institute of Architects president and Save Our Sirius Foundation chairman Shaun Carter told The Sydney Morning Herald the government's decision was disappointing.
"Sirius is fundamentally bound in that aspect of Sydney, and with the greens ban movement," Mr Carter said. "It's embedded in the whole society, culture and understanding of The Rocks.
"This government is showing it can't understand what society values. It's just about a zero-sum game. [The decision] confirms that they understand value, but not much about the society it is in."
He said the decision would have "a very real human toll" by forcing out long-time tenants of the public housing building.
"It was a unanimous decision of the Heritage Council that the building had aesthetic significance and it also represented rarity in its design and form," council chairman Stephen Davies said at the time.
Sydney lord mayor Clover Moore also joined the push to conserve the site.
"Historic buildings support local economies and communities by contributing to local character, building diversity, urban renewal, design excellence, social cohesion and cultural life," Ms Moore wrote in a submission to Environment and Heritage Minister Mark Speakman.
But today Mr Speakman said adding the building to the state heritage register would reduce the site's value by up to $70 million – money which could otherwise be used to fund about 240 social housing units.
"I am not listing it because whatever its heritage value, even at its highest that value is greatly outweighed by what would be a huge loss of extra funds from the sale of the site, funds the government intends to use to build social housing for families in great need," Mr Speakman said.
"This doesn't mean a practice that money trumps heritage. Here there is a dramatic contrast between whatever heritage value Sirius has and what would be the huge loss of funds for getting people who need a helping hand off the social housing waiting list."
Designed in the late 1970s by architect Tao Gofers, who is keen to see the building preserved, the Sirius complex was built in 1980 to provide public housing for up to 200 people. Only a few of the 79 apartments remain occupied after most of the tenants were moved out through a government relocation program.
But even Gofers admits there is one aspect of the building he regrets.
"When we were finally starting the concrete works, they came to me and they said look, we've got to save $200,000. Let's take the white cement out. And I agreed," he said in an interview with Domain.
"I've kicked myself for 35 years. It should have been white, you know like the Qantas building down the road? It should have been a whiter building because now it's a light grey – and I'm not happy with that."
Architect Tao Gofers wanted a lighter-coloured exterior for the Sirius building, like that of the former Qantas House, since renamed 1 Chifley Square. Photo: Jim Rice
Property NSW and the Office of Environment and Heritage will prepare a Stage 1 development application, which is expected to be lodged in the first half of 2017, for the property.
Any new building on the site would be required to fit in with the character of The Rocks historical precinct, with strict planning controls to cover building scale, minimising the impact on views and vistas and building materials.
Property NSW will develop "an appropriate disposal strategy" for the site.
Mr Speakman said he would argue for any future building's floor space to be restricted to what is currently allowed.
According to NSW government figures, proceeds from the sale of state-owned properties in nearby Millers Point have already funded more than 600 new social housing dwellings across the state. The sell-off in the historical suburb, which has uprooted state housing tenants, continues to draw strong community opposition.