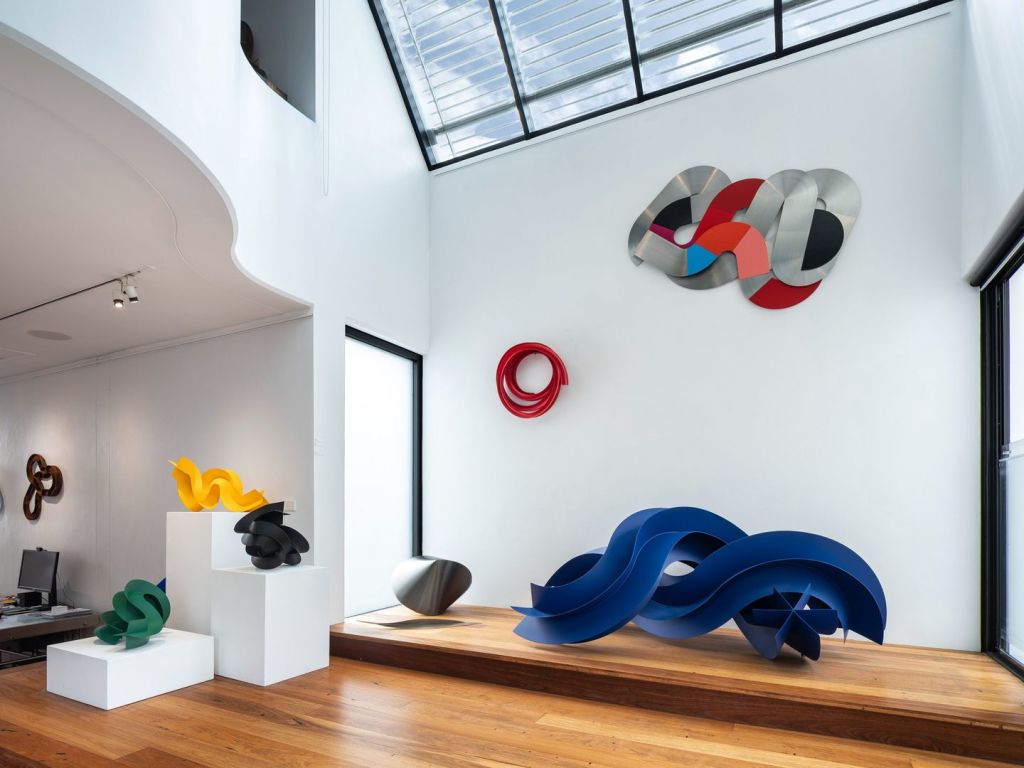 Sydney sculpture artists selling modernist studio in Paddington
You'd think a standout building that's unusual because of its location, context, provenance or potential mutable uses would be a guarantee of a big price result at auction.
In Sydney's heritage-loaded Paddington, a corner-set sculpture studio that still presents as super contemporary although it was architect-designed over 30 years ago easily slots into all of the above categories.
Due to go to auction in late February, it's a sexy modernist commercial building that The Agency is touting as "a commercial landmark"; indeed as "an icon".
But while the floor plan shows it as having one bedroom, a tiny kitchen and two small wet rooms on three floors, plus an all-points fourth-level roof terrace, the "ideal blank canvas" at 1 Hargrave Street, Paddington, is being described as having scope to become a five-bedroom residence.
Dual appeal is a great selling point, right?
The Agency's Ben Collier demurs, offering that "you're always at the mercy of something being so different – it can work for you, or against you".
Although it's located near the heart of eternally appealing "Paddo", Collier says buyers in the mooted $4.5 million to $5 million range – which puts it in line with the $5.3 million 2021 sale of the nearby Savill Galleries – are a realistic lot.
"Normally a commercial buyer would look at it from the standpoint of square metreage and yield, while a residential buyer would look at it from another viewpoint."
He says that, since the property was listed around Christmas, both of these purchaser types have shown interest. "It's captured people's attention as a possible architectural studio, as a family office, or as a residence, although to make it into a residence there is a bit to do".
With a background as an architect before turning to full-time sculpture, Stefanie Flaubert of the Korban Flaubert sculpture studio knows the currently vertical and super-luminous spatiality of the studio she's shared with her metal fabricator partner Janos Korban for these past six years is a viable residence. She has played around sketching it.
"I have drawn up plans for a five-bedroom house – just as an exercise, and because the building offers so many different options. It's a blank canvas that you can do all sorts of things with."
While the little corner suite on the third floor is cited as an office/bedroom, the couple haven't ever used the building as a domicile. Having bought it in 2015, Flaubert says, "we saw it as a studio/gallery and haven't wanted to use it for a different purpose".
"We just loved it as a wonderful minimalist building in the midst of Paddington's wonderful heritage detail. Because we're sculptors, the minimalist background is a wonderful backdrop for our work. It's a little white jewellery box, inside and out."
The couple have made changes that they say are "gentle updates" to the building designed in 1989 by architect Professor Victor Berk and originally used as the sculpture annexe of the Sherman Galleries.
They replaced the flooring with hardwood timbers that, in the soaring spaces, make cascades of the floor terrain, amended the cabling and painted the whole a stark shade of white they mixed up themselves.
Korban and Flaubert, who have such an uncanny knack of making metal appear to be so apparently fluid or "ductile" (able to be deformed), are vacating now not because they need to or because they've fallen out of love with "really tall and uplifting interior spaces" but "to shake things up".
"We love the building but we like to move around. We might go a bit more freelance rather than be open all the time and we want to travel more". Change, they know, is a great source of artistic inspiration.