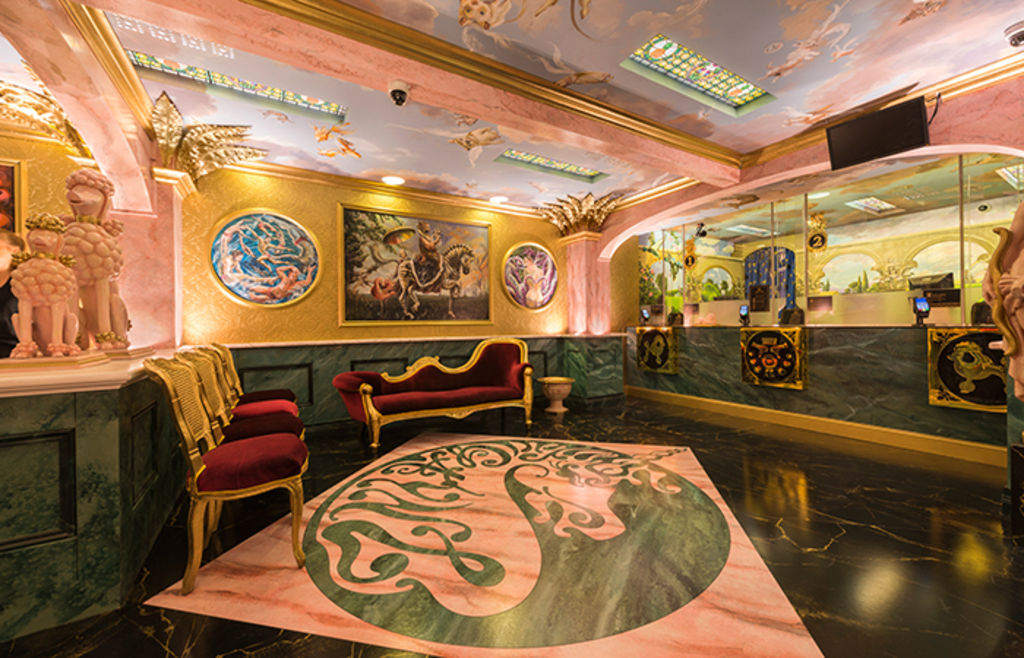 Sydney Mardi Gras 2016: ANZ bank reveals extreme glamour makeover
ANZ is getting its happy on for this year's Sydney Gay and Lesbian Mardi Gras Festival, fitting out one of its branches with opulent decor fit for a queen.
The banking giant has rebranded its Oxford Street, Sydney branch as "GAYNZ" and converted the facade and interior into in a baroque celebration of the lesbian, gay, bisexual, transgender and intersex (LGBTI) culture.
Builders worked around the clock from Friday afternoon to get the refurb done in time for Monday's big reveal. Since then the branch has become a hot spot for selfies, with big numbers of visitors stopping by for a look.
ANZ comes out… as GAYNZProud to share that our Oxford Street branch has come out… as GAYNZ for Sydney Gay and Lesbian Mardi Gras! See how the branch has been completely transformed, inside and out!
The branch features two new "GAYTMs", ornate walls, a marbled floor and 16 hand-painted murals, with the creative minds behind it taking inspiration from landmarks such as legendary pianist Liberace's pad and the Sistine Chapel.
The decor is in honour of the 10th anniversary of ANZ's Sydney Gay and Lesbian Mardi Gras sponsorship. The Oxford Street branch was chosen as it sits on the strip that is home to the annual festival.
Before: The interior of the ANZ Oxford Street branch as customers knew it.
After: Gaudy glamour with marble, statues and murals. Photos: Keren Dobia
Chair of ANZ's Australia Division Diversity Council Mark Hand says: "Over the past few years we have had an incredible response to our GAYTMs, so it was only natural to take things to a new level to celebrate the milestone.
"GAYNZ is often used to describe us at Mardi Gras and we thought transforming the Oxford Street branch and naming it GAYNZ was a fitting way to demonstrate our continued support for the LGBTI community.
Before: The familiar waiting area of the bank. 
After: Customers now wait for service on red velvet seats and a chaise longue. 
"When we first did this we were told we were a bit silly to get involved," Mr Hand says.
"A couple of years later people said it was brave, and now people say it was a really great decision and we're proud of our association, and were proud of what it's done for the culture of our organisation and the willingness of our customers, communities and staff to come and work with us."
"It was only natural to take things to a new level to celebrate the milestone." Mark Hand, chair of ANZ's Australia Division Diversity Council. Photo: Supplied
Mr Hand says the sponsorship began a decade ago when staff asked to march under the ANZ banner at the Mardi Gras.
This year, the bank has 230 staff, family and friends set to march at the festival.
The ANZ campaign, created by Whybin/TBWA, is the bank's third instalment of its GAYTMs series.
ATM operator fees for non-ANZ cardholders from GAYTMs will be donated to Twenty10 – a not-for-profit organisation working with and supporting people of diverse genders, sexes and sexualities, their families and communities.
Before: A creative team worked around the clock to refurbish the bank over a weekend.
After: Opulent decor inspired by the Sistine Chapel and the home of Liberace.
In a first for an Australian brand and a bank worldwide, ANZ is also collaborating with Twitter to develop a rainbow coloured flag emoji, which will appear whenever the hashtag #GAYNZ is used on the social media platform.
The annual Mardi Gras Festival attracts around half a million people and is the second largest event in NSW behind New Year's Eve; both from the numbers attending and an economic contribution. It runs until March 6.
Before: The exterior of the Oxford Street branch.
After: The bank's new "GAYTMs" make everyday transactions a bit more special.
An ANZ Darlinghurst branch spokesman said visitors had rushed in to see the revamp.
"The response has been amazing with so many customers and visitors dropping in to take a look and take selfies" the spokesman said.
"We are thrilled at how popular it is."
He said the installation would remain for a week after the March 6 mardi gras parade.