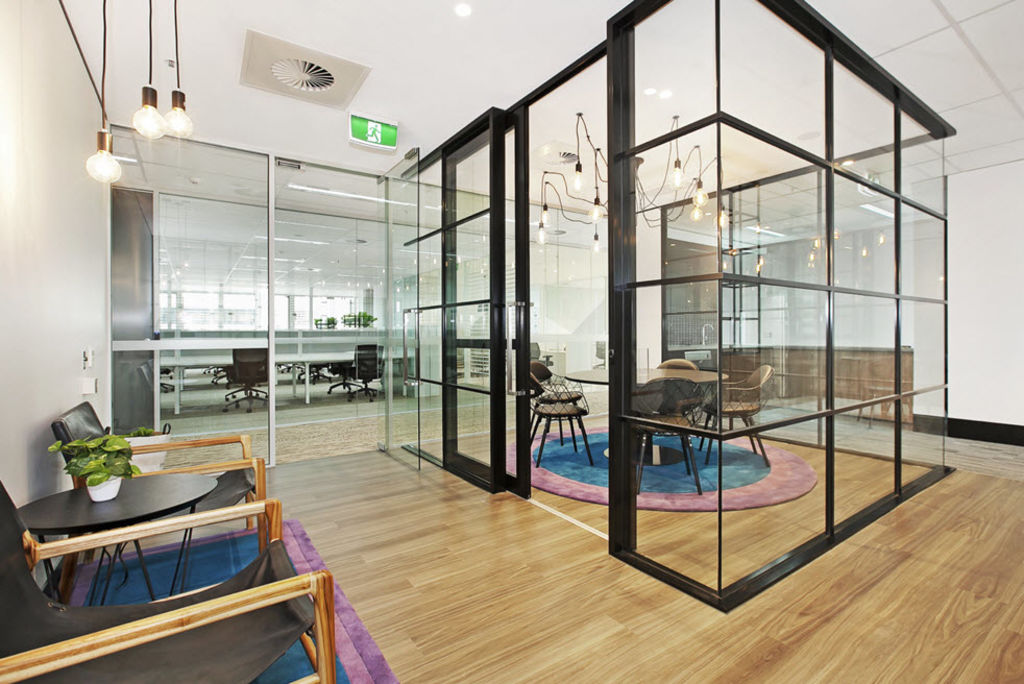 Surge in demand for serviced offices as many people abandon working from home
Companies providing serviced office space are experiencing a huge upsurge in demand from people who are finding it too hard to work from home, with kids off school, too many distractions or not enough useable work space.
Inquiries have soared by about 30 per cent for one Australian provider, while another of the world's biggest players is reporting the same 30 per cent rise in the number of customers worldwide wanting to work for just three hours a day in a serviced office, and the rest of the day from a "virtual" office at home.
"A lot of clients are finding it too difficult to work from home," said Jenny Folley, the founder and managing director of @WORKSPACES, a national and international network of private offices and coworking spaces.
"Some of them have children at home, or connectivity with the internet or mobiles isn't too good, or they might be living in a shared home and finding the conditions too hard to work in. People are now asking for all sorts of deals, from someone who wants to work in a serviced office 10 days in the month, to a group of bankers wanting to pay out of their own pockets for offices to work out of."
At Servcorp, the world's third biggest supplier of serviced office space, global chief executive Alf Moufarrige said there was now a huge demand for virtual office services in people's own homes – where they can have a city address, someone can answer their phone and they can have a receptionist.
"Then we're finding these people want to use the actual office for, say, three hours a day," said Mr Moufarrige. "They want to come in, but not on a regular all-day basis. A lot are working from home and when they think they'll go nuts are coming and spending a couple of hours in the office.
"Demand for that kind of arrangement has jumped across the globe, and in Australia, by 30 per cent, and we'd be the biggest provider of that."
Private officer supplier Victory Offices has also introduced many more arrangements for their offices, and changes in the pricing structure, in response to a major rise in demand for office space.
Usually, bookings for their space are done annually, or at the very least monthly, but now they're found they've had to become much more flexible. General manager Misha Baxter said customers were now taking much shorter-term leases to help their balance sheets.
"We've had a lot more demand from individuals saying they're stuck at home and finding it hard," she said. "As a result, we've introduced new products to allow them to book per week, or by the day or even by the hour.
"We have options for parents who are at home with kids to maybe come in at 3pm or 4pm when their significant other comes back and use the office then for a few hours, or use one of our offices in the evening."
Demand for coworking spaces has fallen sharply, possibly because the social distancing rules make it a lot less attractive, and people don't want to share spaces with others. Ms Folley, from @WORKSPACES for instance, says her company is currently converting a lot of open spaces, previously used for coworking, into private offices.
With serviced offices offered in three sites in Melbourne – Collins Street, Brighton and Toorak – and two locations in Sydney, on George Street and in Double Bay, as well as in Brisbane and the Gold Coast, she's now actively looking for extra sites for more serviced offices.
"Some of our new clients have even closed down their offices and moved into private office space permanently as a means of getting through," she said. "They don't want to commit to commercial space with long-term commercial leases; they want the flexibility of serviced office space."
At Servcorp, which now operates in 23 countries, Mr Moufarrige says his serviced office space is 90 per cent occupied, but "coworking has gone close to zero. People are giving notice and it's really noticeable that no one is coming to coworking areas.
"Even the most dedicated customers of coworking are now taking small serviced offices and demand for that is growing at a really rapid rate around the world."
Servcorp has even just spent $500,000 on changing its landing page globally to advertise its Virtual Office Product for those who continue to work from home, or want to do it in combination with a complimentary three hours in the office each day.
Victory similarly has Virtual Office packages, with mail and phone-handling, receptionist services and boardroom hire to help, as a great way to "ensure your company maintains a solid and professional appearance in times of growth and/or change".
Get a weekly roundup of the latest news from Commercial Real Estate, delivered straight to your inbox!