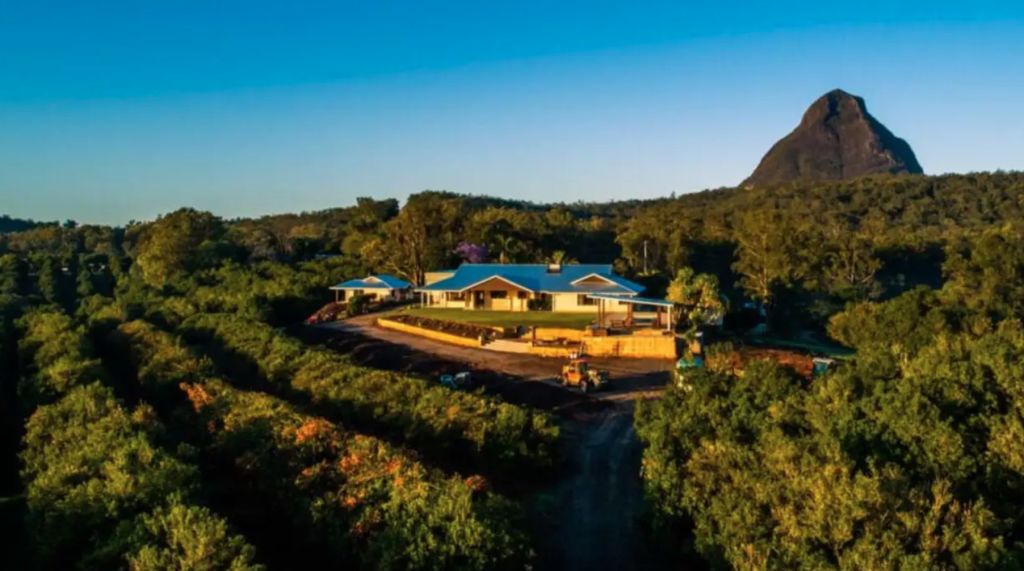 Sunshine Coast macadamia farm joins summer listings
A sprawling farm on the Sunshine Coast planted with more than 15,000 macadamia trees has joined the trophy rural offerings this summer, amid rising global appetite for the Queensland native nut and investment into the sector.
The Ziz Oasis aggregation spans 101 hectares across three farms on Collies Road in Beerwah. The farms are set against the dramatic backdrop of the Glass House Mountains, about 30 minutes from Mooloolaba.
Pitched also as a future residential development opportunity, the aggregation is expected to sell for more than $16 million.
It is being offered for sale by Peter Gowen, who along with his brother Drewe have been long-time suppliers of nuts to confectionery maker Patons, best known for its chocolate-coated macadamia nut products.
Combined, the Gowens farm about 75,000 macadamia trees in the Beerwah region, which is also home to the family's original farm at the Glass House mountains, Sahara Farms, established in 1907.
Included in the Ziz Oasis offering – named after the Moroccan oasis of the same name – are modern processing facilities for sorting, dehusking, storing and drying macadamias. There's also an executive family home.
The sale of Ziz Oasis is being handled by Trenton Hindman of Colliers and Pete Uebergang of Burgess Rawson.
"It's best described as blended investment including a fully operational macadamia asset – 15,000 trees across 70 hectares – and a residential land bank," Mr Hindman said.
The offering comes amid a surge of investment in macadamia farms, headed by ASX-listed Rural Funds Group, which plans to invest $500 million to develop a 5000-hectare macadamia portfolio with an end value of about $1.5 billion.
Earlier in November, Rural Funds paid $63.1 million for 475 hectares of mature macadamia orchards acquired from family-owned Costi Farms. Rural Funds will also acquire shares in Brisbane-based macadamia-processing and marketing company Marquis Macadamias.
In another notable summer listing, about $18 million is anticipated for Yiddinga, a highly regarded wool and cropping property in Victoria's West Wimmera Shire.
The 1486-hectare property, about 95 kilometres from Horsham, is being offered for sale for the first time in more than 30 years by wool grower and Yiddinga Holdings chairman Andrew Farran, a retired diplomat, law academic and company director.
Ray White's Max Brown is marketing Yiddinga, which will go to auction on December 10.
"I anticipate there will be local landowners who will want to buy Yiddinga to scale up, or for future generational expansion," Mr Brown said.
The successful buyer will have the option to purchase all the farming infrastructure as well as the present fine Merino flock.