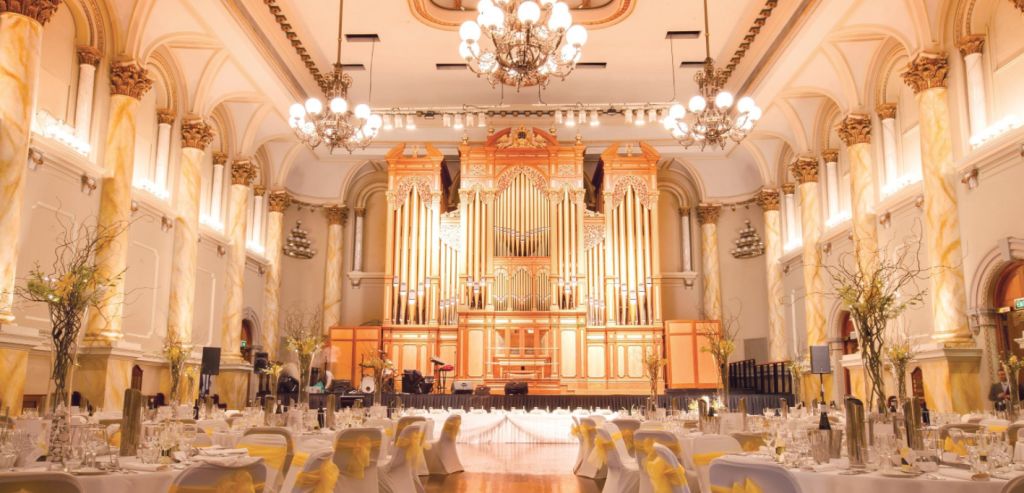 Six Australian town hall buildings packed with stories to tell
Before we had stadiums and skyscrapers, the biggest and most extravagant building in any town or city was usually the town hall.
They kept birth deaths and marriage records, housed public servants and hosted every important public event.
Although we don't use town halls often anymore, the historic buildings are incredible examples of architecture and illustrate Australia's history.
Adelaide, South Australia
Designs for Adelaide Town Hall presented by competition winner Edmund Wright underwent many alterations before construction could actually begin, with the foundation stone laid on May 4th, 1863.
Now the building is visited by tourists and guests to the award-winning Town Hall Function Centre, which hosts weddings, concerts and corporate functions.
The hall has played a significant and colourful role in the city's history, including an appearance by The Beatles on the hall's balcony in 1964, which attracted an estimated 300,000 fans.
Kalgoorlie, Western Australia
Nearly 600 kilometres from Perth, Kalgoorlie's striking pink town hall was built in 1908, when the town was in competition with the town next door Boulder to build a hall first.
But during construction, a freak cyclone knocked out the back wall, pushing the final cost closer to £20,000 (up from the initially quoted price of £12,296).
The building includes council chambers and an upper foyer area which is home to the Sporting Hall of Fame, where photographs of Kalgoorlie-Boulders sporting stars are on view.
It also has a dress circle theatre with 244 seats, as well as a banquet room on the ground floor used for civic receptions, social events and community meetings.
Sydney's Town Hall in the CBD isn't the city's only noteworthy town hall building; others include Glebe Town Hall in the inner west.
It was built in 1880 and in 2008, the City of Sydney commissioned Tonkin Zulaikha Greer Architects to restore the building and repair years of internal and external water damage.
During the process, ornate plaster carvings created using an uncommon Italian sgraffito technique were uncovered and repaired, while the new Stair Hall was detailed in steel and glass, concrete and timber.
The halls are fitted out for events, music, gallery and other functions, with sound control, a commercial kitchen, an early childhood centre, administrative offices and small community meeting rooms, as well as craft studios and support facilities.
Plonk this in the middle of Europe and it wouldn't look out of place. Photo: Darebin Arts and Entertainment.
Prolific designer of Melbourne's town halls, George R Johnson, won an 1887 competition for the Northcote Town Hall, winning over judges with 'French Second Empire' and neoclassical designs.
After the City of Darebin was formed in 1994, the town hall in inner Melbourne was restored into an arts, community and cultural venue.
It now has seven meeting rooms for community and recreational use, two event studios, a main hall and an outdoor civic square used for markets and performances.
The Goondiwindi Civic Centre was built in 1937 and comprises the Town Council Chambers, Town Hall and a set of shops linked by a common facade, on the main street of Goondiwindi, 358 kilometres from Brisbane.
But from around 1950 until 1978, the Town Hall was used as a commercial cinema and in 1997, the Town Hall was renovated into a cinema. The second cinema was built in 2002.
The civic centre was went through a $5 million redevelopment in 2015.
According to its entry on the state heritage list, the building "is important in demonstrating the principal characteristics of the art deco style, and exhibits particular aesthetic characteristics valued by the community… (while) the clock tower is a local landmark."
Tasmania's second biggest city, Launceston's population was exceeding 10,000 people by 1861. In 1864, the local council began to build a new town hall to reflect the area's growth, commissioning architect Peter Mills to design the Victorian-Italianate style town hall.
Construction cost about £6,000 and local Tasmanian woods were incorporated into the building, as was the city's coat of arms with the motto "progress with prudence".
The building has distinctive Corinthian columns, four of which were part of the original design and another five added in the 1930s.
This town hall is not for the faint-hearted, as a resident ghost is rumoured to live in the "secret room", the Flag Loft.