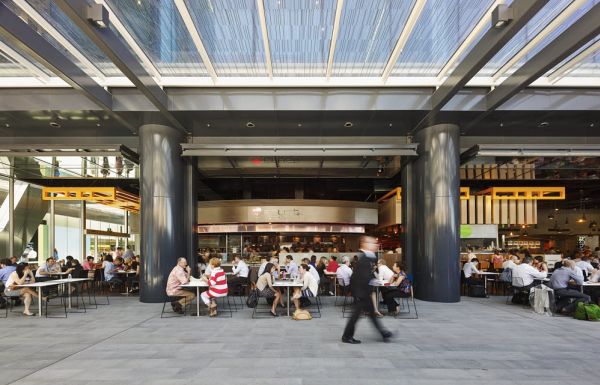 Should the corner cafe be worried about this latest trend?
At Speed Bar Expresso in Sydney's city centre, owner Andrew Vourakis is a blur of movement. "A quiet time to talk to you?" he asks. "We don't really have a quiet time."
As the customers queue for coffee and bagels Mr Vourakis and his staff move swiftly from the coffee machine to the kitchen bench behind, and the display cabinets of pre-prepared food in front.
He's been running this little independent café on Park Street for 10 years. At the start, he had competition from just five cafes in the four blocks around him.
Speed Bar cafe in Park Street, in Sydney. Photo: Ben Rushton
[dm-listing-recommendation experimentname='midcontent-listings' positiononpage='midcontent']
Now there are more than 20, including the latest challengers: a swathe of cafes set up in the foyers of office buildings.
"There is a lot more competition now and maybe on rainy days, the office workers like to go to the café in their own office foyer," Mr Vourakis said. "But if you make good coffee and have good food, and your customers like you, then they'll keep on coming back, regardless."
It's a similar story around the corner, at Workshop Expresso at The Galeries on George Street. In the six years since owner Cola Qi started the café, he's seen the number of cafes in office foyers grow dramatically all around him, but he's managed to hold his ground, too.
Cafes have taken over the lobbies of office buildings – new and old – in all our major cities in recent years. And while this has forced some existing cafe operators to close, the consensus among experts is that the proliferation of office cafes has not come at the expense of others.
Workshop cafe in George Street, Sydney. Photo: Ben Rushton
There are no official statistics on their number, but in Sydney, for instance, Colliers International's national director of office leasing Cameron Williams said it was hard to think of a major office building of more than 15,000 square metres without a cafe.
"They're becoming more integrated now than they ever used to be, and they're seen as an opportunity to activate those spaces in buildings," he said. "They can create communal meeting spaces for tenants, for people from outside and, in some cases, they're providing Wi-Fi too.
"In the US, office lobbies are out of bounds to the public as they're seen as a security risk, but here, we're embracing the concept of the public coming in."
The HASSELL-designed lobby of the ANZ Centre, Melbourne. Photo: Earl Carter
Architects BVN have designed several of these cafes and principal Phillip Rossington said building owners initially wanted the cafes to make buildings more inviting.
"The ground-floor lobbies of offices were traditionally transitory spaces, fairly cold and empty, and not contributing to the streetscape at all," he said. "People went in and out of them, and no one dwelt there.
"But now, with such a big coffee culture, it's great for office workers to be able to just go downstairs for coffee and for the owners, it's a space they can earn extra income from, while it activates the streetscape. But I don't think the lobby cafes are affecting standalone cafes. The lobby cafes aren't so much destinations."
More competition, more revenue
The customer was likely to be the winner from the rivalry too, said Nic Naso, national sales manager of Toby's Estate Coffee. "It just helps everyone step up their game. We haven't seen any impact on the standalone cafes from the ones in the lobbies.
"Look at Barangaroo. That's a massive precinct with multiple lobby cafes but there's still enough custom to go around for everyone. More competition will just lead to a much better product."
A stronger coffee culture has kept revenue bubbling away in the industry over the past five years. Market research company IBISWorld reported in October that the proliferation of coffee drinking has caused a dramatic increase in the number of boutique coffee houses, especially in inner-city locations where office workers congregate.
"Coffee drinking has become entrenched in the daily routines of many Australian consumers, which supports industry demand even during widespread economic uncertainty," said the report's author Lauren Magner. As a result, industry revenue is forecast to rise steadily by a compound annual rate of 4 per cent over the five years through 2016-17, which includes a forecast increase of 2.8 per cent in 2016-17, to total $2.5 billion.
A cafe in the Brookfield Place building, Perth, also designed by HASSELL. Photo: Peter Bennetts
In satisfying this demand there are also fundamental differences between lobby cafes and regular ones. For a start, there's usually no real cooking done in lobbies; they mostly offer coffee, sandwiches, cakes and desserts. For seconds, they're increasingly highly regulated by the building's owner, said Zelman Ainslie, head of Victorian retail leasing at agents CBRE. Whereas standalone cafes are generally free to set their own opening hours, menus, fit-outs and operation.
"Office owners are very sensitive about who they'll let these spaces in their lobbies to," Mr Ainslie said. "If they have a poor fit-out or poor service or bad food, they can have a negative impact on an office tower, and can change the way a building is perceived in the marketplace.
"We've done a number of deals in major office towers with premium café operators who align themselves with the DNA of the building in terms of their layout, the standard of finish, the service, the quality of the offering and the price point. For instance, the demands of a lobby café in Collins Street might be different to a building in La Trobe Street or Southbank."
Prime position
Landlords of office buildings become intricately involved in everything to do with the design and appearance of those lobby cafes now, Mr Ainslie said. They have to go through a robust approval process, or premium operators are carefully wooed and curated. Artisanal patisseries like Zumbo and Bibelot, or specialist roasters, are currently the flavour of the moment.
But operators are happy to put up with an overseer, since it can be a dream position.
"You have a captive audience every single day, with so much regular repeat business," Mr Ainslie said. "Big towers also have a high volume of meetings and people coming in and out of their buildings. It doesn't get much better than that."
Good café operators at the ground level are also now seen as a real asset to any office precinct, believes HASSELL principal Ingrid Bakker. As well as looking at buildings' floorplates and space, businesses are also checking out the level of amenity they offer, and cafes are an increasingly important ingredient.
"Managements need to attract and retain good staff as staff turnover can be a huge expense," she said. "So to have a great café where staff can buy good coffee and eat a variety of healthy food at lunchtime, meet up with a colleague after work for a drink or a quick bite or maybe even take food home from for dinner later, is a big plus."
[dm-listing-recommendation experimentname='below-content-listings' positiononpage='belowContent']
Keep up with Commercial Real Estate news.
Keep up with Commercial Real Estate news.