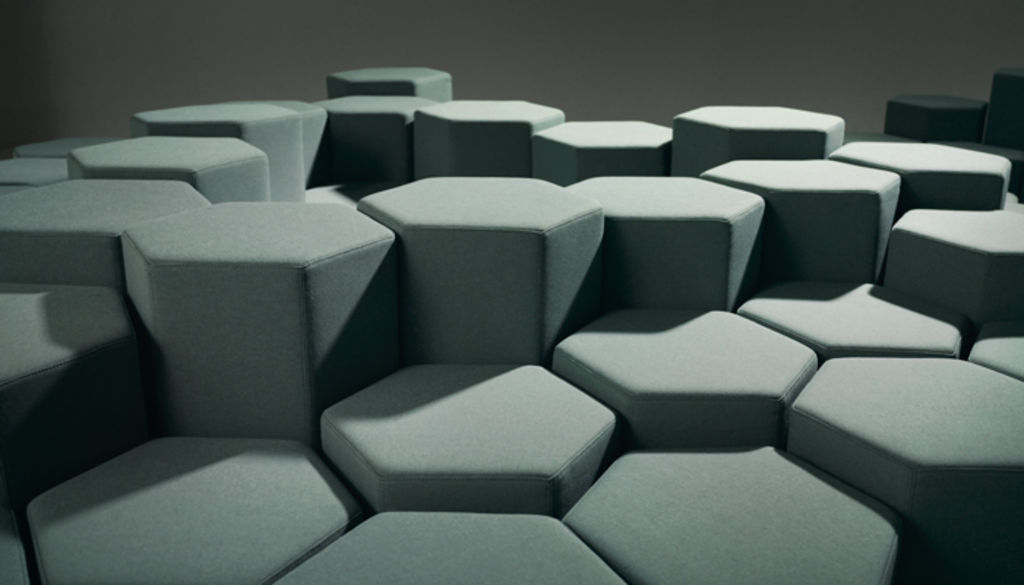 Shape-shifting furniture hints at commercial interiors of the future
Move over, boring analogue chairs. Digitally dynamic furniture has arrived and it can turn a lounge into a landscape.
The new Lift-Bit shape-shifting modular furniture system shows that the internet of things – the rapidly growing network of connected objects and devices that collect and exchange data using wi-fi – is claiming the seat of power when it comes to creating smart spaces to work, wait or just while away the time.
Lift-Bit's individual upholstered motorised stools fit together honeycomb-style to build any number of combinations, with each unit able to be raised or lowered in seconds.
Alternatively, an app can help with pre-programmed three-dimensional shapes and heights ranging from two-stool chairs and four-stool chaises to volcano or Grand Canyon configurations.
The height adjustment can be controlled in person by hand gestures above the seat or remotely by using the app.
And just like battery-powered children's toys, the Lift-Bit system can become "bored" when left idle and start shape-shifting on its own to re-engage users. It can even perform a Mexican wave.
A full-size prototype will be unveiled during Milan Design Week from April 12-17.
"Lift-Bit draws on the potential of internet of things technologies to transform our interior landscape, giving form to an endlessly reconfigurable environment," says Professor Carlo Ratti, founder of Carlo Ratti Associati studio and director of the Senseable City Lab at the Massachusetts Institute of Technology.
"In the future, we could imagine an architecture that adapts to human need, rather than the other way around – a living, tailored space that is moulded to its inhabitants' needs, characters and desires."
The Lift-Bit furniture system comes with red, green, yellow or blue upholstery options.
Lift-Bit in a sofa configuration. Photo: Michele Versaci, MyBossWas
Lift-Bit even has an addictive "configurator" planning and design tool, allowing users to experiment with colours – green red, yellow or blue – and combinations. Lift-Bit stools can be pre-ordered for €799 ($1205) each.
Last year for Milan Expo 2015, Professor Ratti created a digital supermarket with screens showing information about products, robotic arms to move products and tracking to collect shoppers' data.
Commercial environments are also getting smarter as a result of innovation in other industries and the desire to showcase alternative uses for technology.
Nissan's self-parking office chairs can be controlled with a hand-clap. Photo: NissanNews.com
Nissan's "intelligent parking chairs" were designed as a by-product of the car-maker's pursuit of self-driving car development and can turn a conference room into a virtual car park.
Multiple wi-fi-controlled cameras track the chairs in a room as they are moved from their original positions. With a single hand-clap, the chairs glide back to their designated places.
Yuuki Tomii, of Nissan's sales department, said the company's ultimate goal was to create autonomous vehicles.
"The self-parking part is just one of the processes along the way," he said. "More than thinking of them as just furniture, we hope people can see it as how our technology can be introduced into other objects."
Despite huge public interest when the chairs were on show in Yokohama earlier this year, Nissan has no plans to market the product.
Lift-Bit is a project by Carlo Ratti Associati (lift-bit.com), developed with the support of Vitra for the "ROOMS. Novel living concepts" exhibition organized by Salone del Mobile.Milano within the framework of the XXI Triennale. Engineering and interaction design by Opendot.