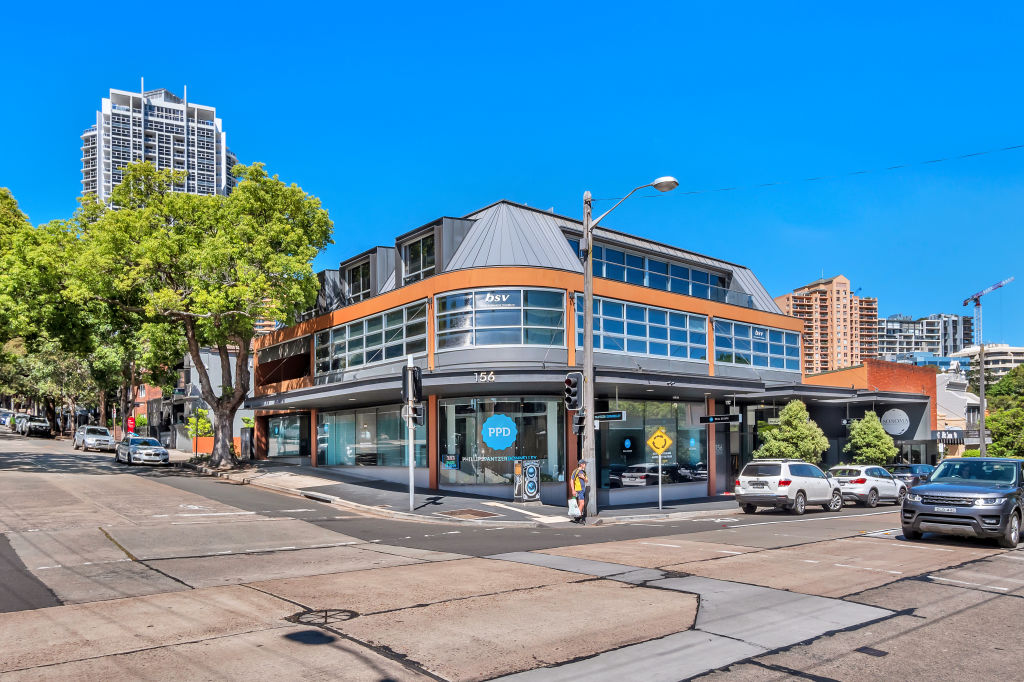 Sale of prominent Grosvenor building in Woollahra caps off bumper year for retail properties in Sydney's east
The sale of a prominent retail complex in Woollahra has topped off a year of strong prices for commercial properties in Sydney's eastern suburbs, with investors seemingly undeterred by sliding consumer sentiment.
The Grosvenor – at 156 Edgecliff Road, Woollahra – has sold to a private investor following an expressions-of-interest campaign managed by Matt Pontey and Tom Barnier of Colliers International, and Felix Lev of SQM Commercial.
The property, which has a net lettable area of 1125 square metres spread over three levels, consists of seven commercial and retail tenancies, anchored by Sonoma Bakery and Phillips Pantzer Donnelley Real Estate.
While Mr Pontey declined to provide a sales price for the asset, he said it was the second-highest price for a commercial building in the eastern suburbs in 2019, based on recorded transactions.
The highest price so far this year is believed to be the $32.74 million for a corner site on Double Bay's Bay Street and Guilfoyle Avenue to Pallas Group, announced this week. Pallas is reportedly planning to convert the site into its headquarters, with additional retail space.
The buyer of The Grosvenor – described as a "high-net-worth individual" – was represented by Cohen Handler Commercial Buyers Agency's Simon Cohen and Tas Costi.
The property, on an 890-square-metre block, was designed by architecture firm Tzannes and constructed by Built in 2010. It was last sold by Built in August 2016 for $16,970,352.
Mr Pontey said that the most recent sale reflected the tightly held nature of the eastern suburbs market.
"The unique tenancy mix, location and limited supply in the eastern suburbs fuelled this demand with over 15 groups participating with compelling offers, " said Mr Pontey, who is the associate director investment services at Colliers International.
The easing of financial restrictions and an incredibly tight CBD and city fringe commercial property market – including adjacent suburbs such as Darlinghurst – had also contributed to a high level of buyer demand for the site.
"The low interest rate environment, coupled with the vacancy rate of surrounding commercial hubs at their lowest levels has led to an insatiable pent-up demand for quality income-producing assets such as the Grosvenor," said Mr Barnier, director sales and leasing at Colliers International.
The sale follows a strong second half of the year for the eastern suburbs commercial property market, which includes retail hubs such as Paddington, Bondi Junction, Edgecliff, Double Bay and Woollahra.
Ollie Ridley, executive metropolitan sales at Savills Australia, said that the increasing popularity of commercial property over shares and residential investment had seen yields for buildings in some Sydney suburbs slip below 2 per cent.
The recent sale of retail properties included 27-29 Knox Street, in Double Bay, which fetched $9.83 million, following a CBRE-run campaign, and represented a net initial yield of 1.76 per cent.
Colliers International sold 10 Cross Street, in Double Bay, in July for $10.25 million, reflecting what Mr Ridley describes as a "record-breaking" yield of 1.59 per cent.
He said that investors were seeking quality properties with future development upside and hadn't been deterred by vacancies.
"While demand for leased assets with medium to long-term income streams seems to be a key requirement, there has been no shortage in transactions of vacant retail freehold properties that demonstrate strong fundamentals," he wrote in a recent market update.
"[For example] two vacant strip retail properties [at] 146 and 148 Queen Street, in Woollahra, sold for $5.65 million reflecting a building rate of $24,459 per square metre. Investors are now becoming more creative as purchasing retail in these coastal hubs is not simply about securing a long-term income stream but also about redevelopment potential or conversion with the implementation of a new tenant."
While acknowledging that there is "some conjecture as to how much longer this cycle will last," Mr Ridley wrote that he expected demand for retail assets in the east to continue well into 2020, especially if there were further interest rate cuts in the new year as they would keep pushing investors into the commercial market.
Get a weekly roundup of the latest news from Commercial Real Estate, delivered straight to your inbox!