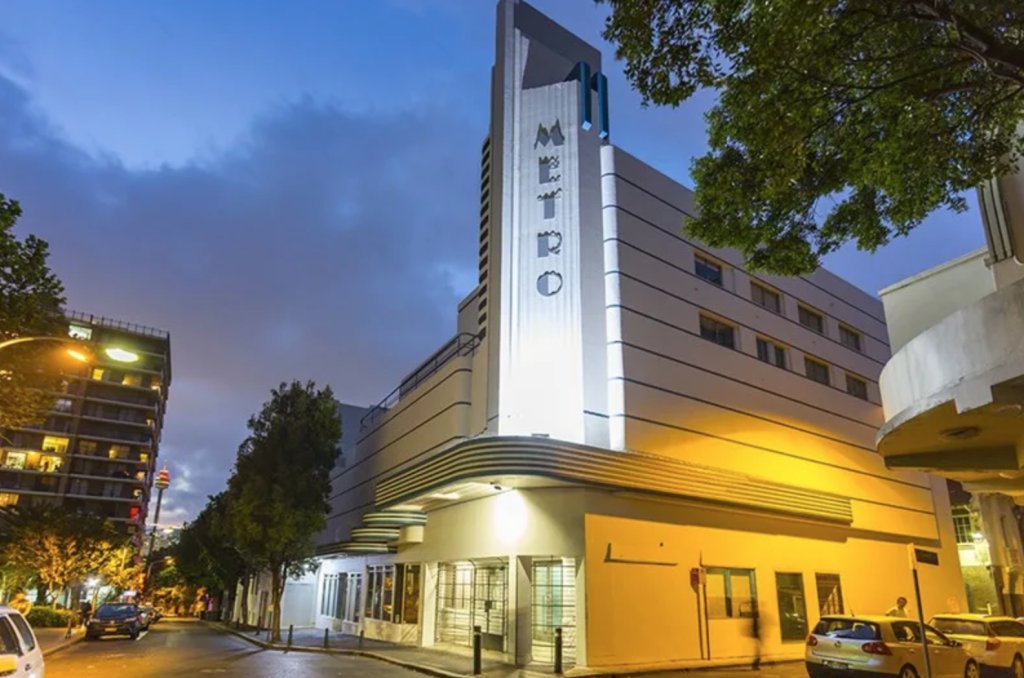 Renewed calls for City of Sydney to buy Metro Theatre Kings Cross
A fresh campaign has been launched to push the City of Sydney to buy the historic Metro Theatre Kings Cross, with the property group which purchased it last year for $19.8 million yet to make public a viable plan for its use.
Under the plan, the iconic old Sydney theatre could be brought back to life as part of the battle to win back productions from Australian show business capital Melbourne and to revitalise former nightlife hotspot Kings Cross.
"We've got a committee together to explore the feasibility of transferring it back to a working theatre," said cultural historian and performer Warren Fahey of The Metro/Minerva Theatre Action Group (MTAG).
"That kind of 1000 to 1200-seat theatre is what's missing in the Sydney theatre mix, and we're losing out on millions of dollars a year which are going to the Victorian theatre world because they have so many theatres.
"We have very few, nothing like the demand for them that exists, and a lot of shows playing in Melbourne don't even come to Sydney any more."
The 1939 art deco building in Potts Point, originally opened as The Minerva Theatre but renamed the Metro Kings Cross in 1952, operated as a live theatre venue, a cinema and then a theatre again, with productions like the Pulitzer Prize-winning play Idiot's Delight, Noel Coward's Design for Living  – with Coward in attendance – and the long-running musical Hair.
It was converted into a film studio in the 1970s, and had been used by George Miller's movie and TV company Kennedy Miller Mitchell for 35 years to produce Oscar-winning films like Babe, Happy Feet and Mad Max.
Films produced there generated 18 Academy Award nominations and eight Oscars before the studio was put up for sale in late 2017 when the company moved its base to Fox Studios.
The Abacus Property Group, which bought the property in early 2019, declined to comment for this story.
The building is currently awaiting a NSW Heritage Office ruling on state heritage significance listing after a study commissioned by the City of Sydney found it met the criteria for its historic, associative, aesthetic and representative values as well as its rarity.
The application was backed by the Art Deco and Modernism Society of Australia.
"We met with Abacus and they are genuinely scratching their heads, thinking what they will do with this building," said Greg Khoury, executive director of live entertainment organisation Century Venues, which operates a number of theatres, including the Enmore Theatre,  The Comedy Store,  The Concourse, Chatswood and The Mighty Vic in Newcastle.
"But we have an acute short of independent commercial theatre venues in Sydney and there's a big need for theatres of this size that can be used for live theatre, films, cultural spaces, everything. We're missing out to Melbourne and often some big productions will be postponed or will fail to come to Australia because there's a three-year waiting list for larger theatres in Sydney.
"And here we have a remarkable heritage building that could easily be turned back into a theatre and would generate income and re-charge the night-time economy of Kings Cross. A UTS study of the Enmore found it produces $39 million of additional spending in the area."
MTAG has been formed to gather public support and lobby public and private interests to come together to reactivate the theatre as a live performance venue, with an online petition already receiving 2500 signatures.
They'd like to see the City of Sydney buy the venue and the state government's arts program pay for its renovation back into a theatre, with a contribution from an incoming production company that would use it as its base.
Sydney Lord Mayor Clove Moore said she support MTAG's efforts to see the venue revived as a theatre or cultural facility, but finances were a problem.
"Given the impact of the pandemic on the City's finances – in both foregone revenue and the provision of over $70 million in financial relief, including new grants for the arts and creative sectors – the City is unlikely to be able to make a purchase as significant as this in the near future," she said.
"We are, however, committed to exploring whether we could assist with any viable proposal for the restoration, use and ongoing operations of the Metro as a live theatre or other cultural facility in the context of … NSW."
NSW Arts Minister Don Harwin has spoken before of the shortage of theatres in Sydney, with previous plans to look at a the Powerhouse Museum site in Ultimo for a new performance space when the museum went to Western Sydney – a move which is now not happening. Members of MTAG have already had talks with him.
"I think at the moment, this is the most viable plan for the Metro, to deliver a really great theatre for Sydney and a kick-up in the narrative of Kings Cross," said Brandon Martignago, the MTAG chair who also runs the successful Potts Point cocktail bar Dulcie's.
"Like London's Soho and New York's Broadway, having a 1200-seat theatre in Kings Cross could offer a whole new perspective on an area hard-hit by the lockout laws and COVID.
"George Miller was always sympathetic to the notion it could be turned back into a theatre, and did minimal work to it, so that could happen at some point in the future. The majority of the interiors are intact, the wall detailings, the original foyer, and of course, the beautiful facade.
"A public–private partnership could make this work, and it's what the people of Sydney, King Cross and the theatre itself all deserve."
The proposal to bring back the Metro Kings Cross also includes an idea for a museum of Kings Cross entertainment to be set up at the site, to give the many tourists to the area something to see and do during the daytime, which will give them a real flavour of what used to be Sydney's bohemian arts centre.
"We feel that the city should own this theatre as an asset," said Mr Fahey, who worked for Harry M. Miller when he ran stage shows at the site. "Operating it now as a performance venue will also invigorate the Kings Cross/Potts Point area and help undo some of the economic damage done by the lockout laws and COVID-19."