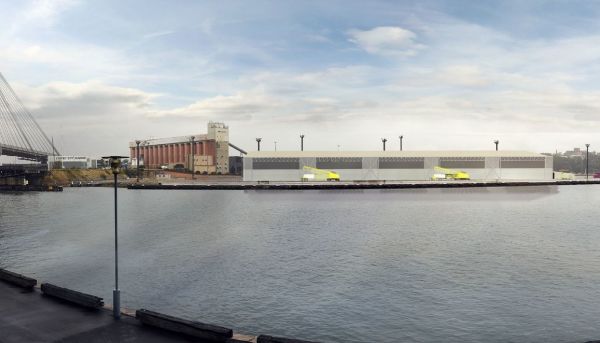 Angry Pyrmont residents oppose plan for Glebe Island to again become a 24-hour working port
When residents flooded into what's become Australia's most densely populated suburb, they were promised that this was the bright new future of urban living.
Now they say they've been duped by the NSW Government after its Port Authority of NSW laid out plans for a massive industrial development on Sydney's Glebe Island, in the heart of their residential community.
"This is absolute garbage and people are furious," says Pyrmont resident James Lloyd, who lives directly opposite the proposed site for the import, storage and distribution of construction materials to feed the CBD construction boom with its $70 billion worth of infrastructure projects, and the redevelopment of the Bays Precinct.
"It's planned that this will operate seven days a week, 24 hours a day, yet we bought here in good faith, being told this was now a residential area. Now we're being told this has pre-approval, whatever that means. We'll now talk about a class action to get it stopped."
[dm-listing-recommendation experimentname='midcontent-listings' positiononpage='midcontent']
The battle is heating up over whether stretches of Sydney Harbour should still be a working port after so many residential projects have been built on former commercial sites.
Plans for the "Glebe Island Multi-User Facility" were revealed to locals by a letter-drop in areas including the 19-storey Jacksons Landing development on a former industrial site on the Pyrmont foreshore.
Artist's impression of a proposed concrete plant next to the distribution centre. Image: Ports Authority of NSW
The proposed facility will receive sand, crushed rock, gravel and other building materials brought in by ship, since local sources in Kurnell and Penrith have become depleted. That, says the Port Authority, will have less impact on Sydneysiders than bringing it in by truck.
At the same time, heavy building material producer Hanson Heidelberg Cement Group has a separate development application to move its operations to Glebe Island from Blackwattle Bay because of the redevelopment of the fish market.
"But we bought homes here after being told that the land at Glebe Island directly opposite us would become tennis courts, and then a technology centre and then another residential hub," said resident Alan Perring. "Now we're being told we'll have a vast shed and tower cranes operating there all day and all night.
"For all the residents here – and this is now the most densely populated suburb in Australia – that means constant noise, dust, air pollution and staining the water of our lovely harbour. We're angry and disappointed and frustrated at being told it's pretty much a done deal."
A spokesperson from the Port Authority of NSW said it was currently seeking community feedback on environmental factors on the project that would help meet Sydney's current and future demand for construction materials.
"Glebe Island is uniquely placed to provide a low cost, low impact, sustainable entry point for construction materials needed in the CBD and surrounding areas," the spokesperson said.
Angry Pyrmont residents, from left, Margaret Hughes, Mandy Perring and Alan Perring. Photo: Sue Williams
"Glebe Island will eliminate hundreds of thousands of truck movements into and out of the congested arterial roads; a single vessel can replace between 1100 and 1500 truck movements. The total number of vessel calls and the impacts of future vessels will be lower than the vessels that used Glebe Island at the time of the development of Jacksons Landing.
"The proposed short-term facility would facilitate ship off-loading and the building slots would be closed when there is no ship-offloading."
But a Port Authority member of staff said at a community meeting on Monday evening that the period could last for 18 to 25 years. Resident Mandy Perring said that was a very long period, and it was "unforgivable" that the Government was now trying to turn back time after creating a residential community from an industrial past, and then deciding to re-introduce industry.
"We aren't NIMBYs; it's just this area was approved for residential and now so many young families live here, and there was a park built and recreational harbourside walkways used by everyone. Then they want to put industry back into the mix."
Local state MP Alex Greenwich is studying the plans but has reservations, as the Pyrmont area now has so many people, including an increasing number of families with small children. "It will be running for 24 hours with noise and dust which can have a particular impact on kids, and there's already a lot of traffic congestion there," he said.
Pyrmont-Ultimo now has a population of 22,540, according to the Australian Bureau of Statistics, with Australia's highest population density of 15,117 people per kilometre. Residents in Balmain, Glebe and Rozelle may also be affected by the change in use.
Glebe Island used to be a major port facility and, until 2008, together with adjacent White Bay, received imported cars and dry bulk goods.
"We had to fight to get rid of those," said resident Margaret Hughes, "and now we're going to fight again to stop this."
Containers stacked up at Glebe Island in 1973 when it was a working port. Photo: Kevin John Berry
Another resident Brian Dennis said the whole community was up in arms about the plans.
"Twenty years ago, the Government said they were moving industry out of Sydney Harbour and it was to become parkland and residential, and they approved 60 acres of townhouses and apartments at Jacksons Landing.
"But now they've decided, right opposite, that they're going to reinstate and reintroduce an industrial port facility, having closed it down eight years ago."
UrbanGrowth NSW Development Corporation, which oversees the Bays west precinct with its White Bay Power Station, White Bay, Glebe Island, Rozelle Bay and Rozelle Rail Yards, says it was working with industry, community and government partners to determine appropriate uses for the area.
"The Bays west area is envisaged as a mixed use precinct with a focus on high value 'jobs of the future' and the working harbour," said a spokesperson.
Maria Brak, who lives 520 metres from the proposed facility, said the area had been thoroughly gentrified and beautified.
"But now we're being told around 600 truck movements will be directed through Pyrmont a day," she says. "This area is now residential. This is unacceptable."
Locals at the community meeting may also push for compensation from the State Government, as some claim their properties had been devalued.
"I've been in discussion with three real estate agents and they all say my home has now depreciated by at least $500,000 as a result of this," said David Grafton.
[dm-listing-recommendation experimentname='below-content-listings' positiononpage='belowContent']
Keep up with Commercial Real Estate news.
Keep up with Commercial Real Estate news.