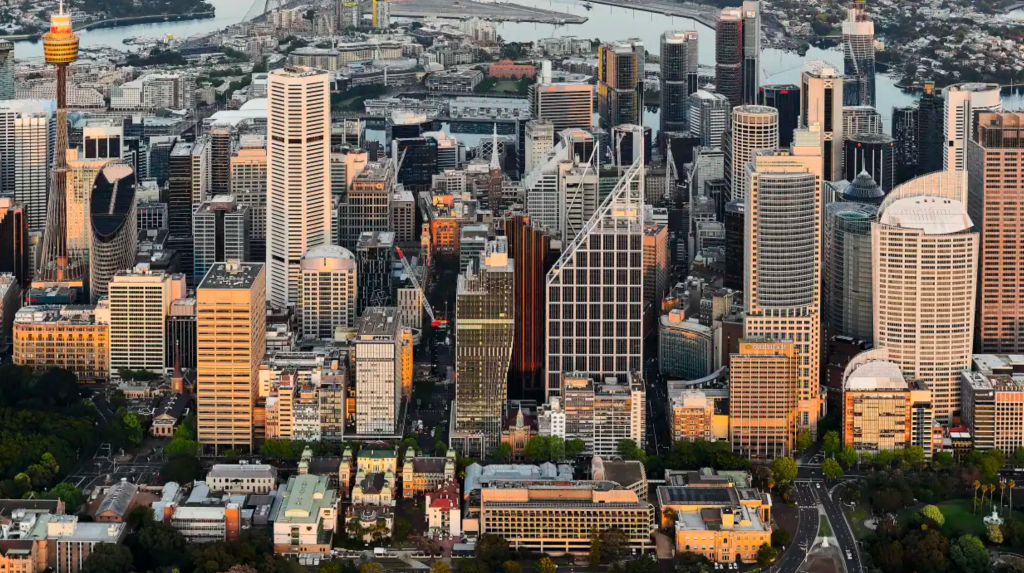 Property is booming but headwinds are looming too
Australia's office landlords surprised many investors last month with stronger-than-expected results for the December half.
For a six-month period fully submerged in the pandemic – and with the second-biggest city of Melbourne in lockdown for most of the period – the country's commercial office sector did remarkably well.
The country's largest office landlord, Dexus, reported on a slight dip in earnings as it confirmed distributions for the year would be in line with the previous year.
The owner of Sydney's Australia Square and Melbourne's 80 Collins Street towers said it was expanding its provision of flexible space to encourage more tenants to sign contracts – albeit with shorter leases – but said it was halfway through a cycle of weakness.
"White-collar employment is growing again and job ads are back above pre-pandemic levels," Dexus's head of office Kevin George said.
"Business confidence at the end of the year was higher than the average seen over the past seven years. All of this bodes well for office demand recovering over the next 1-2 years."
And with global investors in a time of low interest rates chasing higher-yielding assets, companies are building more offices.
Dexus and joint venture partner Frasers Property Australia are pushing ahead with a $2.5 billion two-tower development outside Sydney's Central Station and GPT has a $3.5 billion office development pipeline.
Even software company Atlassian is working on a $1 billion-odd office tower of its own – a new 40-storey tower wrapped in a steel-and-glass exoskeleton that will consume half the carbon of a conventional building in construction and half the energy of a typical building once operational.
But the uncertainties created by the COVID-19 pandemic mean the jury is still out on the longer-term future of offices and their business models. While Australia's largest landlords made a good showing in the December half, the changes are only just beginning.
"Landlords generally expect further occupancy declines and effective rental declines of 5-10 per cent on top of the about-15 per cent decline in Sydney in 2020," said Jefferies analyst Sholto Maconochie.
"We believe working from home will be an incremental headwind to office demand in 2021, partially offset by de-densification, with increased focus on flexibility over working from home replacing offices."
Retail property remains uncertain and asset values are falling. But even then, mall operator Scentre Group claimed a victory of sorts after pushing back against retail tenants such as Solomon Lew's Premier Investments' push for a major shakeup of rent agreements by linking a tenant's fees to the volume of sales.
And in the global scheme of things, Australia's $1.2-trillion commercial real estate market is keeping its head above water. Across the Asia-Pacific region, commercial real estate values shed 3 per cent of their value on average last year, consultancy Oxford Economics says.
With an estimated 2 per cent decline, Australia was in the middle, compared with South Korea's 4 per cent increase in values and Singapore, Japan and Hong Kong falling between 3 and 6 per cent.
The regional declines were modest – especially in comparison with the 15-30 per cent slumps in values seen in the 1997-98 Asian financial crisis and 2008-9 global financial crisis.
During the Asian financial crisis, non-performing loan ratios jumped to the 15-25 per cent-level in several APAC economies, where the share of property exposures in total loans and loan-to-value ratios were elevated at more than 25 per cent and 80 per cent, respectively.
The relatively strong performance is in part a consequence of good control of COVID-19, Oxford Economics says – in the UK and US, commercial real estate values dropped over 8 per cent last year.
"The pandemic-induced decline based on our regional CRE price index has been modest compared to past downturns," it says.
"Possible factors supporting capital values include a relatively well-contained COVID-19 situation in the APAC region and the low-interest rate environment."
Record low borrowing costs are not the only factor boosting confidence in commercial real estate. Despite the hit to foreign inbound migration that stimulates the home-building industries of Sydney and Melbourne in particular, residential property prices are surging.
Australia's residential real estate market has an estimated value of $7 trillion, giving it more than five times the value of the country's commercial sector.
Housing values rose at their fastest monthly rate in 17 years in February, pushing prices in the two largest cities back to levels just below their previous record highs. And while loan data shows investors have started coming back into a housing market they had largely vacated, this boom has been driven overwhelmingly by established owner occupiers and first home buyers.
Investors will likely add more fuel to the fire under prices as they are drawn back in by returning confidence about prices and seek to tap the record-low credit available.
The surge in residential prices already has regulators concerned and they are talking about possible responses to prevent lenders from taking on too much risk. But with so much of the demand coming from owner-occupier buyers, rather than investors as was the case in 2017 when macroprudential controls to curb lending were used, the tools this time around may need to be different.
"With the Reserve Bank of Australia still maximum dovish, all-time low interest rates and banks willing and able to lend, Australia is experiencing a housing 'up crash', " UBS analysts last week said.
"We believe macroprudential policies are likely later this year if housing continues to boom, instead of rate hikes."
While residential property is subject to winds of regulatory and political change, one sector likely to continue to draw investment and which looks set to keep drawing investment is industrial and logistics assets. The total annual returns of industrial property picked up to 13.9 per cent last year from 11.5 per cent in 2019, making it the strongest performer in the Property Council/MSCI Australia Annual Property Index.
As the extent and sophistication of ecommerce grows and traditional retailers adjust their supply chains to meet the changing needs of consumers, the needs for these facilities will grow.
Local and global players know it. GPT, the country's oldest REIT, doubled the value of its industrial portfolio to $3 billion in three years and is still going, with the goal of raising its 20 per cent weighting in logistics to one-third of its total portfolio.