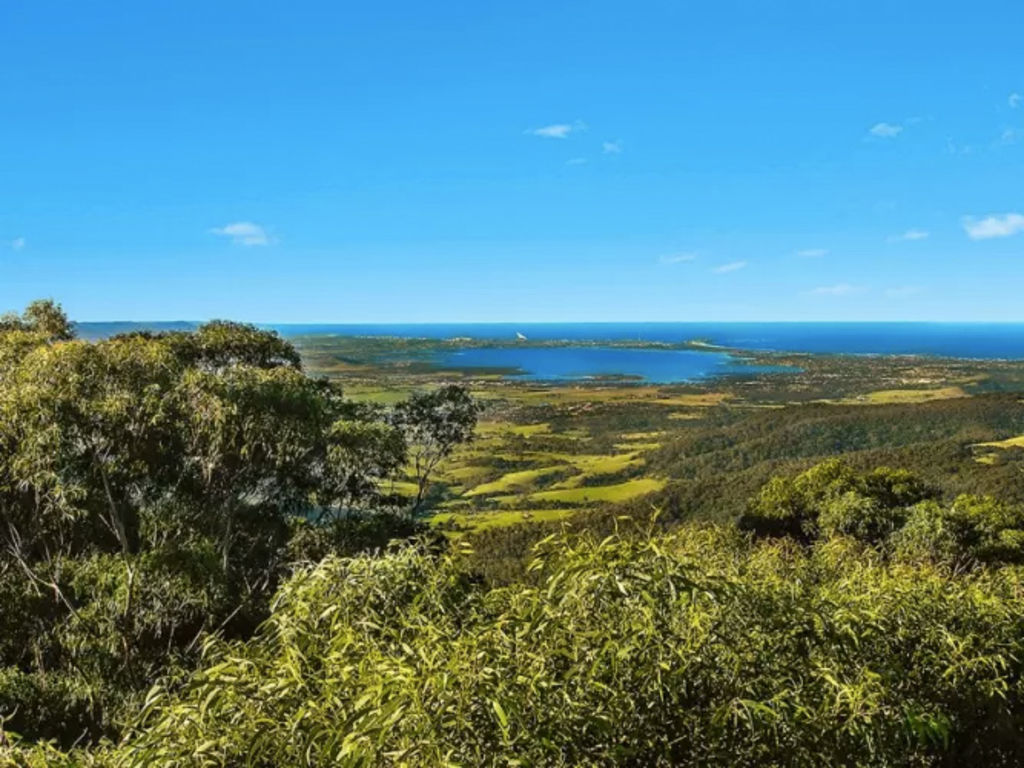 Pristine mountain sanctuary has a business ready to be tapped
A whole mountain and a source of some of the world's purest water are on offer in one of Australia's most intriguing property opportunities.
The buyer of the Robertson property in the NSW Southern Highlands will also own 87 hectares of pristine rainforest, the company of myriad wildlife and 360-degree views between Sydney to Wollongong from one of the best vantage points in the region.
They will also have the basics of a business that could be worth $40 million a year, says owner Rose Kluve.
Ms Kluve has spent $2.5 million on obtaining a licence to extract water from an aquifer below the idyllic property, which encompasses the whole of Jamberoo Mountain, as well as development approval for a water bottling facility.
But now, for family reasons, the lawyer and "conscious eco-entrepreneur" is putting the property on the market so she can move interstate.
"I don't have to complete my dream – I've taken it to this point and someone else can complete my dream," she says.
The lush rainforest was a clue to the water resource that was beneath. Photo: Supplied
Those who have already inspected the Lees Road property love it, says Ms Kluve, who is also a real estate agent and is selling the property herself for offers above $5 million.
It would suit a buyer or a syndicate who is passionate about good water, ecological farming and the value of such a unique piece of land.
"The person that it will attract needs to be unusual as well," she says. "It is a huge responsibility to be custodian of a pristine property."
An escarpment at Temenos. Photo: Supplied
Jamberoo Mountain, which has an elevation of 750 metres, has expansive views to Sydney, Wollongong and Port Kembla, Kiama and Shellharbour.
On a clear day, planes can be seen taking off over Botany Bay. The property is two kilometres from the Illawarra Fly tree-top walk and the starting point for the historical Butter Track Pass.
As well as needing business acumen, any new owner would need to be connected with the land, Ms Kluve says. The name she gave the property – Temenos – means "sacred space" in Greek.
The idyllic surrounds at Temenos, near Robertson in the NSW Southern Highlands. Photo: Supplied
Growing up at Mossman Gorge in Queensland's Daintree rainforest, where drinking water came from an artesian source, gave Ms Kluve a strong notion of what good water should taste like.
"It would come out looking like crystal – it would just sparkle," she says.
Moving to Brisbane and later to Adelaide, tasting the cities' water came as a shock.
"I couldn't believe it – I thought there must have been something dead in it, something horrible," she says. "And if you think Brisbane is bad, Adelaide water is about 10 times worse."
The rich, red Robertson soil. Photo: Supplied
She bought the Robertson property 23 years ago with a vision for high-yielding, complementary farming operations in harmony with the environment.
Organic farming and bee-keeping are just two of the projects Ms Kluve has undertaken on the property over the years since and she has ideas for many more, such as truffle farming irrigated by rinsewater from a future bottling plant.
The biggest truffle ever found in Australia was grown in Robertson in 2014. At 1.172 kilograms, it was just 129 grams short of the world record and was sold to a chef for more than $2000.
Drilling at the site tapped into a source of water ranked among some of the world's most pure. Photo: Supplied
Other above-ground prospects for the property include ginseng, which is highly valued and grows well in forest conditions, or native herbs to enhance the spring water.
However, Ms Kluve also recognised the potential for what might lie below the rich, red Robertson soil.
"When I saw the property, it was the same elevation as the one I grew up on, the same sort of rainforest and rich soil, I thought, I bet it's going to have good water," she says. "So I decided to drill and see whether I was right."

The approximate location of the property.
Drilling down 182 metres through basalt, shale and sandstone tapped into an aquifer that delivers water as pure as she had hoped – so pure, it is on par with waters from Norway, Iceland and Finland's Lapland, as well as glacial water from Chile's Southern Patagonia, based on standards of the international Fine Water Society.
Jamberoo's water, which has been graded as "super-fine" with a pH of 7.41 and a minerality of TDS (total dissolved solids) 47, has "a great mouth feel" and can be drunk straight from the ground, Ms Kluve says.
"I've bought and tasted just about every bottled water I could get my hands on – there's a big difference between them," she says.
"If you want to be healthy and have good hydration, the purer the better."
Premium water is becoming a product of distinction, she says, appreciated in the same way as wine.
"You'd want a good quality bottle of water along with a good quality bottle of wine and your beautiful meal," she says.
Owner Rose Kluve describes the effect of low clouds around the mountain as "the mists of Avalon". Photo: Supplied
There is a habitable cabin on the property but no house – yet. The site designated for a house has great feng shui, Ms Kluve says, because of its location between forests, water and an escarpment.
"For people who are into that sort of thing, you couldn't get a better location," she says.
Other suggested uses for the property include an ashram or meditation centre. When the moon is full, it casts a stream of light on the ocean and lake that Ms Kluve describes as a "stairway to heaven".
'The forest is exquisite. Sometimes you're above the clouds and it's as if you're in the mists of Avalon. The sunrises and sunsets are magical.'
The property is capable of being farmed while still looking after the wildlife, she says. Once she planted eight hectares of potatoes but made sure they were planted around the wombat holes.
Unusually, the wombats, lyrebirds, wallabies, echidnas, kangaroos, quolls, walleroos and possums that live on the property do not fear people.
"They just see you as another creature of the forest," she says.
Plenty of wildlife also call Temenos home. Photo: Supplied
There are about eight springs on the property that she has never known to run dry – even through a drought.
The previous owner of the property, a member of a pioneering family who was then in his 80s, told Ms Kluve the springs always had water throughout his lifetime.
According to WaterNSW, bores licensed under the Water Management Act 2000 are generally of the category "Aquifer (groundwater) access licence".
The licence allows the owner of Temenos to extract 13 megalitres a year, which is considered a relatively small bottling operation, Ms Kluve says.
The property also has two irrigation licences for 12 and 20 megalitres supplied from a different bore, also with good-quality water.
The meaning of Jamberoo, said to be "on the path", is another synergy, says Ms Kluve, who is a member of the Australasian Bottled Water Institute. She is also prepared to negotiate the possibility of being a consultant for the property under new ownership.
She is "attached but not attached" to her work at Temenos, which she likens to planting a tree and never seeing its full potential.
"I've realised my dream, I've taken it to the point I need to take it. My life's taken a different turn," she says.
About water licences in NSW
Bores in the Robertson area are licensed in accordance with the requirements of the "Water Sharing Plan for the Greater Metropolitan Region Groundwater Sources" which commenced on July 1, 2011.
More specifically, they are subject to the rules applying to a specific water source.  In this area, this is the Sydney Basin South Groundwater Source.
As a general guide, prior to the commencement of the water sharing plan in 2011 there was no groundwater licence embargo in this area – unlike other parts of the Southern Highlands.
Since the plan on July 1, 2011,  the issuing of new aquifer (groundwater) access licences is restricted to some specific circumstances such as town water supply and domestic and stock needs.
Most people seeking entitlement including for any commercial purpose need to purchase water from a willing seller in accordance with the rules set out in the water sharing plan, as detailed in the rule summary sheet.