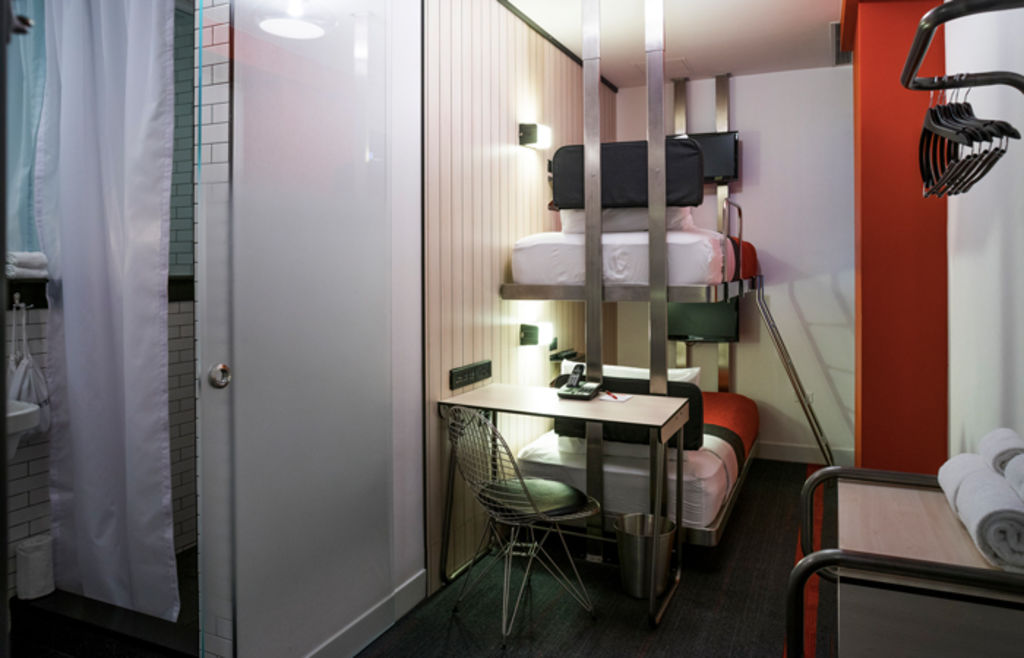 Price is right and space is tight at the new microhotels
On a recent business trip to New York, Kelly Buck went small for her hotel room – as in 9.3 square metres.
Buck, a nonprofit marketing executive from Auburn, New York, sought a good deal and found one at the Pod 39, one of a growing number of microhotels that are taking a smaller-is-better approach. And the price, about $USD100 ($131) a night, was right.
"I was going only for one night, understood the rooms would be small but functional, and that's exactly what they were," she said.
A sister hotel, the Pod 51, goes even smaller, with some rooms measuring six square metres and offering a shared bathroom. It is a legacy of that building's days as a single-room occupancy hotel.
A common element of microhotels is an oversized communal lounge, like this one at Pod 39, New York. Photo: Pablo Enriquez/The New York Times
As hotels seek to blunt the appeal of Airbnb and court younger and more independent travellers, some, like Buck, are choosing microhotels.
These hotels blend elements from cruise ships and hostels and are characterised by compact guest rooms, an embrace of technology and an oversize communal lounge.
"Disruptions from short-term rentals are creating a whole new supply channel," said Scott Berman, principal in the hospitality and leisure division at PricewaterhouseCoopers.
The micro concept first gained traction in Europe with brands like CitizenM and Yotel at airports and in urban centres.
Now the model is expanding. Yotel, which has a property in Manhattan, plans to open others in San Francisco, Boston, Miami and Brooklyn, as well as London, Geneva and Singapore. Pod expects to open another hotel in Manhattan, as well as in Brooklyn and Washington.
It is not just specialty chains that are drawn to the concept. Lured by the profit potential of squeezing more rooms into the same amount of space, and possibly reducing the overall cost of construction, larger chains are planning microhotel projects.
Hilton Hotels & Resorts is introducing Tru, which will have an average room size of 21 square metres, compared with the typical room size of about 32.5 square metres at Hampton Inn, which is owned by Hilton.
Marriott International, which introduced Moxy in Milan, is creating a guest room in the United States that is expected to be about 16.7 square metres. A room at a Courtyard by Marriott, by contrast, is about 28 square metres.
Hilton said it had commitments to open 189 Tru hotels, and expected several to be up and running before the end of the year. Moxy will open three hotels in the United States and nine abroad in 2016, with more than 50 eventually. "There's a higher acceptance of the small rooms," said Mark van Stekelenburg, a managing director at CBRE Hotels. He said that guests saw value if the hotel offered significant amenities.
Planning a vacation with your friends? Our bunk cabins are perfect for staying together and saving some money on all the fun things you'll want to take advantage of in NYC! http://ow.ly/ZehYH
Technology is a big draw, especially when it is deployed in creative ways.
Yotel, for example, dispensed with bellhops in its New York microhotel, relying instead on a robotic arm to store and retrieve luggage.
At CitizenM, a tablet computer controls the blinds and turns on the lights and the television.
It's pretty simple. Robots are cool! If you're staying with us and need a place to store your luggage, YOBOT is your robot! Check out YOBOT's feature on NBC News here! http://ow.ly/QuES9
Moxy uses motion sensors to light the way into the private bathroom. They activate when a guest steps out of bed. Pod has an in-room media center or an iPod dock. For working, Hilton anticipates having private spaces and built-in alcoves instead of traditional business centres.
"There's much less labour than a traditional hotel," said Stephani Robson, a senior lecturer at the Cornell University School of Hotel Administration.
The rooms are small and have the trappings of a traditional hotel room, to a point. At CitizenM, beds are extra long and king size, but the only way to reach them is to step on to them because they fill the width of the room. At Moxy, a wall of pegs replaces closets.
"There's everything you want and nothing you don't," said Tina Edmundson, global officer for luxury and lifestyle brands at Marriott. "Most people never unpack."
Small may not necessarily mean less expensive. A recent search of hotels in Tempe, Arizona, found that a Friday-night stay at Moxy was $USD259 ($340) a night. That same stay was more expensive than at a nearby Holiday Inn Express, an Aloft or an Embassy Suites.
The focal point of these microhotels is their oversize common areas with sections for working, eating, drinking and playing. A recreation area might include a chess set or a foosball table.
"Travelers want friends and guests to meet them there and feel good about it," said Hubert Viriot, chief executive of Yotel.
Still, the rooms might not appeal to travelers who want individual touches. Liz Gagliardi, a retail executive who lives near Boston, previously stayed in a CitizenM in Europe and liked its high-tech features and mood lighting.
At Yotel in New York in January, which she booked for its price and location, her room didn't have bottled water or an in-room coffee maker. (Yotel says free coffee is available all day at check-in and free muffins are available in the morning.)
Some microhotels offer grab and go, or prepared, meals for a fee. Still, that did not sway her. "I wouldn't use it as a destination again," she said.
Buck extended her stay a night when her return flight was cancelled. She hung out in the lounge, which was decorated with paper Japanese lanterns and offered a table tennis table, books and overstuffed furniture.
"It's not for everyone," she said.