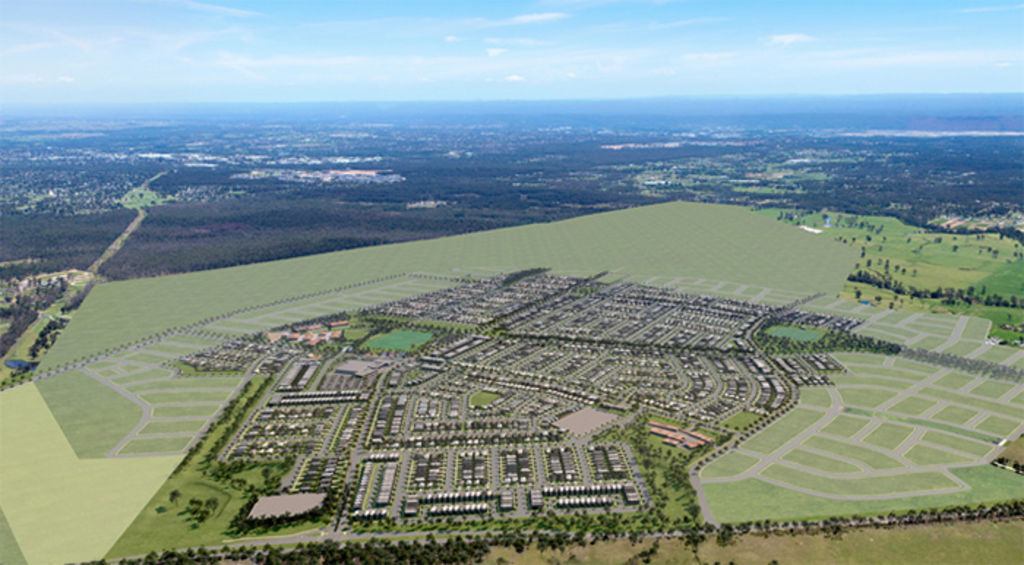 Pre-Christmas land buyers snap up lots at Elara, Marsden Park
The festive season proved to be no barrier for north-west Sydney residential land buyers, with 57 lots snapped up at Marsden Park just before Christmas.
Stockland had planned to offer 45 lots for sale on the weekend of December 19 and 20 at its Elara masterplanned community development but then released 12 more to accommodate demand.
Construction of new homes on vacant land at Elara, on Richmond Road at Marsden Park, in April 2015. Photo: Louie Douvis
"We weren't quite sure just how many buyers would be stirring the weekend before Christmas," said Gavin Tonnet, Stockland general manager NSW residential communities.
"However, it turns out that residential land sales market in north-west Sydney remains incredibly robust."
The 57 lots at Elara ranged from 280 square metres, which sold for $329,000, to 350 square metres, which were priced from $388,000.
More than 500 lots have now been sold at Elara, about 50km from the Sydney CBD, with work under way on the first 170 houses.
Mr Tonnet said the first residents were expected to move in early in 2016. Work would also start then on the first park in Elara, which will become part of 12 hectares of parks and 25 hectares of open space.
Around 2200 houses will be built for about 7000 people who will eventually call the suburb home. A display village for 20 NSW builders is also under construction.
A primary school, independent school, childcare centre, community centre and a shopping centre are also planned.
An artist's impression of the shopping centre planned for Elara at Marsden Park, north-west of Sydney. Photo: Stockland
Elara, on Richmond Road, is 15 minutes from Blacktown and about 20 minutes from Parramatta and the Norwest Business Park.
Marsden Park is considered popular among residential developers because of the large level land holdings, availability of services and residential zoning.
A major driver of employment growth in the area has been Sydney Business Park, which is already home to major global brands such as IKEA, Aldi​, Shell, Costco​, Swire and Dulux​.