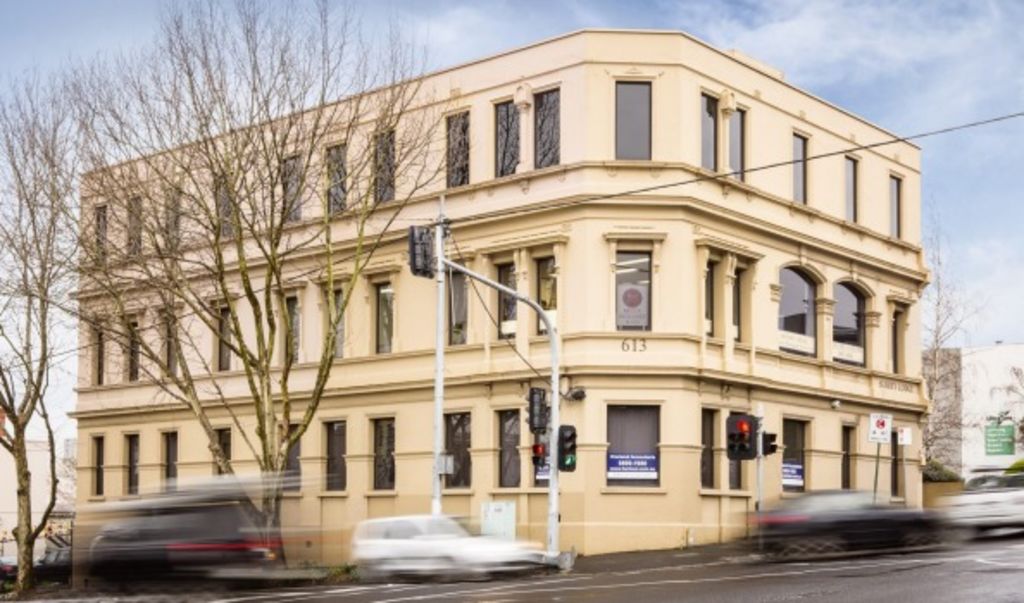 Pinkenba warehouse leased for $400,000 a year
National concrete pumping contractor The Meales Group has cemented a five-year lease with options for a modern warehouse facility at Pinkenba in the Australia TradeCoast precinct in Brisbane's east.
The complex includes a 1700sq m warehouse and a 285sq m commercial two-storey office on a 13,000sq m site at 111 Brownlee Street.
Ray White's Paul Anderson and CBRE's Nick Witheriff and Dan Munnich brokered the deal on a net annual rent of $400,000.
111 Brownlee Street, Pinkenba. Photo: Google
Mavi moves in
Mavi Jeans has leased a 770sqm creative office for its operations at 41-43 Bourke Road, in the inner Sydney suburb of Alexandria from private company Alexandria Project Pty Ltd for a gross annual rent of $331,550.
The five-year lease with options includes polished floors and is close to amenities like The Grounds of Alexandria.
Knight Frank's Nick Sinclair and John Swanson handled the deal.
Schools expand
Group Colleges Australia (GCA) has started a second campus in the Sydney CBD at newly leased 1618sq m office spaces over levels 10 and 11 at 233 Castlereagh Street in the Sydney CBD.
It will pay a gross annual rent of $495 a square metre over five years for the property.
The Australian Academy Of Commerce has also expanded securing an additional 944sq m whole floor in 338 Pitt Street for five years at a gross annual rent of $445 a square metre.
The landlord for both properties is Visionary Investment Group and MMJ Real Estate's Cameron Algie negotiated the leases.
Sunshine Coast lease
Homewares retailer Bed Bath N' Table has secured a 339sq m tenancy at Lot 3 at 5 Gibson Road in Noosaville on the Sunshine Coast through Ray White's John Petralia and Paul Forrest.
The landlord is a local investor.
The property opposite the Noosa Village Shopping complex will be leased for five years on a net annual rent of $130,000.
Bow & Arrow goes to the heart
Boutique fashion store Bow & Arrow has upgraded to a 57sq m tenancy at the premium Tingirana resort complex in Noosa Heads through Ray White's Paul Butler and Paul Forrest.
A local investor leased the property at 25 Hastings Street.
Bow & Arrow, which also has an outlet at Fortitude Valley in Brisbane, has taken out a three-year lease with options on a gross annual rent of $135,000.
Midland mania
Total Tools Midland has opened a new store at Tenancy 1, 195 Great Eastern Highway in Perth's Midland, paying a net annual rent of $292,500 over a 10-year term.
A private investor leased the 1300sq m showroom property through Vend Property's Jeff Klopper.
Recruitment firm moves up in Sydney
Queensland-based recruitment firm u&u has expanded into the New South Wales market, inking a new lease in the Sydney CBD at Level 24, 45 Clarence Street.
u&u signed a deal for a 218sq m A-grade suite with views over Darling Harbour and Barangaroo.
CBRE's Rosie Origlia negotiated the deal for landlord DEXUS Property Group.
Freshen up in Greystanes
Fresh Solutions Group has closed a 10-year lease deal for a 1683sq m warehouse and office facility at 4 Bellevue Circuit, in the western Sydney suburb of Greystanes.
The 4 Bellevue Circuit property comprises a new 12.2-metre internal clearance warehouse facility, three roller shutter doors and dual driveways.
DEXUS and CBRE's John Micallef, Rajal Chaudhary and Matthew Flynn handled the deal for DEXUS Property Group.
The net annual rent for the property is $132 a square metre.
Kingsmede closes lease
Kingsmede Property Management Services Pty Ltd has leased out a 2500sq m industrial property in Revesby in Sydney's west to private occupier KJC International Pty Ltd.
The property at 3-13 Marigold Street will be leased for four years and four months for a net annual rent of $70 a square metre.
Colliers International's Jon Orsborn and Gavin Bishop leased the property which has a yard and multiple gates.
More Sunshine deals
SRV Road Freight Services has secured a new lease at 577 Somerville Road in Sunshine West, Melbourne from a private landlord.
Bing Property Group's Nathan Bingham managed the transaction struck at a net annual rent of $420,000.
The 4200sq m property on a 24,000sq m site will be leased for four years.
Heritage spaces
Melbourne start-up Selfwealth and 51 Pay have leased two floors at the historic three-level building at 613 Canterbury Road in Melbourne's Surrey Hills.
The 982sq m property built in 1888 was the Surrey family hotel, "Surrey Lodge". Selfwealth and 51 Pay will both will pay $250 a square metre for their 330sq m spaces on levels one and two respectively. Outgoings are $50 a square metre.
Fitzroys' Martin Huang and Michael Ryan negotiated the deals.
Super deal
The Box Hill Superclinic has signed a 10-year lease for a 1000sq m office at 810 Whitehorse Road in Melbourne's Box Hill for a new outlet.
Private investor Glorious Sun leased the ground-floor property for 10 years through Colliers International's Kevin Tutty. The gross annual rent was agreed at $375 a square metre.
Submissions to stan@fairfaxmedia.com.au