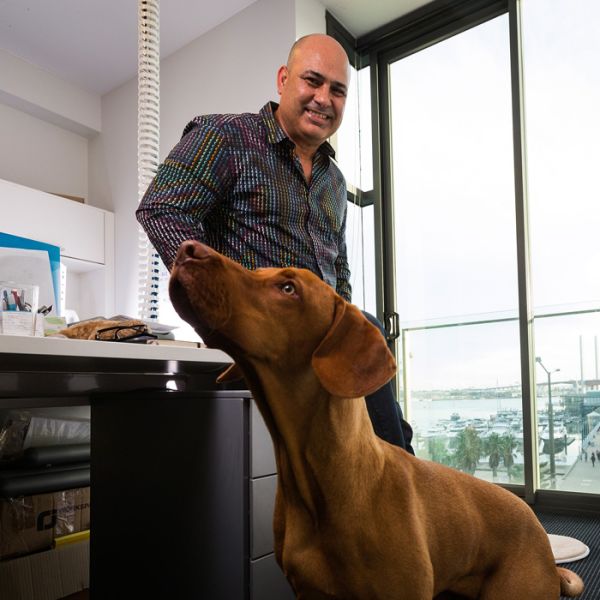 Pets and the city: The new breed of offices where animal magnetism is fur real
The newest member of the team at Cunsolo Architects may not yet have learnt the rudiments of workplace design but he certainly knows its most important principles – carefully curated places to sleep, eat and play.
"And he does make an important contribution," company director Tony Cunsolo says of his six-month-old Hungarian vizsla puppy Leo who regularly accompanies him to work.
"The office is a lot calmer when he's around and he makes sure we get important breaks.
"He'll come up every now and again and put his head on my lap to say he wants a pat, and that I should come away from my computer to spend some quality time with him."
[dm-listing-recommendation experimentname='midcontent-listings' positiononpage='midcontent']
Mr Cunsolo's office in Melbourne's Docklands is just one of hundreds around the country that now allow pets at work – both with and without the permission of their commercial landlords.
Pet food company Mars Petcare has always had pet-friendly offices. Photo: Jason Robins Photography
While many of the owners of these properties would much prefer not to have their tenants bring animals into their premises, some turn a blind eye with the proviso that if there are problems, they'll revert back to the original contract that doesn't allow them.
The pet food company Mars Petcare, for instance, has always operated pet-friendly offices but, when they moved a new leased space in the Melbourne CBD four months ago, the owner wasn't keen.
"One of our stipulations was that the space had to be pet-friendly but landlords weren't too happy about that," says director of corporate affairs Lisa Maguire.
"So we agreed to start out slowly, with pets coming in on designated days, and build up gradually, so people can see how well it works and the landlord can feel more confident.
"We want to educate people about how cool it is and, once they see it in action, usually they're quite happy."
Pets and the city is part of a general trend that's seen dogs and even sometimes cats regularly attend offices nine to five with their owners, all the way through to chickens and honeybees on the rooftop of Macquarie Bank's new headquarters in Sydney's Martin Place.
Creative or new industries have been the first to welcome pets in the office. Photo: Getty Images/iStockphoto
But corporate Australia has often been slow to accept furry or feathered occupants, with people's pets usually only welcomed in offices run by creative or new industries – like fashion, IT, media, advertising, architecture and start-ups – mostly in fringe areas of the city.
Colliers International national director of office leasing Cameron Williams says most offices do typically forbid pets, but things appear to be changing.
He had his first inquiry 12 months ago from a west coast American tech company opening an office in the Sydney CBD which specifically requested to be allowed to have pets in its office. The landlord, however, refused.
"The building in question is a very good, high-end building in an excellent location and there was a concern about bringing the building down in people's perceptions," Mr Williams says.
"There'd be no problem with guide dogs, of course, but it was felt that people wouldn't like to see dogs coming through the front door and the building manager felt there'd be issues around health."
English sheepdog Holly lets Mars Petcare staff know when meetings have dragged on for too long. Photo: Supplied
Another tenant didn't raise a question about bringing a dog to work before he signed the lease but Williams subsequently noticed a photo of a dog in the office on his company's website.
His lease, like most leases, hadn't explicitly forbidden it but, if there are no complaints, then probably no one will be any the wiser.
"My personal view is that it's something that will come into the market and become the norm in maybe 20 years, I'm not sure when," Mr Williams says.
"There's a growing movement around wellness and some people argue that allowing pets into workplaces is healthy for employees.
"That seems to be being driven by the US and they seem quite comfortable with it. But a lot of leases are for 10 years, so it will take some time to work through here, and the big institution-owned towers in the CBD could take a while to come around to that."
Mr Cunsolo is a good example. He owns his office, but the body corporate rules of the building don't allow pets. Leo comes in regardless and now he's one of the block's most popular visitors.
Tony Cunsolo says pets such as his dog Leo improve the atmosphere of a workplace. Photo: Chris Hopkins
"Everyone knows him and calls him by name," Mr Cunsolo says. "The body corporate rules state that an animal is not allowed to be kept in the building, but I'm bending that rule by arguing that he's not 'kept' in the building, he's only here for a couple of days a week during the daytime.
"A lot of A-grade buildings shun having a dog which I think is wrong. Having a pet around really helps the atmosphere of an office.
"But most companies that do allow pets either don't bring it up with landlords or building managers, or they tend to lease office space over shops or in small boutique buildings, and not in premium-grade buildings in prime locations."
Karbon Property is a company that tends to deal with creative and tech industries in fringe areas like Pyrmont, Ultimo, Surry Hills and Darlinghurst in Sydney. Director Josh Watts says upwards of 20-30 per cent of his clients run pet-friendly offices.
"What comes through with them is work-life balance," Mr Watts says. "They also tend to have cutting-edge offices with concrete floors and parks nearby, and a lot of the employees tend to walk to work.
"Many of them live in apartments, which are often pet-friendly these days, and with those apartments getting smaller they can't leave a dog at home all day any more.
"Being pet-friendly, however, is never written into a lease; it comes down to the company and the owner. When an owner comes to inspect the property, I suspect there aren't dogs there that day … But it is a growing trend, although not yet in those premium-grade assets."
Positive energy and happier staff, like Lauren with Rusty, are advantages of a pet-friendly office, says Mars Petcare. Photo: Supplied
Their route may well end up following that already forged by pet-friendly residential buildings.
Owners and tenants often smuggled in pets when they weren't allowed, but many buildings have found it far more effective to officially allow pets and then draw up rules about size, locations where they're permitted and where they're not, use of lifts, behaviour and solutions when there might be problems.
At the Melbourne Theatre Company's offices on Southbank, there's generally one dog, sometimes two, on each floor of the three-storey building. There have rarely, if ever, been difficulties.
The company doesn't own its offices but leases them from Melbourne University. Both tenant and landlord are happy with the arrangements.
Head of production Adam Howe is often working with Frenchie the miniature poodle by his side.
"Having dogs around does encourage more conversation," he says. "People will stop by my office to say hello to Frenchie and I'll tell them to say hello to me too. Most people like to engage.
"Problems are incredibly rare. If something does happen, it's usually because one has had a reaction to something, or there's a young puppy. But generally they make far fewer problems, and definitely less noise, than some of our staff.
"I'd definitely recommend having pets at work. Frenchie reminds me when it's time to have a break and going outside with her for a few minutes leaves me returning to my desk feeling far more energised."
Cotton On held a Bring Your Dog To Work Week in 2011 and it was such a success, it became a regular practice within its business.
Today, the company has an average of five dogs visiting the workplace each day; contributing, it says, to a happy, healthy work environment which aligns with company values.
A bring-your-pet-to-work day led to pets being regular visitors to Cotton On's offices. Pictured is Stuart Higgins with Cooper. Photo: Supplied
"Animals play a really positive role in encouraging collaboration, mitigating stress, creating a strong sense of community across our workplace and increasing job satisfaction," says Greer McCracken, senior PR and communications manager.
Car-share company GoGet also allows people to bring small, well-behaved pets to work to their leased offices in a high-rise building in Sydney's Haymarket.
"We've never had a complaint," says spokesman Jonathan Englert. "We've never had an issue. Having a pet at work is a morale thing. It's great to have an animal around; it changes the dynamic."
Stay warm today kids! pic.twitter.com/tVgDwlRvmF — GoGet (@GoGet) July 17, 2015
That's been the same for Mars Petcare. "Employees are a lot more relaxed, and it creates great energy in an office," says Lisa Maguire. "People feel happier and they take proper breaks when their pets need to go to the bathroom.
"When a meeting goes on too long too, our English sheepdog Holly will always let us know, which is handy too."
As people spend more and more time at work, demand for pet-friendly offices is growing, says Knight Frank associate director of sales and leasing Hamish Henderson.
"They're looking for a more residential feel so having pets is part of the deal," he says.
"CEOs and CFOs and operators of small businesses tend to do what they want to do, and often being able to bring a pet to work is part of a package to attract better staff.
'Most landlords don't like it but they're looking only for the negatives.
"Some leases say you can't have pets but then there might be a gentleman's agreement that pets can come in but, if there's a problem, they'll revert back to the contract."
That still tends to be at the fringe, however, and not in those top buildings in city centres. But, says Amanda Steele, the managing director of asset services at CBRE, big buildings at the top end of town once wouldn't allow women in, and said they'd never be able to ban smoking … but they now manage with both.
"Buildings have to catch up with contemporary trends and landlords can do that," she says. "There's now lots of evidence that having pets in workplaces can be great for health and wellbeing, and there's often a way to make it work in buildings.
"Macquarie Bank now has a chicken coop and the bankers love them. And that's an A-grade building for a traditional banking organisation …"
[dm-listing-recommendation experimentname='below-content-listings' positiononpage='belowContent']
Keep up with Commercial Real Estate news.
Keep up with Commercial Real Estate news.