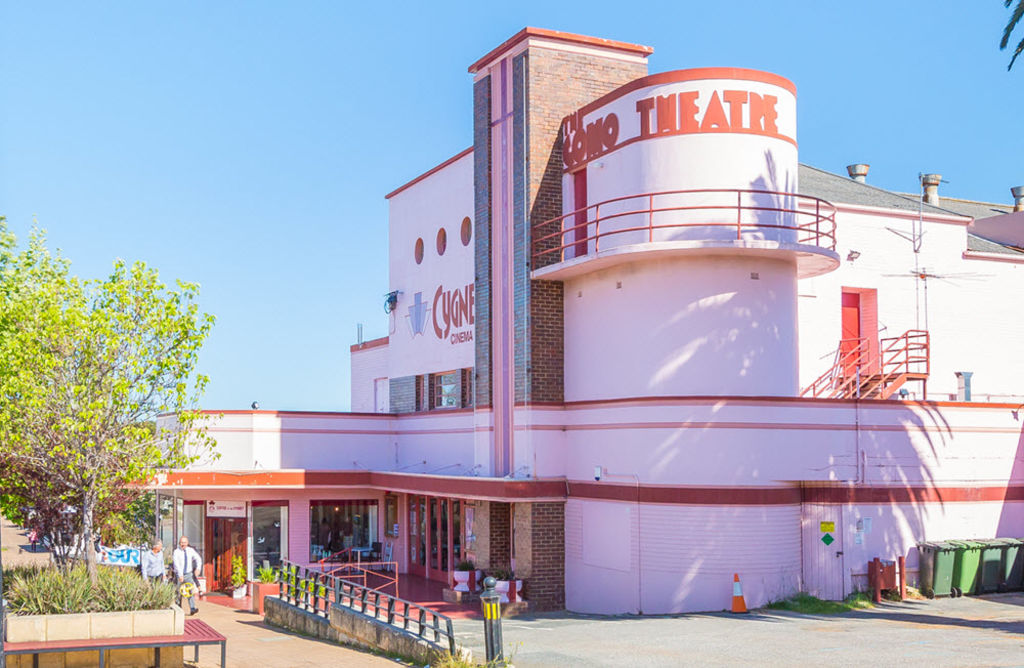 Perth's historic Cygnet cinema set to be sold for the first time
After almost eight decades, the heritage-listed Cygnet Theatre, located in the southern Perth suburb of Como, has been listed for sale for the first time.
The 5060-square-metre site not only features the historic 1938-built cinema and coffee shop, but also a single-level day spa and a single-level office. It is expected to fetch more than $10 million.
Originally named The Como Theatre, it was designed by William Leighton for cinema pioneer James Stiles and opened in March 1938.
Considered a fine example of art deco-style architecture, the theatre is part of the state's Heritage Register. It was Como's first purpose-built sounds cinema, the register states.
According to the City of South Perth's Local Heritage Inventory Place Record Form, James Stiles was an estate agent and after developing other cinemas in Perth, the Cygnet Theatre was Mr Stiles' most advanced design.
It had a 'bio box,' which enabled the projector to be moved to service an indoor and outdoor picture garden.
The theatre featured two levels of seating and a proper sound system.
The Cygnet Theatre was rare in that it is the least altered of the 1930s suburban cinemas of Perth still in operation, the record form states.
Mr Stiles died of a heart attack in the 1940s.
Business declined in the 1960s due to the introduction of television and the theatre only opened once a week, except during film festivals in summer. Como Theatre was renamed the Cygnet Theatre in 1968.
In 2013 the theatre was granted a $100,000 State Government heritage grant, which was used to upgrade wiring and to install a digital projector.
The site is being sold by Mr Stiles' son.
The Preston Street site is zoned Neighbourhood Centre Commercial and has an 80-metre frontage, a 63-metre depth and would suit a residential, commercial or a mixed use development.
However, according to joint selling agents Rob Selid of Burgess Rawson and Bryan Cousins of Allied Property Consultant, any redevelopment of the site would need to be subject to heritage approvals due to the theatre's heritage listing.
Mr Selid said it was a rare opportunity for a site of such size to come onto the market.
"It is very difficult to get a 5000-square-metre site in Como or South Perth," Mr Selid said.
The site is leased on a monthly basis and operates as a single screen cinema as part of the Grand
Cinemas franchise.
The property at 12-16 Preston Street is being sold via an offers-invited campaign, which closes Wednesday, November 22.
Get a weekly roundup of the latest news from Commercial Real Estate, delivered straight to your inbox!