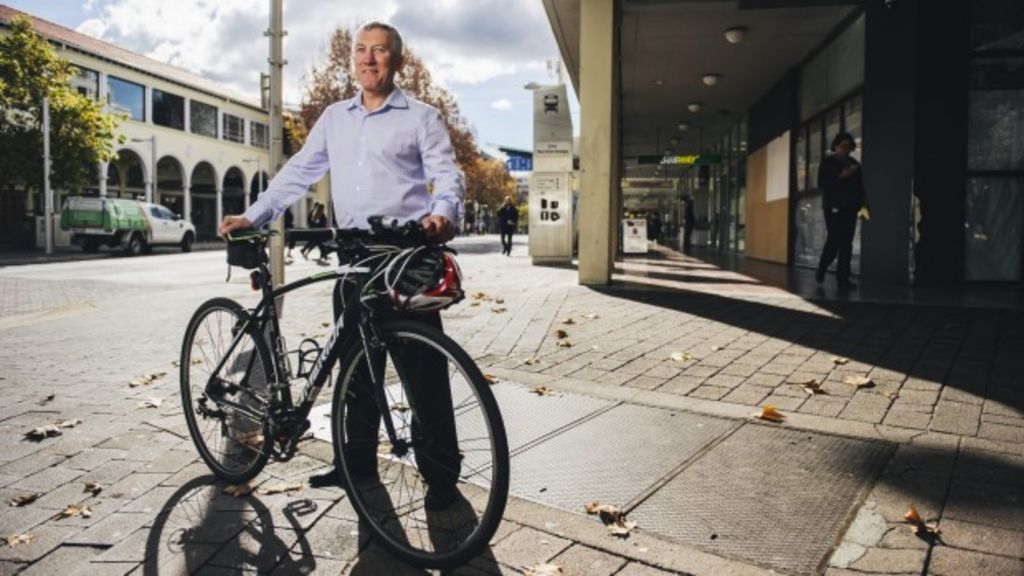 Pedal power behind push for cyclists' hub in empty Canberra building
A disused Civic office building could be transformed into a hub of lycra, bikes, showers, and coffee, helping to encourage cycling, enliven the city and integrate the planned light rail network.
Pedal Power ACT are behind the push to create a CBD cycle hub, using one of the city's many disused shops or buildings near the planned light rail terminal.
The hub, which would have private sector involvement, could include storage for bikes, lockers, change rooms, showers, a cafe, laundry, ironing, and bike servicing.
Pedal Power ACT executive officer John Armstrong said placing the hub near the planned light rail terminal would encourage better integration of the city's transport.
Similar facilities exist in Melbourne, Brisbane and overseas, particularly in Europe.
"We are now big enough, and for a city that is so centric for the area such as Civic, we have no end-of-trip facility that many other cities around Australia and around the world do have," Mr Armstrong said.
"It could make a lot of sense to have a real active travel hub, an area where you can get your bike serviced, you can have a shower, you can have lockers."
The concept appears to have at least some support within government. Territory and Municipal Services Minister Meegan Fitzharris welcomed "innovative" proposals like Pedal Power's, while Greens MLA Shane Rattenbury was wholly supportive of the idea.
A spokeswoman for Ms Fitzharris said ideas such as the cycle hub were important in continually improving the liveability of the city.
"We welcome proposals like this from local community groups such as Pedal Power," she said.
"Innovative suggestions from communities, local groups and businesses are what we need to make sure Canberra remains the world's most liveable city."
A new government agency to be established next month, Transport Canberra, will be given a mandate to better integrate the city's transport infrastructure.
"Transport Canberra will deliver an integrated network of buses, light rail, park and ride facilities, bike and ride facilities, and walking and cycling infrastructure," the spokeswoman said.
"It's essential that cycling infrastructure integrates with our light rail and bus network."
Mr Rattenbury, the former territory and municipal services minister, said cycle hubs had proved successful in other cities, such as Brisbane, which has the Cycle2City facility.
"With the introduction of light rail, this is a great opportunity to further expand our active travel facilities and improve the links between active transport and public transport," he said.
"It is important that we have good facilities that make it easy for Canberrans to walk, ride and catch public transport."