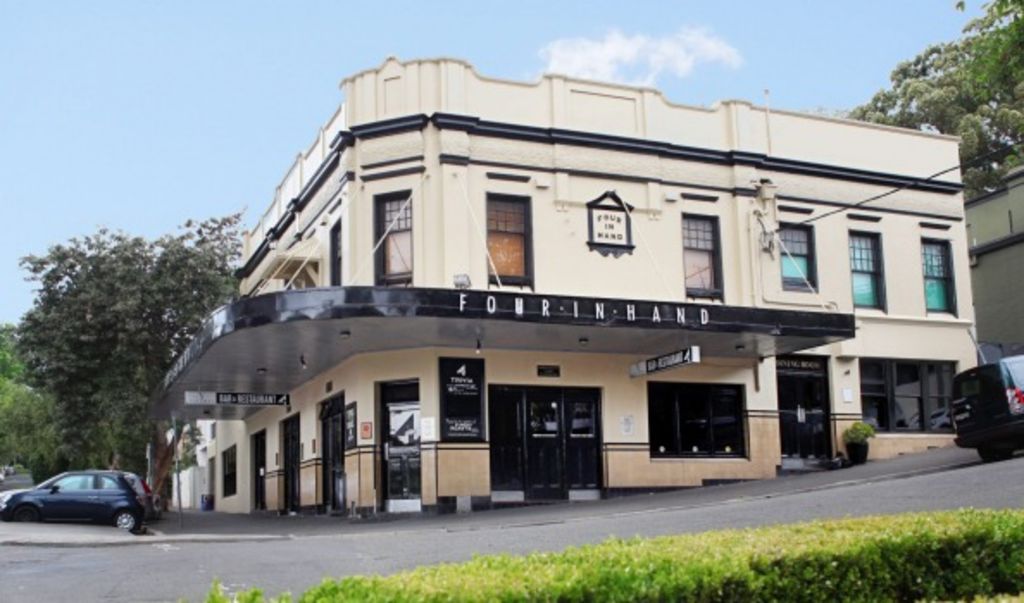 Paddington's Four in Hand sells for $8m
Publican Mitchell Waugh's Public House Management Group has added to its portfolio of landmark Sydney pubs, acquiring the popular gastro pub the Four in Hand for around $8 million.
It is the first time the hotel has changed hands in more than 25 years. The deal was brokered by Andrew Jolliffe and Joel Fisher of Ray White Hotels. The 4, as it is sometimes called, is in Sutherland Street in Paddington and is one of only two pubs in Australia whose restaurant has Two Hats status.
Mr Waugh said PHMG's strategy is to acquire iconic hotel operations on valuable land. This year the new pub outfit, which is backed by a number of private investors, has purchased Mosman's Buena Vista, The Woollahra Hotel and Paddington's Royal Hotel.
"The past four acquisitions we've made have all been predicated upon acquiring inherently valuable real estate, with historically robust cash flow businesses sitting atop," he said. "Following redevelopment of the Collaroy Hotel in 2014, we took the strategic ​view that the most appropriate business mix we were seeking for our properties was one which married balanced revenue streams, ​with a strong emphasis on fresh food concepts as well as other traditional forms of hotel revenue such as bars and gaming."
Rising property values together with low interest rates have made pubs a popular investment class in the last 24 months. Unlike the last cycle, however, the current wave of investment is not primarily debt-driven. The sector offers relatively high returns above 8 per cent although it is higher risk due to volatile earnings and business risk.
The 4's owners, which included industry veteran Joe Saleh and chef Colin Fassnidge, put the pub on the market in October as a freehold going concern to pursue other opportunities. The pub has had a $1.5 million facelift and includes gaming machines.
Mr Jolliffe said the response to the sales campaign was strong, with more than 45 inquiries.
"We ran a national sale process for the Four in Hand, and given the 2 Chef's Hat nature of the hotel's outstanding restaurant, targeted areas outside Sydney such as Melbourne and Singapore," he said. "The response was commensurate with ​our expectations around the sale of a food-and-beverage icon, with literally decades of national appeal."
Well-known chef Guillaume Brahimi is rumoured to be creating the new menu after the pub's current operator, Mr Fassnidge, exits early next year to open a new restaurant.