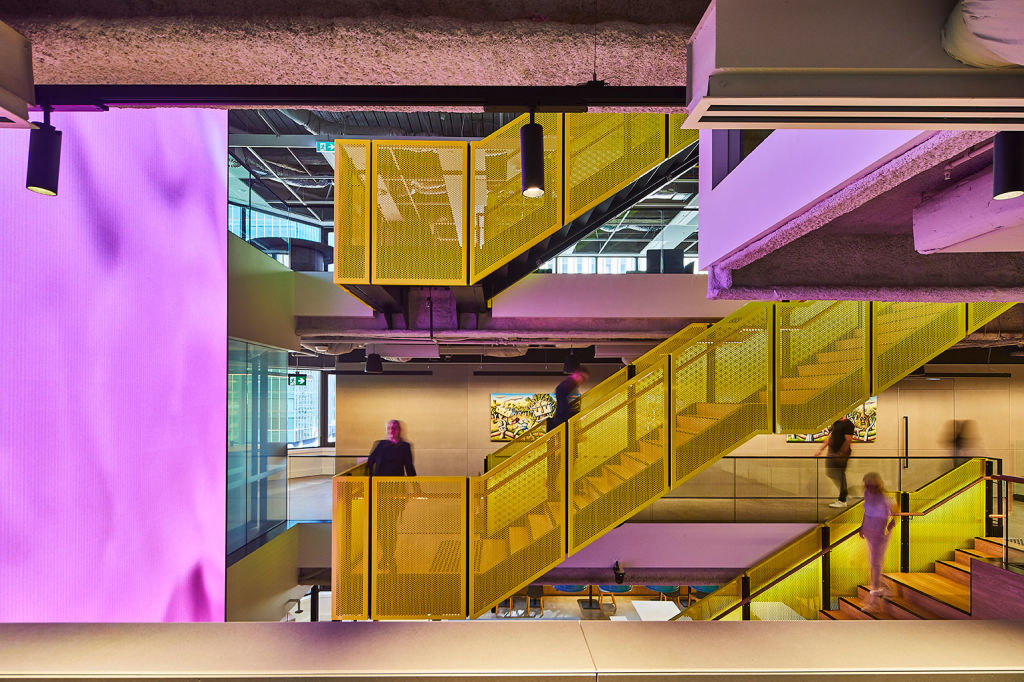 Office norms reimagined to benefit every personality type
We've had cafes, yoga rooms, gyms and end-of-trip facilities installed at workspaces, but one company is going much further to entice workers back to the office.
A new workplace in the Sydney CBD has been designed to cater for every type of personality, including the neurodivergent, to make sure everyone who works there can feel happy, relaxed and as creative and productive as possible.
At a time when many staff members are nervous about returning, have become comfortable at home or feel apprehensive about their ability to cope back in a busy office, it's catching the eye, and imagination, of many business bosses.
"A lot of companies aren't sure what to do with their workplaces at the moment and they're struggling to get workers back," said Adam Mundy, the global design director of integrated strategic design consultancy Geyer, which has just finished the six-floor, 6260-square-metre fit-out for fintech Tyro. "But this shows lots of options for inclusion, connectivity and innovation.
"There's movement in the market. People are looking to find new spaces and adapt them in a new way for their teams. It's brave clients like Tyro who have given us a good example to show the market how to cater for all their workers, of every personality type."
The design explicitly caters for every kind of psychology that may be present within a workforce and, when experts today estimate that up to 40 per cent of people may be neurodiverse, according to figures from ADHD Aware in the UK, that could make a striking difference to a huge proportion of staff.
Neurodiversity – the umbrella term covering a range of conditions like ADHD, autism, Asperger syndrome, dyslexia, dyscalculia, dyspraxia, obsessive-compulsive disorder, epilepsy, hyperlexia and Tourette syndrome – is now coming much more to the fore for employers.
This group tends to suffer much higher unemployment rates than the rest of the population, yet research has shown that they often possess higher IQs and special skills, and can be 30 per cent more productive than neurotypical people.
Mundy, who himself has ADHD, says the best parallel to understanding the different environments that may bring out the best in everyone is a food court. There, you'll see some diners choose a single table tucked away almost in the dark, the furthest they can find away from the rest, while other people go straight to the centre where there's lots of activity and noise; some might find a bench sitting against a window and others might prefer to be closer to the perimeter, and wear headphones to block out the cacophony.
"So why don't we have that choice in the workplace?" he asks. "We spend a lot more time there than we do eating out. We need workplaces that can suit everyone's needs, so people can feel they're in the right environment and can then be at their most engaged and reach their goals more easily.
"Neurodivergent people are often the ones who come up with the big ideas. They might not make it to reality but, when the environment supports them, they are free to think. It's about creating an equal environment for everyone, not just the loudest, most outgoing personalities. It's making sure everyone can contribute to the organisation."
As a result, the new workplace at Sydney's 55 Market Street for Tyro – which is Australia's largest EFTPOS provider outside of the big four banks and which also works in business lending and banking products and has Atlassian co-founder Mike Cannon-Brookes as its biggest backer – has a huge variety of different spaces, each accommodating varying numbers of people and with a range of lighting and acoustic levels.
There are concentration or quiet rooms where doors can be closed, carpeting helps to preserve the hush and lighting can be turned up or down. Then there are semi-open and transparent spaces where ceilings are a little lower and lighting dimmed for people who prefer to be on the periphery of activity.
Other spaces include those with a cafe feel, with activity for those people who find noise helps them to focus on the tasks at hand. A central staircase allows internal access to every level.
A central "town hall" space has bleacher seating, and there's a barista bar, board room, games spaces, kitchens, library pods, breakout spaces, a Lego-making space and a huge, nine-by-four-metre digital display board for showing presentations, digital art and events, like the Commonwealth Games.
Tyro chief executive and managing director Robbie Cooke said they wanted a workplace that could accommodate 650 people and bring out the best in all of them.
"We wanted to create a destination that would attract our employees back to the office and to create an environment which would work for the team, where some members were in the office, and some were remote, he said.
"We were also really focused on enabling multidisciplinary teams to cross-collaborate. We considered our current head-count and how staff will adapt in the new world."
Geyer worked with sister construction company Valmont to deliver the integrated project, under the overarching Placewell Group. Now, other tenants in the same building, and more companies elsewhere, are approaching Mundy to talk about similar set-ups.
"When a workplace suits everyone's needs, including those on the spectrum, they become very connected to that company, and will be very loyal, with retention and attraction rates huge," Mundy said. "We're all affected by our environment."