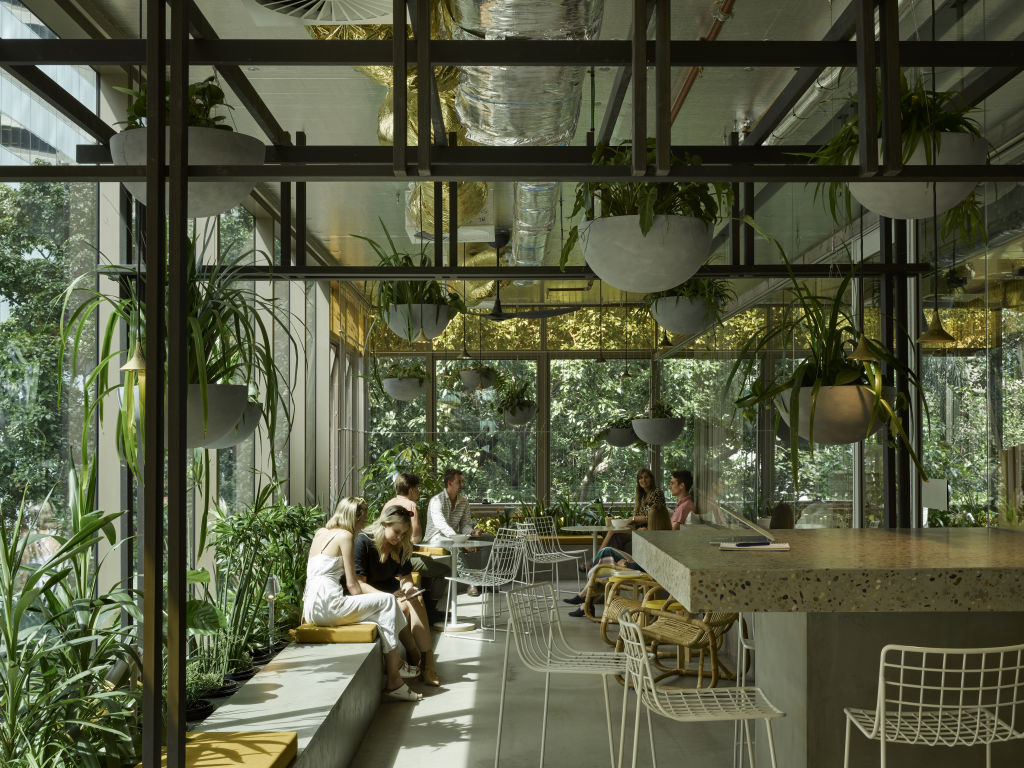 Why biophilia is leading the way when it comes to office design
Green is good. With workplaces aiming to evoke the comforts of the kitchen table and garden terrace as staff come wafting back, there's a word for that: biophilia.
Nature is the spirit of the 2022 Australian Interior Design Awards, whose workplace design category is full of leafy goodness.
If these finalists portend the office of the future, this decade's offices will ease social distancing, have furniture made from recycled, recyclable and sustainably grown materials and brim with plants, even trees, indoors.
"Plants no longer have to be in a planter box on top of storage," says Vanessa Serruto, senior interior designer at Studio 103, shortlisted for ID Land and for level 16 of Queen and Collins in Melbourne.
"You can design a collaboration zone that resembles a park or picnic setting, and have a tree within joinery," she says.
"We have put this forward in a number of workplace designs, and I've designed a Pilates studio in Hampton [Victoria], which will have a living tree indoors."
Just back from Milan Design Week, Serruto has the latest on global office trends.
"Reusing furniture and repurposing it in other applications, such as continuous seating that can be broken up for smaller zones, was a big talking point," she says.
"Designers are also discussing the use of coloured glass and creating a residential-hotel feel rather than a strict corporate decor.
"But the main subject was biophilia. A lot of Milan installations showcased designs that incorporated greenery and ideas about sustainability.
"A mixture of vertical greenery, reusable materials, and being serious about the budget were the important themes."
Brisbane firm BVN won the ADI workplace design award for the Sydney office of property developer Multiplex, a fit-out acclaimed by jurors for "grittiness" that balanced steely austerity with cosy break-outs clad in timber.   
BVN principal architect Bill Dowzer likes the idea of "office as clubhouse".
"It's like having a boutique hotel in an office building, and it's something owners are incorporating into the cost of the fit-out," Dowzer says.
"Owners are having to work harder to create a sticky building and change the services they offer to people.
"We've been working with Telstra on their workplace expansion, and it's a far more serviced environment than before, with a lot of non-allocated desks and areas where people can hang out and meet."
Businesses can expect to pay significantly more for workplace chic this year and next, according to JLL, whose Office Fit-Out Guide 2022 for the US reveals a 25.4 per cent increase in hard costs over 2021.
Some increase is due to increased technological capacity, whose infrastructure relies heavily on copper and other metals – a trade being disrupted by the Russian invasion of Ukraine.
High construction costs and supply-chain problems are likely to inflate some of the costs cited in JLL's most recent Australia Fit-Out Cost Guide, which in 2021 compared the relative costs of fitting out simple and complex offices in major Australian cities.
Last year's most expensive fit-out, at $2812 per square metre, was designed on "traditional" lines with predominantly enclosed offices. In general, a traditional office cost up to 33 per cent more than a basic one, with builders' labour and materials accounting for 40 per cent of the total cost.
Workplace design trends for 2022 and beyond
The outdoor terrace
Balconies and terraces are blasting open the traditional hermetically sealed office.
Australian tech giant Atlassian's new headquarters in New York, a timber-hybrid, 40-storey tower designed by BVN, will be spliced every four storeys by "parks" where staff can wander amid greenery.
"We are now receiving briefs for office spaces with terraces and green spaces," says Stephen Nicol, GPT Group's head of office leasing.
"Workers can use the spaces as a functional alternative to their desk as we provide them with the networks and technology they require throughout the entire precinct."
Teal, aubergine, mustard and deep greens were strong at this year's Milan Design Fair and popular in Australia, too, as clients move away from minimalism, Vanessa Serruto says.
"We recently designed a collaboration space in terracotta tones with warm tan leather seating, which looks very inviting," she says.
Enhanced health and hygiene
Apps that allow workers to call lifts and open secured doors from their phones, upgraded air filtration and UV purification leading to 99 per cent cleaner indoor air are proving hits with tenants, Stephen Nicol says.
"Our design teams are creating floors with access to balconies, open lobbies and end-of-trip facilities with natural ventilation," he says.
Sustainable fabrics and furniture
Perth company Arteil makes formaldehyde-free office chairs using eco-friendly adhesives. Bamboo is a popular choice for desks and for panelling.
Second-hand kit works too; online hub Green Office Furniture recently helped property developer Brookfield offload 175 items and divert 3.5 tonnes from landfill.