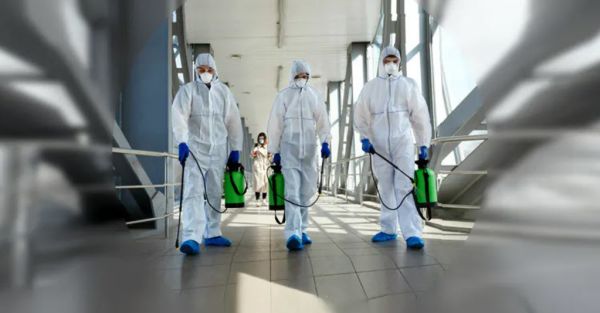 Office cleaners report being more stressed during COVID-19 crisis
The demands and duties of office cleaners have been dramatically transformed by the COVID-19 pandemic, with many reporting their work has become more stressful despite workplaces remaining partially empty.
Prior to the coronavirus crisis, a typical office clean involved vacuuming, mopping floors and dusting. Today, it is much more involved with the job of a cleaner changing dramatically.
Melbourne-based cleaning supervisor Sandrs Polis said being an office cleaner during the pandemic was not a job most people could handle.
"Not everyone can do it," he said.
[dm-listing-recommendation experimentname='midcontent-listings' positiononpage='midcontent']
"The first thing is you've got to have the right equipment, the right machinery and the right chemicals and you have got to have the right people. You have to use the same people every time, you can't use different people and now we have a team of about 10 people."
Mr Polis said working as a cleaner in Melbourne was scary and he was being tested weekly for COVID-19.
"It is not an easy job, to be honest with you," he said. "It is very stressful."
"The first thing as soon as we walk into a site we ensure we have the right equipment. I am going to wear my PPE [personal protective equipment], my mask and gloves. We have proper shoes and PPE. Then we wear double gloves in case one gets ripped – you have got to have back-up. Then we walk with a client and they show us the areas.
"We use the chemical called Enviroclean to kill the virus, and cloths and then throw it away after one swipe."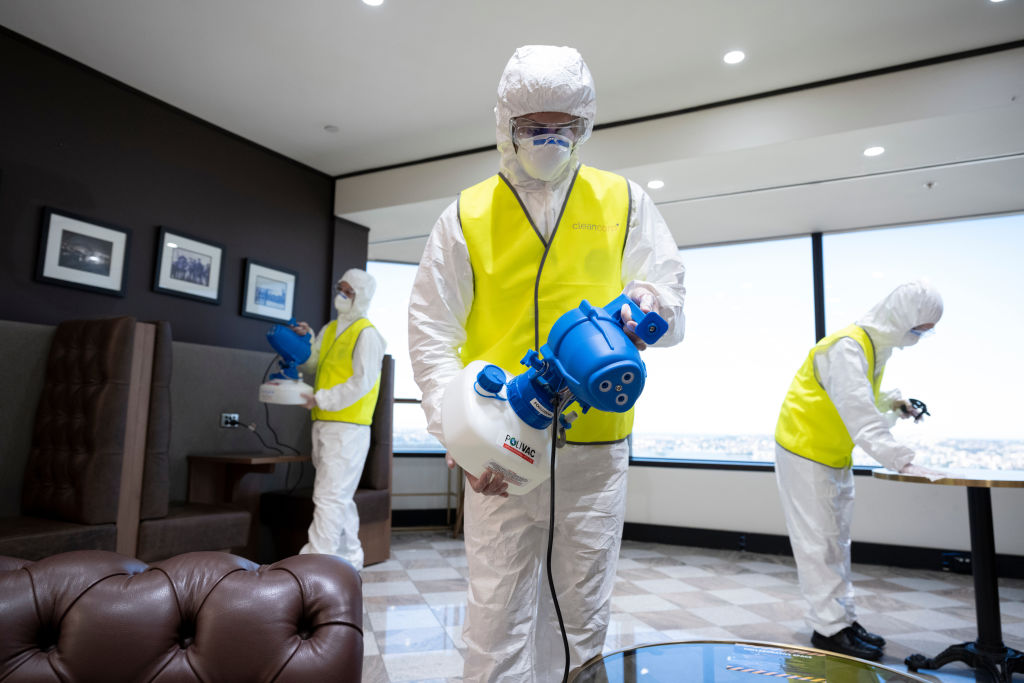 Cleancorp director Lisa Macqueen, whose company operates professional and office cleaning services across Australia and New Zealand, said even with some offices having fewer staff on-site, the cleaning tasks were still stressful as there was much more riding on the job.
Once her company's total COVID-19 cleans across Australia reached 1500, Ms Macqueen stopped keeping count.
"What I can tell you is that we are running COVID cleaning teams across Australia on a rotation basis 24/7 to keep up with the demand, especially in Victoria right now. In the office, we would easily be receiving 50 plus requests a day through our website and at least that again on the phone," she said.
"In many cases, it [less onsite office staff] hasn't made the work easier, because most clients have requested additional disinfection services to ensure any staff who are working in the office have a safe and sanitised environment from which to work."
But Ms Macqueen said despite the onset of the COVID-19 pandemic, the way cleaners were viewed had changed for the better.
"Pre-COVID, many people didn't have many good things to say about their cleaners. Today, our cleaning professionals are recognised as being a huge part of the solution to this scourge on our society," she said.
"In addition, our professional cleaning operatives need to know how to provide a safe environment for the people who work in the spaces they clean. They need to understand the difference between cleaning a surface as opposed to disinfecting a surface.
Ms Macqueen said cleaners needed to understand how to safely enter a site, use PPE and ensure the site was clean and safe at the end of their service, and then safely remove their PPE equipment.
"Plus, many of our more senior team members have been trained on our bio-fogging equipment [a machine which disseminates the anti-viral disinfectant via a fine mist], so that is another area of expertise they need to have," she said.
"However, I would say the biggest change has been the need for empathy and discretion, because our cleaning operatives are often coming into contact with organisations who are stressed about having a COVID outbreak, and who are uncertain what to do, when to do it, and who to trust."
The spotlight has been placed on the cleaning industry from clients like never before, Andrew Pole, managing director of WA-based Broadway Commercial Cleaning Service, said.
He said ensuring a cleaning regime was being adhered to and was compliant with basic infection control practices was paramount.
"While the core cleaning tasks that were in place pre-COVID 19 have remained largely the same, there has been a major emphasis on adding targeted touch-point disinfecting programs to our client's premises," he said.
"We required all our staff to complete the Department of Health's COVID-19 infection-control training, increased education on personal hygiene and distancing measures to minimise any spread potential, increased PPE to include, masks, gloves and hand sanitisers.
"[And] where possible reduced the number of staff working in larger teams and moved to scheduling in shifts wherever possible to times when there were little to no other occupants in the building to reduce the chances of coming into close contact with potentially infected people."
Mr Pole said cleaning regimes ultimately depended on clients' requirements, which also varied with the size and risk profile of their organisations, and their ability to fund additional cleaning measures.
"Like everyone else, there's the added stress that comes with the knowledge that any surface could be contaminated and that even a momentary lapse in concentration could see you exposed to the virus," he said.
"Early on there were issues finding suitable PPE, chemicals and basic materials needed for cleaning. Fortunately we had sufficient stocks to get us through, as we started planning for a worst-case scenario in the early days."
[dm-listing-recommendation experimentname='below-content-listings' positiononpage='belowContent']
Keep up with Commercial Real Estate news.
Keep up with Commercial Real Estate news.