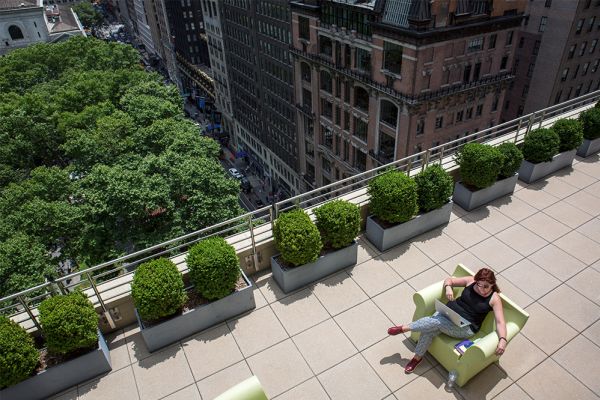 Office balconies find their place in the sun as US landlords get competitive
C.J. Hughes
With foosball tables, TV lounges and golf simulators, amenity-rich office buildings can often seem more like a place to live than work.
Now, in a move that could further erase the distinction between home and office, landlords in New York City are constructing stylish terraces where tenants can stretch their legs and catch a few rays.
Heaping on the extras can, of course, justify higher prices, though not all tenants will pay extra for these perks. But landlords say that such splashy amenities can help generate buzz in a city adding new offices at a rapid clip.
[dm-listing-recommendation experimentname='midcontent-listings' positiononpage='midcontent']
"Everybody needs a little twist, and terraces add a lot of appeal," said Palmer Sealy III, who handles office leasing for TF Cornerstone, a landlord that added planters, seating and tropical-wood decking to a formerly windswept roof at 387 Park Avenue South.
A place in the sun: American Association of Advertising Agencies' 16th-floor terrace at Five Bryant Park in New York. Photo: Santiago Mejia/The New York Times
If these terraces resemble their residential peers, whether squeezed into existing roofs that once held heating equipment or included in designs of new-construction towers, it may be no accident.
Luxury apartment buildings partly inspired them, said Ryan Jackson, a principal of Stellar Management, whose portfolio includes residential and commercial properties, and which is now developing One Soho Square, an office complex at the Avenue of the Americas and Spring Street offering 10 terraces.
Two prewar buildings joined with a glass addition, One Soho Square benefits from the fact that one building steps back from the street as it rises, offering recesses that were tailor-made for terraces, Jackson said.
The complex, which is to open this year, seems eager to install usable outdoor space on about every large flat surface. The 882-square-metre roof on the Spring Street side will have trees, picnic tables and couches, along with views of the Hudson River, and will be shared by all the complex's tenants.
Most of the terraces at One Soho Square, however, will be private, and access to them will require a rent premium of about 10 per cent, Jackson said. Asking rents at the building, which the developers bought for $200 million in 2012, are $USD80 to $USD125 ($107 to $167) a square foot, he said.
Interest so far is tepid. None of the offices with outdoor space have rented since marketing began in 2013, at a complex that is 55 per cent leased, including to holdover tenants, Jackson said. He remains optimistic, however, adding that prospective tenants are often impressed by the feature.
At offices where workers are increasingly packed tightly, real estate brokers note that terraces give tenants a place to make private phone calls, though they might be used less than developers are betting, as is often the case with amenities in apartment buildings.
"Do tenants use them as often as they thought they would? Probably not," said Paul Amrich, a vice-chairman of the commercial brokerage firm CBRE Group. "But there are a lot of tenants that use them for client functions, to allow their employees to get a breath of fresh air on a sunny day."
A climate lacking in sunny days and with space constraints that can make direct sunlight hard to find have not stopped the new terrace trend. Photo: AP Photo/Julie Jacobson
And developers are not just creating them out of necessity. At 412 West 15th, a private 130-square-metre perch ringed with planters on the 18th floor was added by choice. Overall, asking rents are about $USD100 ($134) a square foot on 14th Street, where there are existing structures, and $USD145 ($194) a square foot on 15th Street.
In contrast, the average asking rent for top-tier office space in Manhattan in the first quarter of this year was $USD77 ($103) a square foot, according to the brokerage firm Colliers International Group.
Companies have added amenities to their offices in the last couple of decades, but Amrich said the move in New York to add terraces took off after the development of 444 Madison Ave., an art deco tower at East 50th Street. Its numerous setbacks were mostly barren before Westbrook Partners bought the building in 2007 and created about a half-dozen sitting areas on them, said Amrich, who was involved in the project. A few years ago, Amrich's employer, CBRE, got into the act, too, creating a terrace out of a roof at its office at the MetLife Building in Midtown.
In the past, terraces on office buildings were open to the public, as a trip to the top of the Empire State Building reveals. Similar older, pointed high-rises are prime candidates for terraces, but for decades, rents in many neighbourhoods were not robust enough to cover their costs, said Sealy of TF Cornerstone, who has worked in real estate since 1989.
A decade ago, at his 387 Park Avenue South, rents were around $USD40 ($54) a square foot, Sealy said. Today, the 12-story office charges more than $USD70 ($94) a square foot, helped in no small part by a two-year, $USD20 million ($27 million) renovation that added its roof terrace. Criteo, an online advertising firm and a tenant in the building, controls the terrace, which is able to fit 100 people, Sealy said.
New York is taking a fresh look at terraces, despite a climate in which workers can hardly depend on sunny days and space constraints that can make direct rays hard to find. And developers are taking on the challenge of squeezing in such spaces.
'It's always the last thing we show people when we give them a tour of the office and it always gets lots of oohs and aahs.'
Prewar buildings may be best suited for terrace treatment because of their tapered tops and architectural approaches that result in nooks and crannies. But other types are getting landscaped, too. The Durst Organization, for instance, is adding plants, gravel paths and even fire pits on several roofs at Four Times Square, an office tower from 1999.
In addition, all-new buildings are embracing the urban outdoors, like 34 East 51st Street, a 20-storey edifice that was designed by Skidmore, Owings & Merrill and developed by Sedesco, a Turkish firm. Terraces there include a shareable version on the seventh floor that abuts a juice bar and TV area.
Asking rents for the building, which opened this summer and has a golf simulator, are steep for Manhattan, ranging from $USD110 to $USD135 ($147 to $180) a square foot, said William Burchfield, an associate broker at agency Jones Lang LaSalle, which is marketing the property.
The Kaufman Organization is also embracing the trend. Several of its office buildings are installing landscaped terraces on setbacks, like 2 Gansevoort Street, a former warehouse in the meatpacking district. Fortress Biotech, which signed a 15-year lease there in 2015, will control the terrace on its ninth floor, which is now being renovated.
Though many of New York's office terraces are just now coming online, tenants say they are not just something to look at.
Todd Hittle, the chief financial officer at the American Association of Advertising Agencies, said his colleagues used the terrace around their nearly 2137-square-metre office at Five Bryant Park, at West 40th Street, as much as possible. Popular activities on the 186-square-metre terrace, which overlooks Bryant Square Park, include eating lunch and hosting parties.
"It's always the last thing we show people when we give them a tour of the office," Hittle said, "and it always gets lots of oohs and aahs."
[dm-listing-recommendation experimentname='below-content-listings' positiononpage='belowContent']
Keep up with Commercial Real Estate news.
Keep up with Commercial Real Estate news.