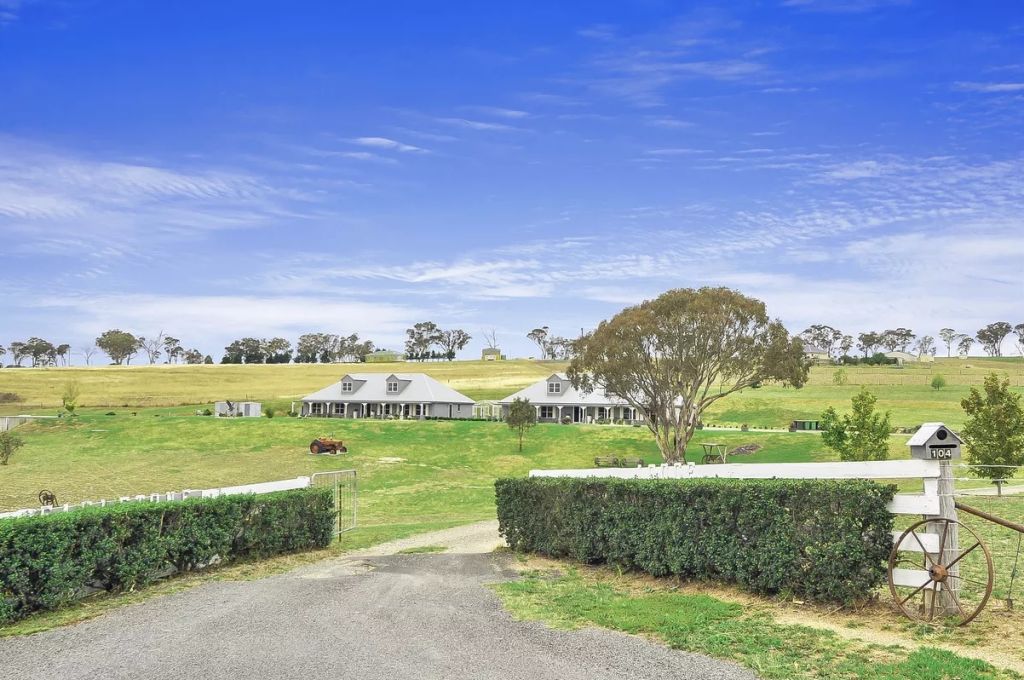 NSW towns the most popular regional areas in Australia for rural property investment
There might have been some slowing of property prices across our major cities in recent months, but the longer trend only points one way, and that's up. So it may come as no surprise that a sea-change or tree-change might be on the cards for some of us.
Think about trading in peak hour traffic jams for heading out to work on a couple of hectares, or giving up the busy office environment for just you and a few hundred head of sheep.
We've crunched the data on the most searched areas in Australia for rural properties on Commercialrealestate.com.au and it's good news if you want to move to somewhere in NSW.
Only Mildura in Victoria, and McLaren Vale in South Australia made the top 10, with the main NSW regional centres of Bathurst, Cooma, Orange, Dubbo, Mudgee and Singleton, filling up the list. Interestingly, the top two spots went to Yass and Goulburn in the Southern Tablelands of NSW, which are only an hour's drive apart from each other.
According to Yass Real Estate's Sales Manager, Edwina Brown, "buyers are drawn to Yass and the surrounding areas as they are able to have a rural lifestyle, within easy reach of Canberra, Sydney and other regional hubs throughout NSW, while still being part of a fully functioning rural town."
The area has sustained growth due to recent changes in the Local Environment Plan which allowed subdivision of rural land down to 40 hectares, which in turn, has opened up a greater number of options for buyers looking to acquire a small farm or rural lifestyle block within a reasonable price range.
This economic growth has then allowed the area to retain a lot of its essential services; like medical facilities, public and private, schools, banks, and aged care facilities which other rural areas may be lacking.
"As a community, the continuing significant growth is guaranteeing these services and supporting businesses within the town into the future," Ms Brown states.
"However it still remains a country town with a traditional main street and country values of helping the community."
And the range of property options for buyers may also be another drawcard for the area. There is a mix of broad acre grazing along with a large amount of rural lifestyle properties (2 to 80 hectares in size).
Vineyards are quite prolific in the area and are the main form of intensive agriculture. Rural residential properties and small farms range from the low $800,000s up to $1.2 million with larger broad acreage property seeing prices of $1,500 an acre (about 4000 square metres) up to $3,500 an acre, depending on the quality of the holding.
Ms Brown says there is good news on where the market is heading.
"The property prices have been steadily increasing for the last 18 months and are not showing any signs of slowing down. The rural and rural residential markets have been particularly strong over this time and both Sydney buyers coupled with a strong agricultural commodities market have helped."
And it's a similar story only an hour up the highway in Goulburn, which too continues to be a desirable option for buyers. Here there are a range of rural properties available, but the lifestyle property has proved the most popular which may have helped prices to continue rising, although they have recently slowed.
"It's still affordable compared to Sydney and the Southern Highlands and is also in the Sydney to Canberra Growth Corridor which continues to grow and improve," adds Richardson & Wrench Goulburn managing director Debbie Carey.
"Being a rural country town, but with most services and shops on hand in the town makes for a good place to live in," says Ms Carey. "Also being located on the highway for commuting and good location to Sydney, Canberra and the coast, makes it an attractive option."
Top 10 most searched areas in Australia for rural properties
Yass, NSW
Goulburn, NSW
Mildura, VIC
Bathurst, NSW
Cooma, NSW
McLaren Vale, SA
Orange, NSW
Dubbo, NSW
Mudgee, NSW
Singleton, NSW
Get a weekly roundup of the latest news from Commercial Real Estate, delivered straight to your inbox!