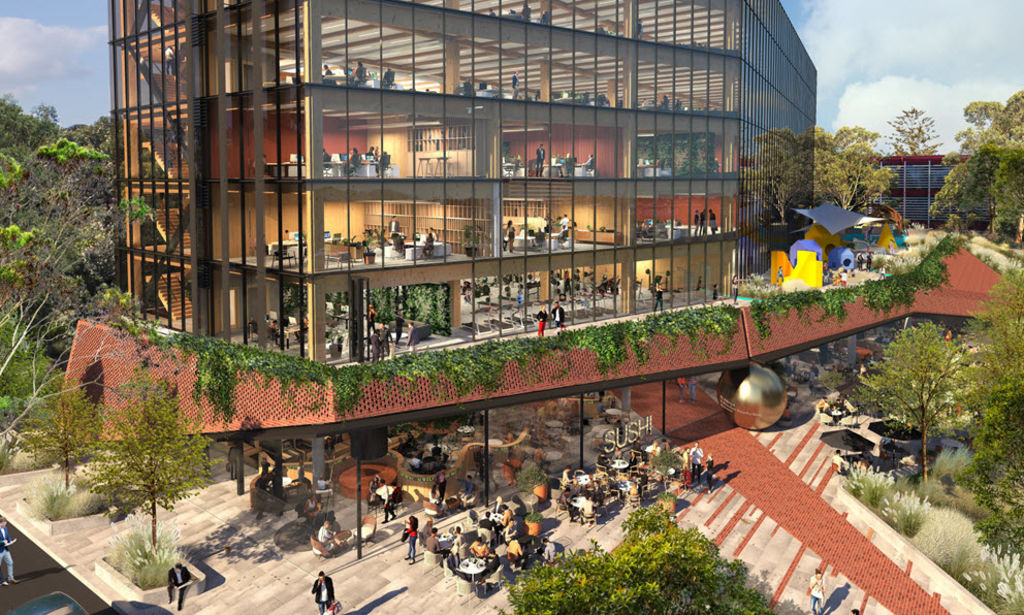 Norwest's new timber building The Bond designed with patients in mind
When developer Tim Spencer decided to build a new wellness-focused commercial building near a hospital in Sydney, he drew on his own painful personal experience to inform the project.
First of all, he wanted a building that would appeal to one of the most resilient sectors in the market today, the medical industry, so commissioned a landmark sustainable timber design with high-performance glass that imbued healthy living.
Secondly, he decided to make sure the state-of-the-art interiors were full of fresh air and raw timber with great views to greenery outside through full-height glazing, knowing that the less he made it feel like a soulless, antiseptic clinical space, the better it would be for patients.
And so far, so good. The first two major tenancies in Norwest master developer Mulpha's seven-level The Bond, in the city's Hills district and close to the Norwest Private Hospital, are an IVF clinic and a new cancer treatment centre.
"Having been through IVF myself, it's a pretty torturous process and obviously even worse for women," said Mr Spencer, the executive general manager of Mulpha Developments. "So it's really important to have a nice, calming environment that doesn't feel stressful.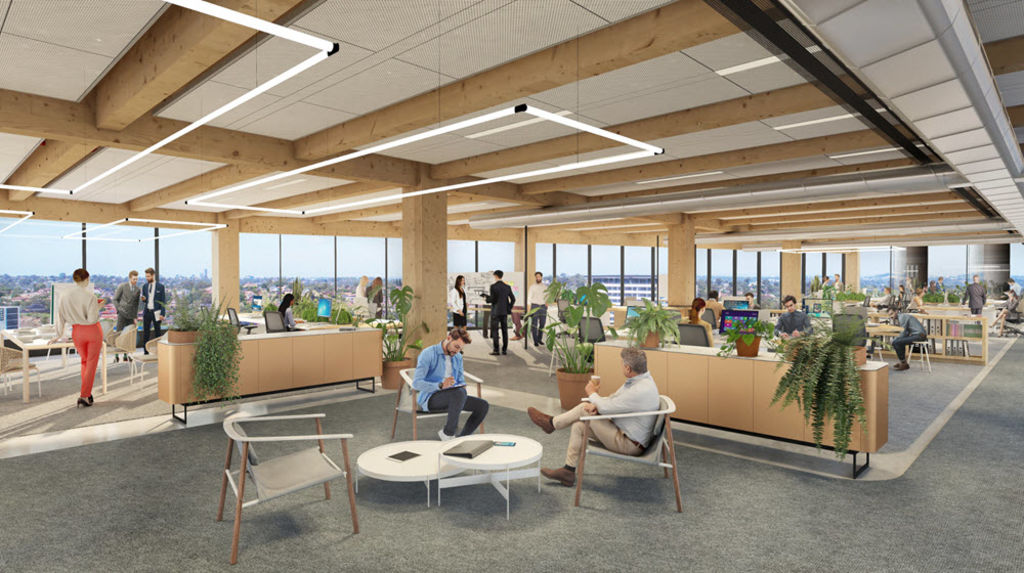 "You want to be relaxed and comfortable, so the last thing you want is a clinical environment. That kind of experience drives home how important the journey is, and how you want to be somewhere that makes you feel good."
Mr Spencer, who now has two little girls, aged three and four – one from a successful IVF treatment and the other from a surprise natural pregnancy – is now thrilled that his vision is about to be realised.
Construction starts later this year on the landmark building, with its cross-laminated timber technology for the 1600-square-metre floorplates, walls and stairs, and laminated timber columns and beams.
It will be Mulpha's first commercial building in the key precinct Circa, which is part of the 377-hectare business park. And now that commitments have been secured for more than 30 per cent of the building, completion is expected in late 2021 or early 2022.
It was that biophilic design – embodying the human race's connection to, and love of, nature – that attracted IVF and fertility specialist, and reproductive surgeon Dr Antony Lighten. He plans to set up his boutique practice on 735 square metres of the space with a day surgery, IVF unit and laboratory.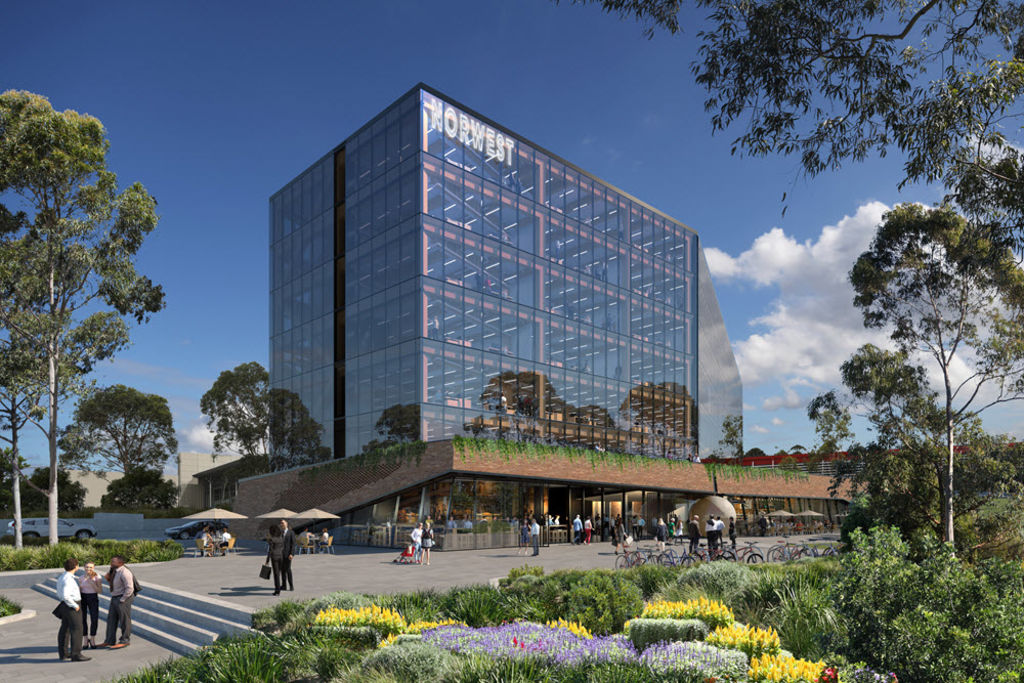 "It's an unusual building with that timber frame and glass over the top, and it will look and feel very organic," said Dr Lighten, who has worked for the past 11 years at the Norwest Private Hospital, one of the biggest private hospitals in NSW and located next door. "The geographical location also particularly appeals to me.
"Then the builders Buildcorp invited me to have a look at their construction site for a similar building they were doing at Macquarie University for some theatres at the medical school. It's a smaller version of The Bond, and it looked very calming with a nice smell and feel. We're in the business of working with nature, so I thought this kind of building would be perfect."
The Bond, built on the site of an old brick pit so the brick podium is designed to fold out of the landscape, will have ground-level retail then two and a half levels of medical practices, as well as childcare and offices on the higher storeys.
The workplaces also put the emphasis on the natural environment with exposed timber beams, columns and detailing, and have coworking spaces, private offices and breakout zones. There's also an indoor-outdoor cafe and basement car parking.
Architects fitzpatrick + partners have designed a number of timber buildings before, and believe it's very much the way of the future.
Project architect Jessica Rodham said, "We are always trying to propose to our partners that they should consider timber or a hybrid system of timber and steel because of the environmental and sustainability benefits and the carbon that can be absorbed back from the environment.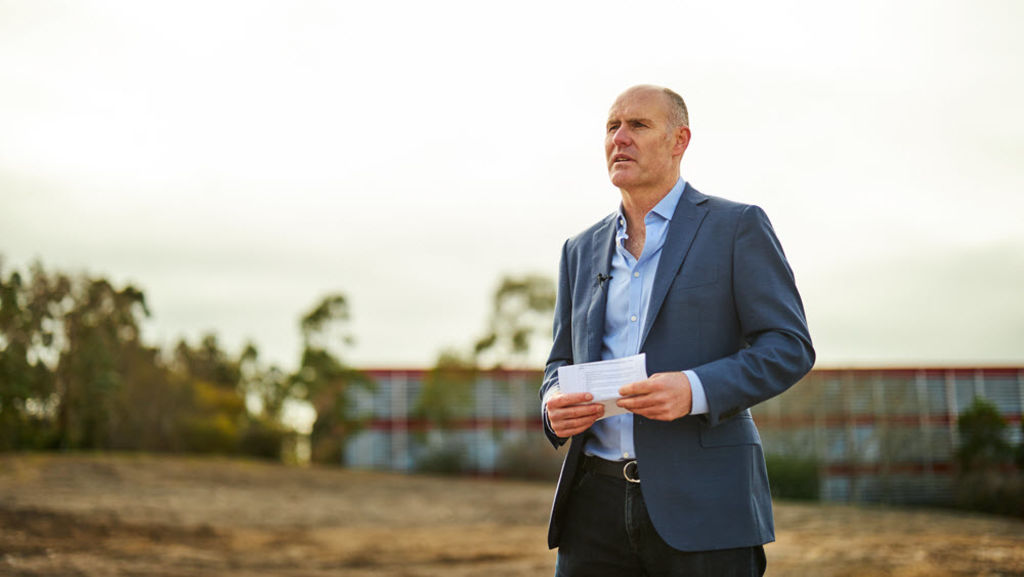 "The biophilic qualities mean people also have higher productivity and find it easier to focus and report better levels of concentration. As well, the timber can be re-used afterwards."
A recent Australian study by Pollinate, Wellness+Wood=Productivity, reported that when biophilic design elements such as timber, natural light and views were present in the built environment, rates of wellbeing increased by 13 per cent and productivity rose by 8 per cent. For healthcare spaces, post-operative rates of recovery reduced by 8.5 per cent and pain medication could be cut by 22 per cent.
That was also part of the appeal for GenesisCare, which has taken 1050 square metres of space for a cancer treatment centre where it hopes to treat about 1000 patients a year. Executive manager of oncology services Ben Ward said its location was perfect for those undergoing radiotherapy who've previously faced long trips to hospitals at Westmead and Macquarie.
"It'll be a great outcome for patients in this area, rather than travelling an hour one-way to access treatment for four weeks," he said.
"Sustainability in a building is also important to us so the wooden structure for this is attractive. Also, the wood in the fit-out is lovely and there are a lot of green walls and features that make it feel more like a cafe than a clinic, which our patients will like."
Mr Spencer says that was certainly the aim. "The last thing you want is a clinical environment," he said. "We wanted a really humanised building that's relaxed and comfortable and promotes wellbeing in every way."